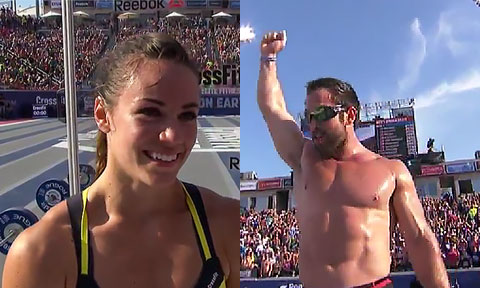 Meanwhile in California …
Amazing performances all around.
Rich Froning made his way back to the top and won his 4th Consecutive CrossFit Games Title.
Check last year's Games post here.
And it's been 4 years in the making, Camille Leblanc-Bazinet is 2014 CrossFit Games Champion!
Rich's and Camille's Results After Each Event
What was Your Favorite Event and Why? Vote ->
I think I have to vote for the Speed Clean Ladder. Even though I enjoyed the "pure" Crossfit events a lot as well. Hard to choose one.
Overall I liked this year's games a lot. Probably better than last years.
Very entertaining selection of events that made it interesting until the last second of the last workout.
Prize Money: Both cyborgs take home $275,000.
… and it doesn't stop there. Even 20th place gets some cash.
Recordings
Useful Links:
If you want to comment on a specific event, look out for the top level comment (like "Overhead Squat Event").
On Comments: If you don't enjoy watching CrossFit, don't comment. You can still critique the events, of course, but as usual I won't tolerate useless hatred.
Other Observations
Crossfitters are strong! 171kg Overhead Squats (377 lb), 202kg Deadlift (445 lbs) by Ayo Anise during the Deadlift 1RM event for the teams. There was also a guy who got a 300kg Deadlift.
Final Day: Midline March + Thick'n Quick + Double Grace
Final Women's Heat Starts at 2:10:00, Men's at 2:40:00.

[Continue reading]