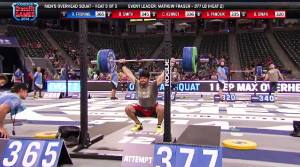 Let's watch some CrossFit this week. The 2014 CF Games are on.
Check last year's Games post here.
For non-US residents all events are being streamed on games.crossfit.com. US residents have to watch ESPN I believe.
If you want to comment on a specific event, look out for the top level comment (like "Overhead Squat Event").
On Comments: If you don't enjoy watching CrossFit, don't comment. You can still critique the events, of course, but as usual I won't tolerate useless hatred.
Day 1 Wednesday: Beach Event + 1RM Overhead Squat
Beach Event - For time:
Swim 250 yards ~ 228 m
50 kettlebell thrusters (35 / 24 lb.)
30 burpees
Swim 500 yards
30 burpees
50 kettlebell thrusters (35 / 24 lb.)
Swim 250 yards