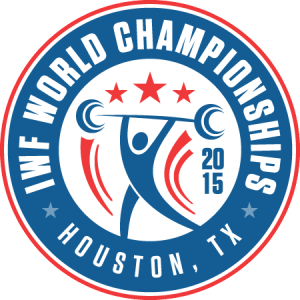 This is the overview post for the 2015 IWF World Weightlifting Championships in Houston, Texas.
On Instagram or Twitter use hashtag #2015wwc.
Useful Links:
Contact Info: I'm @atginsta on Instagram, @allthingsgym on twitter & allthingsgym on YouTube. ATG Submit Page.
Livestream
Friday 27th November
08:00 – W75C
10:00 – M75B
12:00 – M105B
14:55 – W75A
17:25 – M105A – *On Air*
19:25 – W+75C
You can watch and subscribe to Eurosport (£5) and ESPN 3 which will be broadcasting the A sessions. As always livestreams will also be available here, alongside the streams for all the other sessions. If you are in Canada or have a proxy in Canada CBC might be streaming it here.
Highlights
(27.11.15): Rim Jong Sim (75kg, Democratic People's Republic of Korea) got an injury during the Snatch and had three gutsy attempts during the Clean and Jerk. She won 3 silver medals.

"Alexander Venkov: Artem Okulov and Apti Auhadiev considered to be the main candidates for the Olympic team of Russia" (via)
Ksenia's injury: "Fortunately, a survey conducted in the US clinic did not confirm the presence of any gaps joints and brittle bones". (via)
105kg B session: Dadas Dadashbeyli (105kg, Azerbaijan) weighed in at 98.38kg and secured a 185kg Snatch. He finished with a 395kg total by Clean and Jerking his opener of 210kg.