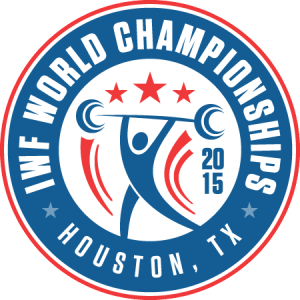 This is the overview post for the 2015 IWF World Weightlifting Championships in Houston, Texas.
On Instagram or Twitter use hashtag #2015wwc.
Useful Links:
Contact Info: I'm @atginsta on Instagram, @allthingsgym on twitter & allthingsgym on YouTube. ATG Submit Page.
Livestream
Thursday 26th November
08:00 – M94C
10:00 – M94B
12:55 – M94A
15:25 – W69A
17:25 – M105C
You can watch and subscribe to Eurosport (£5) and ESPN 3 which will be broadcasting the A sessions. As always livestreams will also be available here, alongside the streams for all the other sessions. If you are in Canada or have a proxy in Canada CBC might be streaming it here.
Highlights
(25.11.15): 63kg A session: Wei Deng (63kg, China) breaks a new Clean and Jerk World Record and secures three golds.
85kg A session: Tian Tao (China) Clean and Jerks 178kg to secure a gold medal in the Snatch. Not far off his 180kg training/test Snatches we've seen. Kianoush Rostami (Iran) tried to match Tian and win by bodyweight but couldn't secure it overhead, he came third place. Artem Okulov (Russia) came second with 176kg and a personal best.

Moving into the Clean and Jerk Tian Tao opened at 211kg but missed all three attempts. Apti Aukhadov (Russia) Secured a 212kg Clean and Jerk which gave him bronze overall. Rostami opened at 214kg but then missed the two next attempts which would take him to first place, once at 218kg which was dropped behind after a successful jerk and once at 219kg for the world record but got red lights for an elbow touch. Artem Okulov went 6 out of 6 finishing on 215kg and a 391kg Total. He also had 220kg on the scoreboard for a small amount of time. Final Scoreboard (Twitter). Recordings.

Dmitry Klokov pause snatches 200kg!