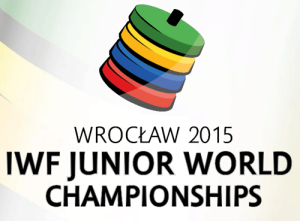 It's time for the 2015 Junior Worlds.
They will be in Wroclaw, Poland from the 6th-13th June. I will keep this page updated with news & highlights throughout the event.
Hookgrip and me will be there getting some awesome footage for you.
Useful Links:
Highlights:
29.06.2015: Training Hall Videos from Hookrgip.
Wednesday June 10th, featuring @lukycharms at 5:31.
Tuesday June 9th
Monday June 8th
Chinese Team Training on Sunday June 7th
29.06.2015: Photos from the training hall (day 1).
27.06.2015: Like many in world championships training halls Simon Martirosyan was trying to find a way to do Back Extensions / Hyperextensions.
With the help of Andranik Karapetyan and their coach he got it done.
As you can see he, like many in the training hall, has insane back flexibility.
27.06.2015: 2 Olympic champions meet in the training hall.
[Continue reading]