Update: Check out the Epic Meal Time Meatza
Made a Meatza (aka the paleo pizza) today. It looks fancy but was super simple to made.
Basically a pizza with meat instead of dough covered with all your favorite veggies.
Recently I saw Nick Massie making Meatza in the CrossFit Journal (unfortunately no free download).
It looked so delicious that I gave it a try.
Lots of meat (shrimps, beef, turkey) and veggies (peppers, tomatoes, onions, zucchinis, mushrooms) .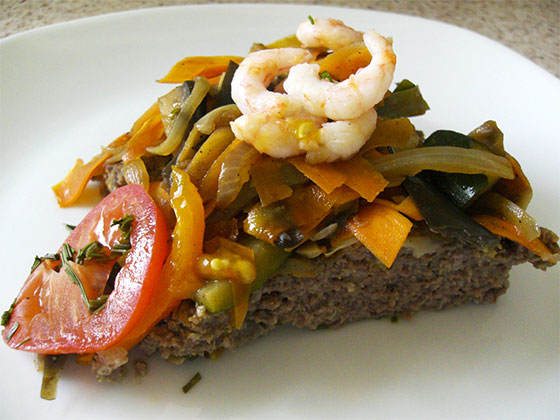 Meatza slice – Hungry yet?
What a protein fix.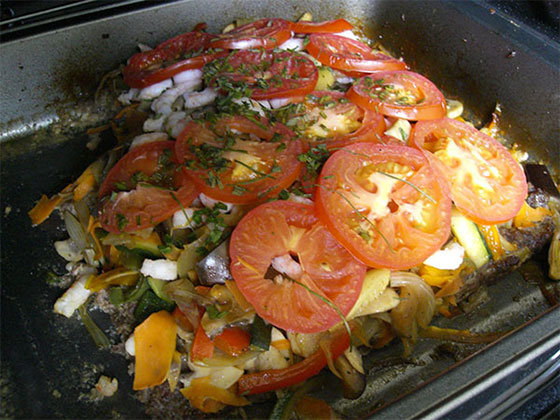 More Meatza awesomeness left
Here is the recipe I used as a starting point.
Ingredients
2 lb. ground turkey, bison or beef
2 eggs
¹⁄3 minced onion
1 ¼ tbs. chili powder
¾ tbs. Italian seasoning
2 tsp. garlic powder
24 shrimp
1 ¼ bell peppers, sliced
1 ½ zucchini skins, sliced
½ purple onion, sliced
12 mushrooms, sliced
5 garlic cloves, pressed and minced
1 ½ jalapeño, sliced
12 tomato slices
½ cup tomato sauce
½ cup tomato purée
Directions
1. Knead together ground meat, eggs, miced onion, chili powder, Italian seasoning and garlic powder.
2. Spread meat onto 12″ x 18″ half sheet pan to create a crust.
3. Cook for 12 minutes at 350 F.
4. Fry shrimp in a pan while crust is baking.
5.Mix together bell pepper, zucchini, purple onion, mushrooms and garlic cloves.
6. Steam mixed vegetables in the oven or in a pan for about 8-12 minutes. Drain excess juice.
7. Drain fat from meat crust.
8. Mix together tomato sauce and tomato purée and spread evenly on meat crust.
9. Spread steamed vegetables, tomato slices, jalapeño slices and shrimp on meatza.
10. Drizzle extra tomato sauce / purée mixture
over meatza.
11. Cook for 10 minutes at 350 F.