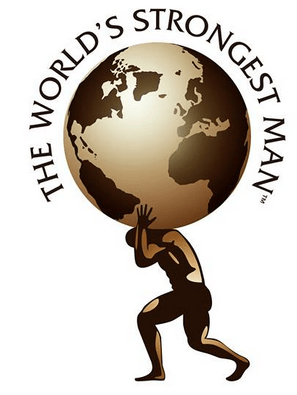 It's time for the 2014 World's Strongest Man competition.
I will update this post with more videos as they trickle in.
Results
Zydrunas Savickas is 2014 World's Strongest Man! This is his 4th title.
Final Points:
Zydrunas Savickas – 64
Hafthor Bjørnson – 63.5
Brian Shaw – 61
Mike Burke – 40
Terry Hollands – 38
Eddie Hall – 33
David Ostlund – 32
Warrick Brant – 29.5
Laurence Shahlaei – 26.5
Jerry Pritchett – 26
Jean-François Caron – 23.5
Martin Wildauer – 23
Results Spreadsheet: Here are (unofficial) results.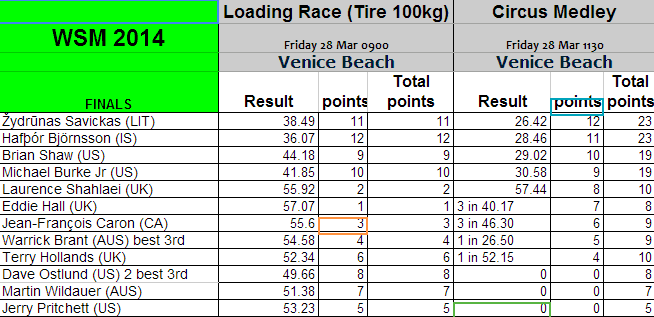 Finals Videos
Official Videos: This channel is uploading recordings.
Atlas Stones:
Hafthor 19.6 sec vs Big Z 23 sec


Squats: Big Z's 15 reps with 329kg (different angle)
Hafthor passing out
Double Truck Pull: Hafthor's Double Truck Pull
Keg Toss: Hafthor Bjornsson's 8 kegs in 16.35s
Brian Shaw's Keg Tosses
Hafthor Bjornsson and Zydrunas Savickas at the Corsus Medley and Tyre Loading Race.
Log Press (150kg)
Jerry Pritchett's 5 reps
Atlas Stones
Jerry Prtichett's Atlas Stones in 33.99s
Viking Press (160kg)
Zydrunas Savickas vs Laurence Shahlaei
Hathor's Viking Press
Car Walk
Brian Shaw's Car Walk
Yoke Walk
Laurence Shahlaei's winning run (against Zydrunas Savickas)
Squat
Mike Buke's 6 reps:
Deadlift
Zydrunas Savickas's Deadlifts
Brian Shaw's Deadlifts (and ripped straps it looks like)
Hafthor Bjornsson's Deadlifts
Fingals Fingers
Brian Shaw winning the Fingals Fingers
Hafthor Bjornsson doing the Fingals Fingers
Loading Race
Here is the Loading race between Brian Shaw and Graham Hicks.
Truck Pull
Here is Big Z's Truck Pull
Schedule