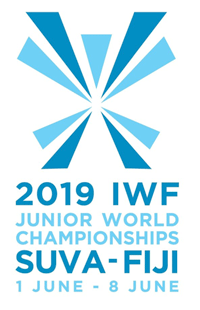 2019 Junior World Weightlifting Championships are being held in Fiji.
When: 1-8.06
It is an IWF gold level event, which means it's another good chance for lifters to collect ROBI points towards their Olympic qualification.
Live Stream
Highlights
Ritvars Suharevs Clean & Jerking 195kg to become a 2x Junior World Champion!
17 year old Liao Guifang (64kg, China) clean and jerking 128kg!

Don Opeloge (89kg, Samoa 🇼🇸) clean and jerking 198kg.
Luo Xiaomin (59kg, China) snatching 101kg
Cj Cummings 192kg Clean & Jerk
18 year old Zhao Jinhong (49kg, China) clean and jerking 110kg!
Adhamjon Ergashev (67kg, Uzbekistan) clean and jerking 173kg