Here is part 3 of Emevas' "Things I Think I Know" guest post series.
This time he talks about the benefits of using belts in your lifting adventures.
Probably less controversial than the last post on Touch and Go Deadlifts, but I hear there are still some people with beltphobia.
Speak your mind in the comments.
Use a Belt as Soon as You Have Good Form
Belts are cheating/not raw/make your core weaker/should only be used once you are advanced/cause bad form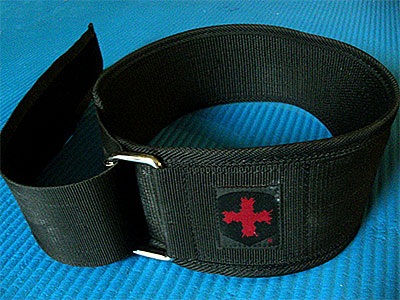 Belts seem to be mystical to those who have never worn them/only wore the crappy giant tapered belts offered for use at their local commercial gym.
They both add hundreds of pounds to your total while completely removing your core from the lift, and are cheating even if you aren't competing (which is comical given that any actual form of lifting competition allows for belts).
Here is the real scoop on belts: they artificially simulate having a larger core and allow you to lift heavier poundages than you could without one.
If your goal is to get stronger, you should wear a belt, because then you can lift more than you could without it.
No, it's not like powerlifting gear, because you aren't storing energy in the material and getting some sort of stretch reflex out of it (which is greatly simplifying powerlifting gear to the point of being pretty much wrong, but that's another article entirely).
It simply gives you something for your stomach to brace against, which gives you a stronger core for a lift.
Despite how perfect of a specimen Paul Anderson was for squatting (google him if you don't know the name, he was quite possibly the strongest man to ever live), many people do not desire to have a waist like his to support heavy weights on.
Just like straps, belts do not actively make your core weaker. If you went from squatting 300lbs with a belt to 400lbs with a belt, your core definitely got stronger during that time. Additionally, you should be hammering the core anyway with some basic training.
This doesn't mean ab ripper X or the perfect sit up or whatever gimmicky crap is being pushed at 3am. Just do some Saxon Side Bends or weighted roman chair sit ups or something.
If you don't feel embarrassed doing it in the gym in front of people, it's probably bad ass enough to be a decent ab exercise.
There is no reason to wait to use a belt once you have form dialed in.
A belt should not be used as artificial form. If you can't keep an arch to save your life, figure that out first, and then use a belt to supplement your lifting.
But once you have form down, belt up and go big.
In many cases, a belt will help your form as you will learn how to effectively expand your belly to it's max and keep your arch in order to maximize the benefit of the belt.
You will get stronger by wearing the belt, as you will force the rest of your body to handle heavier weights by bypassing the weakest link in the chain, much like how straps will help you become a better puller by not forcing you to rely on your grip to dictate your workout.
Want to guest post on All Things Gym? Contact me.