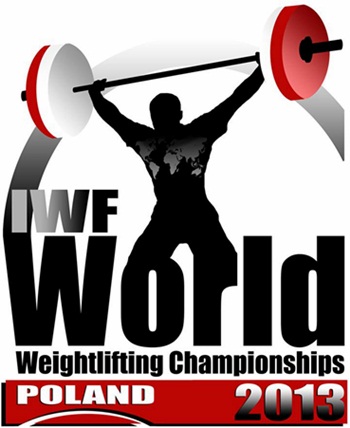 This was the 2013 World Weightlifting Championships Resource page.
Thanks to everybody who joined chat. It was great fun as always.
World Records
Recordings
Good quality recordings in Russian are here.
Worlds News Updates
Update 30.10.2013:
Update 28.10.2013:
Update 27.10.2013:
Update 26.10.2013: Andrei Aramnau decided that he will not start at worlds. (via)

As reasons he cited that a MRI scan revealed and injury on his hip which is a result of the injury he suffered leading up to the London 2012 games. He could start on painkillers, but because there are no points to earn for Olympic qualification, he decided to skip that competition.
Update 25.10.2013: Quick Aramnau Interview from the 21st October.
Says he injured the head of his quadriceps. Will start nonetheless. Did 205+245 in training.
Update 22.10.2013:
Update 21.10.2013:
Andrey Demanov will not lift at worlds. Coaches said he is not ready… 185kg + 225kg in training does not cut it. (via)
Ultra sound examination revealed that Marcin Dolega has a torn abdominal muscle, but he still wants to lift at worlds (via).
Update 16.10.2013:
Update 15.10.2013: Klokov on why he is not on the team.
Tl;dr: He could not find the time to prepare and was not focused on training. He is not interested in worlds. Still was as strong as the other guys on the team, but told the head coach 2 weeks ago that he is not interested. He will also not take part in the president's cup either. Instead he wants to start preparing for Rio in the end of 2014. In the meantime he wants to be engaged in other activities for the "benefit of barbell"  (I guess that means seminars and other media appearances).
Update 15.10.2013:
Update 13.10.2013: