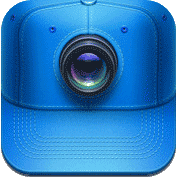 Android/ iPhone/ iPad: Check out Coach's Eye. An video analysis app for your phone / tablet, which is ideal for form checks.
Features:
capture or import videos
slow motion / variable playback speed/ rewind
draw on video to annotate
audio commenting
Price: $4.99 for iOS, Android app now has crazy upsells. Would not buy again.
Get it here: iTunes Store, Google Play Store
Thanks to Alex, who commented that he
"Just got it the other day and used it a little during some snatch practice at my gym. Great for instant feedback using frame-by-frame playback. I think the best use for this would be a coach using it to play and comment on a video of their clients for the benefit of all of the members at their gym."
And he posted a video of it being used with the Olympic lifts.
Mark Bell also likes to play around with the app.
See their Coach's Eye YouTube Channel for more examples.