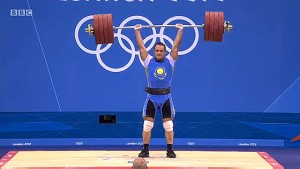 (Originally posted October 6th,2012. See updates)
In an interview from right after the Olympics (10. August 2012) Ilya Ilyin's coach said:
He needs to rest for at least 9 months, during which he will only do light training like running, but no "boom" – said the coach Elijah Erzhas.
Thanks to Eoin for submitting.
Update: He won't participate in tournaments until 2014. So no 2013 World Championships for him, but will be back in 2014 when the worlds are in being held in Kazakhstan (via).
Update 20.10.2013: Interview with Ilya from September 2013.
In it he talks about his studies and plans for the future. His plan is to start training for the 2014 worlds in Kazakhstan in December 2013. Being asked about his future weight class he is not 100% sure yet, saying:
If I'll be in 105 kg, I will win in 105, if I will be in 94 kg, then, accordingly, I will win in 94. That it doesn't matter to me what weight to act in, the main thing – I will win.
Thanks to Vadim for sending this in.