Update: DON'T BUY THIS NECK HARNESS
It broke just after a couple of workouts.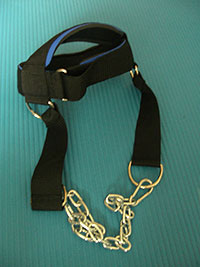 Just got a new neck harness after my old one was finally worn out.
My old neck harness was made of leather and had a hinge instead of the the D rings. And it was the leather at the hinge that was degenerating over time.
Originally, I wanted to get the heavy duty nylon neck harness which Mike Bruce recommended, but ended up getting a descent price for the Body Solid MA307N.
It's made of nylon, has a pretty comfy neoprene on the inside and can handle up to 200 kg (not that I need that much, but still…).