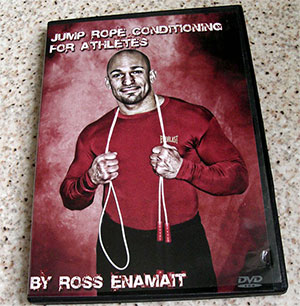 Just got and watched Ross Enamait's Jump Rope Conditioning DVD.
The  DVD is not about learning fancy tricks to impress people (although once you can skip rope like Ross you will definitely be attracting eyeballs). It's for people who want to push their coordination and conditioning to an new level.
Price: $13.95 + shipping
What you get: 1 hour 53 minutes DVD + Ebook
Content:
Equipment – shoes, floor, types of rope (Ross uses this freestyle rope for 9 bucks
)
Then he introduces tons of different variations of foot positions and rhythms. Starting with basics like:
stutter step
high knees
alternating steps
bounce step variations
Then getting more advanced with
Of course double unders are not the end. Once you can do endless reps of double unders it's time to spice things up, prevent monotony and challenge yourself with:
double under variations
triple unders
single leg variations
backwards skipping
Of course he says that all the variations should not distract you from your main goal – conditioning.
Try this sample finisher workout:
5 minutes of continuous skipping with variations
5 rounds 1 min all out with 30 seconds rest
5 rounds 30 all out with 15 seconds rest
Verdict: Nice DVD to increase your bag of tricks and keep boredom out of conditioning.
And to finish things of here are Ross' famous Jump Rope videos.