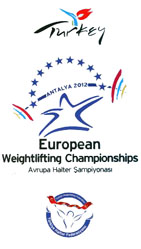 Update: Here are Live Stream links and the timetable
The 2012 Europeans in Antalya, Turkey are coming up April 6-16.
Thanks to reader Tom for submitting  the final entries (PDF warning).
As he  said:
Big names as Akkaev, Klokov, Binay and Martirosyan are absent. But Matthias Steiner and Chigishev (edit: and Viktors Scerbatihs & Ruslan Albegov) will probably compete in the 105+. I don't know how much will change in this list the coming weeks.
105 kg C&J world record holder David Bedzhanyan will also be lifting. As well as a 39 year old Halil Mutlu, who entered with a 270kg total.
If you have something you want to share, let me know via the Got Input? page.