The 2013 World's Strongest Man is happening right now.
Just as last year Per Gunnar over at the MarundeMuscle Forum prepared a spreadsheet with the results.
Finals Video
Update: Videos of Heat 1-5

Hafthor has arms like legs and legs like men
Heat 2
Heat 3
Heat 4
Heat 5

Update 29.09: Highlight Video from a Chinese News program.
Update 27.08: Video of Brian Shaw's 442.5kg (975lbs) Deadlift (Strongman World Record)
Big Z missing 442.5kg

Update 24.08: Final Results. Brian Shaw won the 2013 World's Strongest Man.
Brian Shaw (51 points)
Zydrunas Savickas (48 points)
Hafthor Bjornsson (42 points)
Mike Jenkins (41 points)
Mike Burke (38.5 points)
Vytautas Lalas (34 points)
Terry Hollands (31.5 points)
Johannes Arsjo (16 points)
Robert Oberst (14 points)
Mikhail Koklyaev – DNF, torn triceps, see link to photo below
Update 23.08: Results after Day 1 of Finals.
Photo of Misha's bruise from his torn triceps. He also ripped his calluses on event 1 (Frame Carry) and later had to pull out of the finals.
Brian – 25 points
Terry – 24 points
Hafthor – 22 points
Zydrunas – 21 points
Jenkins – 20 points
Burke – 18 points
Lalas – 17 ponts
Oberst – 8 points
Johannes – 6 points
Mikhail – retired due to injury
Update 20.08: Finalists
Hafthor Bjørnson
Robert Oberst
Vytautas Lalas
Johannes Årsjø
Brian Shaw
Terry hollands
Zydrunas Savickas
Mike Burke
Mike Jenkins
Mikhail Koklyaev
Update 19.08:
Video of Fingal's Fingers – Hafthor vs. Lauri Nami
Info from a competitor.
Truckpull just over.
Something is wrong, first 2 did not start it. Nick is good in truck pull and did not get it started. I did it half the way, it had the brake on or something, first time that I don't finish a truck pull.
Then Lauri who is not good at truck pull did it almost all the way.
Next group had the same problem, the lightest competitor ran with it hehe.
Update 18.08:
Per Gunnar reports that Misha is a little concerned because he has some pain in his left pecs.
Video of Hafthor winning the loading race.
Videos: If you find videos of the events somewhere, send them in.
Haha first video inveriew with Misha arrived…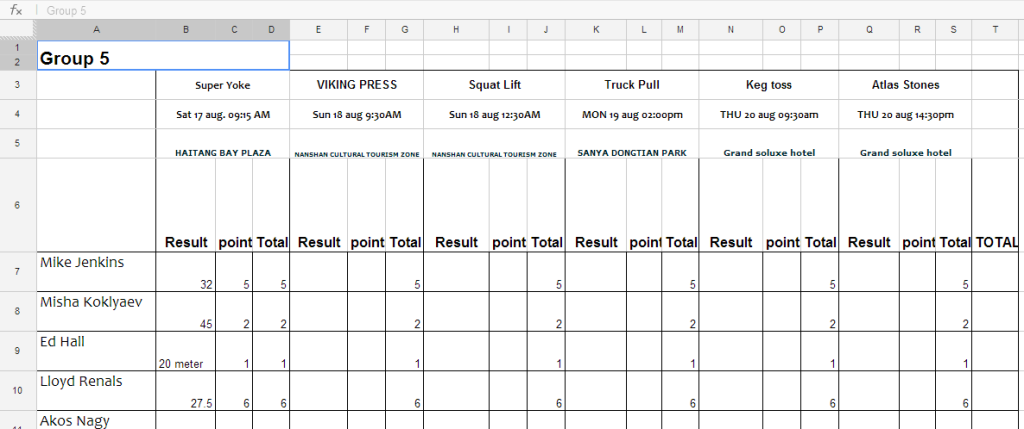 Qualification Groups
Group
Events
#1

Nick Best
Laurence Shahlaei
Robert Oberst
Lauri Nämi
Wu long

superyoke
fingers
squat lift
axle press
atlas stones

#2

Super yoke
rock lift
deadlift hold
viking press
keg toss
atlas stones

#3

Terry Hollands
Martin Wildauer
Juha Mätti Jarvi
Frankie Scheun
Dainis Zageris

loading race
rock lift
deadlift reps
axle press
keg toss
atlas stones

#4

Mike Burke
Alex Moonen
Bjørn Andre Solvang
Krzysztof Radzikowski

loading race
rock lift
deadlift for reps
Fingal fingers
Vikingpress, like last year
atlas stones

#5

Mike Jenkins
Robert Cyrwus
Eddie Hall
Agos Nagy

superyoke
truck pull
viking press
squat lift
keg toss
atlas stones
Schedule
Qualifiers
Saturday 17th August
Super Yoke: 09:15AM HAITANG BAY PLAZA
Loading Race: 11:45AM HAITANG BAY PLAZA
Deadlift Hold: 2:00PM HAITANG BAY PLAZA
Deadlift for Reps: 3:00PM HAITANG BAY PLAZA
Sunday 18th August
Viking Press: 9:30AM NANSHAN CULTURAL TOURISM ZONE
Squat Lift: 12:30PM NANSHAN CULTURAL TOURISM ZONE
Overhead Lift: 4:30PM NANSHAN CULTURAL TOURISM ZONE
Monday 19th August
Fingals Fingers: 9:30AM SANYA DONGTIAN PARK
Truck Pull: 2:00PM SANYA DONGTIAN PARK
Tuesday 20th August
Keg Toss: 9:00AM GRAND SOLUXE HOTEL
Atlas Stones: 14:30PM GRAND SOLUXE HOTEL
Final Events
Friday 23rd August
Frame Carry: 9:30AM SERENITY MARINA
Truck Pull: 12:00PM SERENITY MARINA
Super Yoke: 15:00PM SERENITY MARINA
Thursday 24th August
Deadlift for Max: 9:00AM YALONG BAY CULTURAL SQUARE
Circus Medley: 12:00PM YALONG BAY CULTURAL SQUARE
Atlas Stones: 3:00PM YALONG BAY CULTURAL SQUARE