Akkaev gave an interview (here is the google translated version) about the current mess in Russian weightlifting.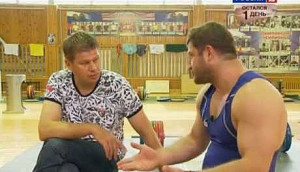 I know it's a long one, but I encourage you to grab some popcorn and read the entire thing, it is pure gold. He really blows off some steam there.
Update: Read Akkaev's 2014 Interview on ATG.
Here is an editable doc if you want to help with better translations.
Highlights from the Interview
Here are some of the highlights. Please send in other highlights in the comments, as I am sure I missed some good ones and discuss.
First off, Akkaev will not be lifting tomorrow in the Russian Championships.
Bummer, I know.
But he is 100% focused on the world cup. The Minister of Sports gave him the green light to prepare for the World Cup, bypassing the Russian championship and even took back his funding cut ("pay was cut to zero").
Q:In Chekhov, there are no conditions for training?
Akkaev: Yes. First, the coaching staff. Who are these people? Coaches – no one to call in any way, including the head coach.
I have no doubt that I would come to the training camp, beating everyone and go to the World Cup. That's it. Now I am at the training camp in Taganrog, everything is in working mode. According to the plan.
I have excellent conditions in Taganrog, have sponsors. And to be honest, even if it caused me to pack, I would probably not go there because the atmosphere there [in Chekhov with the Russian Team] is not conducive to a good full training.
Q: In Chekhov, there are no conditions for training?
Akkaev: Yes. First, the coaching staff. Who are these people? Coaches – no one to call in any way, including the head coach. For the words I say.

Q: What are the motivations to write off Akkaev, who was the leader of the team in recent years?
Akkaev: This question is not for me to ask. Of course, none of the cowards will ever tell the truth. I'm telling the truth. For example, the head coach I do not talk, do not consider it necessary.
Q: In March, I heard that supposedly you had back problems again.
Akkaev: That's not true. I rehabed (after Olympics) and now my back is healthy as it was. I am progressing very quickly. everything is dialed in. Why did I register for the Russian championships? I had intentions to lift. To win the championship of Russia, I am ready today.
But it turns out that I would have wasted my strength in Kazan and then I would have to re-adjust the form.
Therefore, we analyzed all and decided that I just need to build up strength for the World Cup and may be able to walk away with arecord. These are my intentions. I'm not bragging, but stating a fact: my level, as an athlete, the strongest in the country, there is no equal to me today.
Q:Perhaps the coach is afraid that after such an injury would be hard to recover?
What does he have to fear? This is the head coach of the national team. He has to be realistic about the situation. The strength of his athletes.
Their personal relationships must park on the street. You have to have a team that brings home results for the country. Notions of "love – hate" should not be here.
There is a strong athlete, even if you hate him, but you have to call him to start preparing.
The head coach must be able to communicate. He has to be a psychologist – father, mother, for each athlete. He has to come up and talk normally, say, that's not to let down the team, tell me, you can or you can not, how do you feel.
But such communication was not. He (Venkov) walks in silence, until I told him: Alexander, let's talk. And the situation today is very deplorable.
Q: Venkov said if Klokov wins the championship of Russia will be preparing for the World Cup .
Akkaev: Even if Klokov wins the championship, it does not guarantee him a trip to the World Cup.
They can't throw me out as I have a regulation from the Minister. And who to take? Bejanyan. He also became a European champion with a children's outcome. But he was not thrown out. A Klokov? They also wanted to "bury" him and he knows it, we spoke with him on the subject.
He said that he (Klokov) even had thought to leave for another country to perform. Can you imagine? So let them not dissemble there: that he will win and go. I doubt it very much.
Q: How do you see the situation? What to do?
Akkaev: I am convinced that something needs to change. A revolution. As things are now It will not work.
We discussed it with Riegert that the team dies. All good athletes are gone. Chigishev. Berastau. Perepechenov. Now we are being expelled from the national team. And who's left? No one.
Here it is the men's team at the European Championships. Maybe they're all good guys, good, I do not argue with that, but as they are not athletes in the world ranking. And I have enough strength and desire to once again lead the Russia in this weight class. We Klokov strong enough to have Bedzhanyan win.
Everything is very bad. Such a mess, both in the Weightlifting Federation, there is nowhere else. I communicate with swimmers, with the fighters, with judo, the boxers. Yes, we all have the power and the opposition, but that is … Something needs to change.
Q: What exactly?
Akkaev: President of the Federation or the coach, or both.
Q: Aren't you afraid of such statements?
Akkaev: No, of course. There will be a revolution.
We will overthrow the (weightlifting) government body. Key people support me. I think that something inside Riegert is haunted, it should not just leave it. We will unite, and there will be two teams: the one and this one. And you will see who is more powerful than the authority.
The team of anonymous people and a team of titled people, and they're on our side. I'm not saying this baselessly. It will be soon. We look forward to the World Cup. Especially, with the head coaches who have a one year contract for a year for now.
TL;DR
via Sieg in the comments:
Basically Akkaev says that he has a very tense relationship with the Federation now. Even despite being a good friend of Minister of Sport.
The president of Federation does not want him to compete at Olympic, Akkaev is not invited to training camps. He doesn't really want to be, he likes to train at Taganrog.
Federation wants to get rid off Klokov, Akkaev and Ivanov, but Akkaev thinks that he a lot better than other athletes Russia has and Klokov is the best too. He says that the team that is being assembled from the people who participated in Europeans is no good except Apti Aukhadov.
He is very disappointed in what happened to Rigert and he was deprived of his post.
He is not satisfied with the whole situation in modern Russian Weightlifting and thinks that the weightlifting itself is in danger there.
He is preparing for the World Championship and does not actually wants to bother himself with Russian Champion, when there will be local selection for Worlds, he is gonna show the best results, for which he prepared being already fully recovered.
People from Federation actually proposed both to Klokov and Ivanov face to face to resign from Weightlifting and even asked Akkaev to help to get rid off Klokov.
Also it is said if Klokov wins the Russian Championship he will be preparing for Worlds, Akkaev doubts there will be no further counteraction from Federation.
He also says that his trainer actually told Syrtsov, the president of Russian, that Akkaev is not able to compete and asked to take substitution for him, but Syrtsov "hoped" that something will come out of it and did not want to change anything.

What Akkaev's coach actually told Syrtsov is that at that time there was a 70% chance of Akkaev not being able to compete in the Olympics.So they weren't 100% sure but they were quite sure that he was not going to compete.

The federation president in his turn denies all the talks about "getting rid off" anyone. He says that Akkaev is willingly not training with other athletes and he is very disappointed in him because of London. He has nothing against Akkaev and he lifts more than other people, than he will be rewarded as he should be.
Update:
David Rigert gave an interview about the interview.
"Akkaev – well, he did everything openly. So much so, he said it, as it is. I would have just chosen a different wording, but the meaning is correct"
Dmitry Berestov also weighs in on the matter.
Update (22.07.2013): Akkaev was invited to a medical check up and will probably go to train in camp Chekhov with the team.