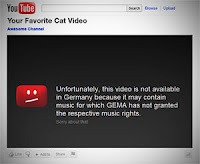 If you are outside the US you probably stumbled across the  "Unfortunately this video is not available in your country" – error message.
Solution: use a web proxy to access YouTube.
My Favorite
Browser extensions like ProxMate (for Chrome or Firefox, the install the YouTube package) or ZenMate (Chrome or Firefox).
Another Option: Web Proxies
Another reliable method is the following.
Just add "ss" inf front of youtube.com/…
Example:
http://www.youtube.com/watch?v=0Bmhjf0rKe8 to
http://www.ssyoutube.com/watch?v=0Bmhjf0rKe8
Then click on the little video preview thumbnail on the right to watch the video (or choose one of the download options)
Download Youtube Video / Convert to MP3
Use peggo.co and simply paste the youtube URL there.
Other Proxy Sites (simply copy and paste the video url into the proxy):