Update: Here is Part One – The Lion (Cub) of Himara.
Update: Here the video that was made for the US Olympic Trials.
Here is a special report from none other than Dr. David Boffa of The Human Circus and The Two Doctors Podcast. He was on a special mission in Greece to interview one of weightlifting's greats – Pyrros Dimas!
---
We were about forty minutes outside of Thessaloniki, barreling through the darkness in the back of a van, when serious doubts about the legitimacy and sanity of this endeavour took hold.
I remember thinking that picking up a couple of naïve American weightlifting fanatics and driving them out to the middle-of-nowhere Greece to rob them at gunpoint and leave them stranded would be a great racket: we weightlifters are suckers for the opportunity to rub elbows with greatness, and apparently all it takes is the merest whiff of a chance of meeting someone like Pyrros Dimas to get me in a plane across the Atlantic to a town I'd never even heard of.
I whispered something along these lines to Dr Westbrook—who was next to me in the back of the van—and he nodded, although he too had been more than willing to join this trip. After initially balking he ultimately changed his mind and agreed to this; simply seeing a schedule that included the line "Filming Pyrros Dimas taking part in traditional human activities" was enough to make him buy a flight right on the spot. But now the reality of the situation was sinking in. To be safe he sent a quick text to All Things Gym's Gregor: "We're driving down dark roads in the middle of eastern Greece, if you don't hear from us the next few days, send help, or at least food and coffee."

To which the ever-enthusiastic Gregor replied: "No problem I can be there with the Volvo in about 6 hours or so".
I had no doubt this was true, as Gregor had just driven down from Berlin to meet me in Munich—not quite six, but not much less—during a layover that was several hours longer than my transatlantic flight. But would anything be left us in six hours? Without food and coffee that was unclear. Although as it would turn out, nobody on this trip would be wanting for food—or coffee—thanks to a level of Greek hospitality usually reserved for visiting dignitaries, movie stars, and people like Pyrros Dimas. But more on that to come…
Perhaps you're wondering: How in shit's sake does someone end up on this sort of errand? Luck, of course. Also a total willingness to drop whatever day-to-day responsibilities you have. And finally, someone like Debbie Millet—of Praxis Weightlifting and the meet director for the 2016 USAW Nationals/Trials—pulling strings and levers.
A month or so prior she'd contacted me with an unusual question: Did I know if anyone would be interested in going to Greece to interview Pyrros Dimas?
Come again?
Through a series of machinations that are still somewhat vague, and that are a testament to Debbie's extraordinary skills as a meet director and now Producer, she had somehow scheduled two days of filming and interviewing with Pyrros Dimas. Beyond that, the region in which the town of Arnaia was located (where the van that night was heading), was to be our enthusiastic host, providing the aforementioned hospitality. Admittedly, I was skeptical at first: what sort of multilevel marketing scheme was being sold here, exactly, and how many hoops did we have to jump through to reach the "Dimas Level"?
But apparently I was willing to see this ride to the end. Part of me expected to arrive in Greece only to be told that Pyrros was unfortunately engaged elsewhere; part of me expected to be introduced to some other Pyrros Dimas who simply happened to share the same name; and part of me was simply terrified at what kind of hotel we were going to encounter in rural Greece, especially as the ride continued on and on.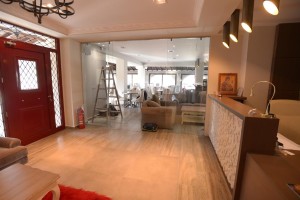 In the interest of saving you days, perhaps weeks, of nail-biting suspense, allow me to address at the very least the preceding concerns: Pyrros most definitely did arrive and spend two days with us; it was in fact THE Pyrros Dimas of Olympic weightlifting fame; and, despite the fact that Arnaia is home to only around six thousand people, the hotel was very fine, and seemed to have been remodelled in the hours leading up to our arrival. Like, really shortly before our arrival.
To save you some more suspense, here's the breakdown of what had been planned (in addition to the filming of Pyrros Dimas doing "human activities"): Dr Westbrook and I would be joined by Nat Arem of hookgrip and Debbie Millet on Saturday, and then starting Sunday we'd have two full days interviewing Dimas, first in a gym in Thessaloniki and then in the area around Arnaia. During this time, the region's tourism and cultural committees, along with local political figures, would meet us, accommodate us, and generally ensure that everything went smoothly.
But on that first night, as Dr Westbrook and I exited the van and toted our luggage—filled with cameras and lenses and mics and terabytes of available storage—none of this was yet to pass. At the very least we'd arrived, which—as with most things—was step one.
DIMAS: Man, Myth, Legend
Perhaps we ought to back up a moment, to a time before the van ride into the wilderness of Chalkidiki, before the call sheet with the ridiculously enticing shooting schedule, before the message from Debbie that would ultimately land me in Greece. Let's back up to the heart of the issue: Pyrros Dimas.
I'm assuming that everyone who has ever touched a barbell is familiar with Dimas, although I recognize this might not be the case. In a remote corner of the world there may be some wattle and daub hut dweller who hasn't checked in to the sporting world since 1990 and thus has never heard the name "Dimas." How this theoretical individual is accessing the internet is neither here nor there, but given the way AOL blanketed the free world with CDs in the 90s it's entirely possible they're still logging on to the cheerful sound of "You've got mail!" In any event, it is for you, dear hut-dwelling reader, that I provide the following résumé of one Pyrros Dimas.
In brief: Pyrros Dimas was born in southern Albania in 1971. The region where he was born (Himara, in the southern part of the country) had historically been home to a significant Greek population, and Dimas—both of whose parents are ethnically Greek—was part of that group. When he was seven and a half years old, roughly the age at which most of us are still learning the basics of gross motor control, he began training for what would be one of the most decorated weightlifting careers in the sport's history.
Following a period competing in and for Albania, Dimas migrated to Greece. It was for this country that he would go on to win four consecutive Olympic medals: three gold and one bronze, in 1992, 1996, 2000, and 2004, respectively.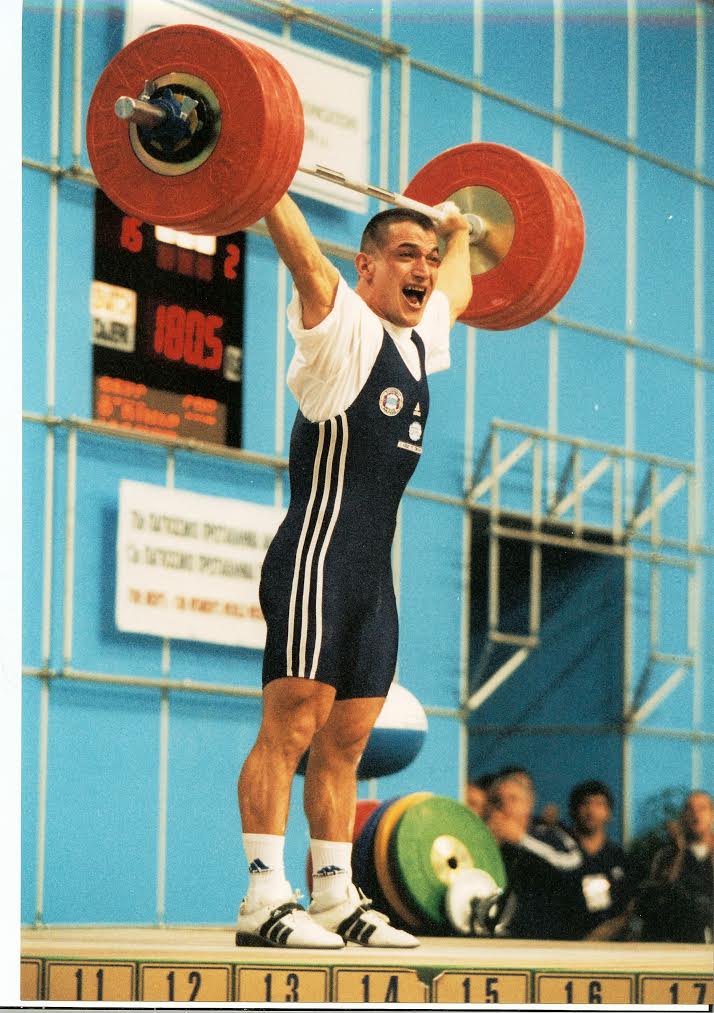 (Photo by Bruce Klemens)
In addition, he would become a three-time world champion (setting world records along the way). When he was first crowned Olympic champion in 1992 it had been nearly 90 years since his country had won a weightlifting gold medal, and Dimas's success propelled him to the status of a national hero—a status he has held ever since, and that only grew over subsequent years and victories.
If his first Olympic gold made him a homeland favorite, the two additional gold medals and one bronze solidified his place in the pantheon of weightlifting gods. Only three other lifters are three-time Olympic champions.
Beyond his sporting achievements, he is also a politician, a member of the IWF Executive Board, a Greek deeply concerned for—and honest about—the fate of his country, and a damn good guy. He is also quite funny. These latter points cannot be overstated, since it's rare to find an athlete—a superathlete, really—who is as interesting outside of competition or training as in it.
But numbers and stats are only part of the story here. For a certain generation of weightlifters, Pyrros Dimas was—is—a figure whose exploits and story have become the stuff of legend. He was a Greek hero who walked among us, even if he did so at the remove of an NBC Olympic broadcast. In the days before YouTube made watching lifting videos as easy as enjoying your favorite Justin Beiber music video, the controlled and limited access to a figure like Pyrros only served to increase his mythic status.
Weightlifters of the 90s and early 2000s had precious few resources with which to create their narratives: a few low-quality NBC clips (heavily-edited broadcast junk), the occasional photograph, Denis Reno's newsletter, VHS tapes of training hall footage (rare), and the legendary Ironmind "number one" poster.
In this restriction of access, Dimas became something larger than life for aspiring lifters, whatever our goals. We copied his signature technique (or tried to, and failed), we tried looking sideways with weight overhead, we dreamed of what it was like to reign supreme in one's chosen field for so long. And—to return to that famous Ironmind poster—many of us did all of this under the eyes of Dimas (or his image) himself, as that poster was a staple of weightlifting gyms.
All this and more is what Dimas was and is for many of us in the sport.
You can thus appreciate my excitement, and perhaps understand why I was so willing to head out to rural Greece on what felt like little more than a hunch. In retrospect, it makes the actions of medieval pilgrims—who often traveled hundreds of miles over potentially dangerous and hostile territory—a little more understandable…
---
Where can you see the finished product?
As for where the finished product there will be probably three versions:
at the US Nationals / Olympic Trials there will be a version that Jonas and I put together;
Nat and hookgrip will release a version;
Jonas and I will put together a longer version, available on our site – http://the2doctors.net/.