The guys from sheiko-program.ru also made an interview with Dmitry Klokov.
Now some of you might think "Ugh, another one? We just had 2 Dmitry interviews in the past months".
Sure, there is some overlap with the previous ones (Barbell Shrugged, "On Par 1"), but Dmitry also touches on some new topics.
More: Interviews with and by Dmitry Klokov here,
Notes
(This is not a complete list of topics, just what I found interesting. Watch the whole thing).
Starts out with him talking about being "lost" after London, how the seminars came to be and his experience during seminars, meeting different people and athletes from around the world.
[8:20] On the Difference in Athletes

Non-russian weightlifters and athletes are all pretty much amateurs in the sense that the love the sport and that's why they do it. When we tell them about our multiple daily feeding schedule, about our sauna trips, about our massage schedules, this kind of stuff, they just don't get it.

Even the people on their world teams just more or less train on their own until about one or two month before a major competition. And even then the treatment at these training centers does not compare to ours. They don't even have a salary and when I tell them how much we get paid [Check out the figures here] they lose it…. they think I am bullshitting them.
[11:30] Russian Mindset
[12:50] Crossfit and the Positive Effects on Weightlifting Popularity
[15:45] Crossfit in the olympics
"They don't need the Olympics" (exactly my opinion)
[17:00] What does your Weightlifting Routine look like?
For Monday Wednesday Friday:
two training sessions.
AM sessions are all Snatch related, Pulls, maybe light Presses, then diff Snatch derivatives
maybe Snatch from deficit on Monday, Snatch from hang on Wednesday etc..
third exercise (second after warm-up) are pulling derivatives (not full lifts)
then upper body assistance for pulling pushing muscles, all Snatching related exercises
4-5 exercises all for the Snatch
Mon, Wed, Fri PM: 4-5 exercises for Clean & Jerk, Same structure as in AM
Tuesday, Thursday, Sat is Strength day, which means Pulls squats presses. After that they go to sauna and get massages
That's the system for 80-85% of athletes on the team, "The Russian System".
Compared to other systems such as the Bulgarian school, which is much more focused on the classic lifts themselves, the Russian system is more based on strength.
2-3 months cycles to build base strength, then transition to competition lifts and remove dedicated strength lifts.
[19:05] How many days from a comp do you stop hard workouts?
Some do heaviest attempts 10 days out, he does his 90-95% attempts a month or 1.5months before a competition. After that he focuses on lighter weights for more speed while cutting weight. That's for older lifters, young athletes can tolerate more.
20 days out he has a system set in stone (weight cut)
[20:34] How often do you go for a max?
he tests abilities from time to time
coach is important to restrain you
he was kicked out of his gym in 2004 and from then on started to train alone
[22:20] Why did he start to train alone?
"he [his coach] is a dictator" and Dmitry wanted to have a say in what he has to do.
Gennady Anikanov "was probably the best coach in the country".
Why he makes so many Snatch videos and no Clean & Jerk videos.
"Why am I always making youtube and instagram videos of snatches? because in the Snatch strength is not really necessary. Yeah a bit of strength but mostly technique, in the C&J you need to be legit strong. you need to work, work ,work to be strong in the Clean and Jerk.

You can't train like I do and push around weights like 240kg. you just can't, but Snatching 190, that's not really a problem"
[27:48] About a possible comeback
He often mentioned April, because he is always in 80-85% form. So from then on he would have enough time to start the system and get into peak shape for the relevant ccompetitions
But  he is involved in so much business
If I leave for 1.5 years, who's going to do all that stuff? You can't just disappear like that.

Making the Olympics would be good PR, but what if it doesn't workout? Also I am 32 years old now
[32:40] Diet
varies, but usually eats 3 times a day,and he usually skips breakfast
since 2005 he had to fight to keep his weight down
changed his daily schedule so that he could wake up later and train later on an empty stomach. Energy reserves would get him through the first workout (at 11:00)
after that he eats lunch
Q: What's the one thing you believe most weightlifters neglect regarding training?
most important thing for long term health is warm up, listen to your body
when problems go unchecked  they compound each other
[37:40] His Best Lifts
[39:45] Biggest reason for the expansion of Crossfit?
Good looking people, who do a good job showing that off.
About Rich Froning
Well he snatches 136, cleans 160, which for crossfit is a hell of a lot  and at the same time he can row really well, and can do the gymnastics and all the rest very well too.  […] He has a good feel for his body ,has good knowledge of the sport's needs and has a good pharmacological support as well … of course things go well for him.
Some of you seem to get caught up with the term "pharmacology". He does not mean PEDs here.
From Vadim: "He sometimes refers to pharmacy drug support as "pharmacology"". For example he was reffering to 20-Hydroxyecdysone or neoton (both not banned) as pharmacology.
About competing in Crossfit
gets the same answer as above for weightlifting
[44:00] has he ever thought about competing in Powerlifting?
Never
Best Recovery Methods
sauna and massage, contrast showers are good for people who don't have sauna and massage
[45:17] About his Staggered Stance on Pulls
Personal thing. If he starts lifts with his feet in line his left heel always comes up. Also hi right shoulder is higher and right leg is longer, so he has to account for that
[48:00] What's the most common mistake in strength training in your opinion?
big letdown of crossfit hq is not teaching about culture and personal conduct in the gym (how to deal with equipment, respect for the barbell etc).
it all begins with respect for the barbell not puntin it with the foot, not stepping over it
About his Daughter Starting Weightlifting
He doesn't want his daughter to be in weightlifting.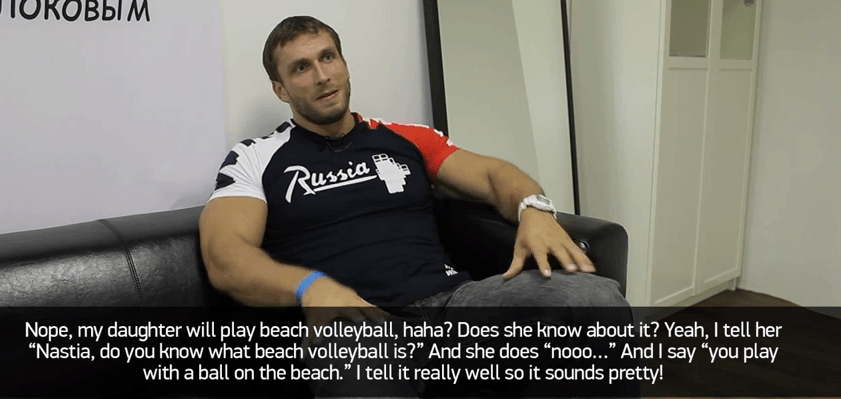 [53: 25] Do you think weightlifters from the US will be able to place highly at international competition in the near future?
In order  for any county to be at the top of a sport, it needs to be financed and supported like a "national idea" with government support.
Dmitry wants to see good competition between Russia and the US. Jokingly says:
Who's fighting with china? No one wants to fight with them on the platform or in real like… shit they'll take over the world soon anyway.
[55:00] Pre and Post Workout warm-up, Flexibility Routines
he is often asked the same question during seminars
he comes from judo and was made very flexible there, so it was never a problem for him
for his seminars gathered information from other olympic champions to give to attendees
Finally he stresses the overall importance of sleep. It trumps training, nutrition, supplements.