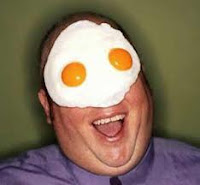 In case you need ideas for how to prepare your eggs. Check out this thread with simple yet different egg recipes.
adding black beans to scrambled eggs
Omelet Muffins – You can bake them in a muffin tin for about 10-15 min at 400 degrees. Delicious. You can add ham, dill, goat cheese, sundried tomatoes… anything. Its easy and healthy.
Boil them. Cut them in half like you are going to make deviled eggs. Scoop out the yolk and fill with hummus.
omelets with Greek yogurt
add some frozen stir-fry vegetables to the eggs
Eggs Khagina – Pakistani-style scrambled eggs
Huevos divorciados – divorced eggs
Gyeran jjim – Korean steamed egg casserole
buying the cartons of egg whites. Use that to make an omlette and thrown in a handful of spinache and some cheese
My personal favorite if pressed on time: Microwave scrambled eggs. Doesn't get any lazier than that.
Don't like eggs at all? Check out What to eat besides eggs?