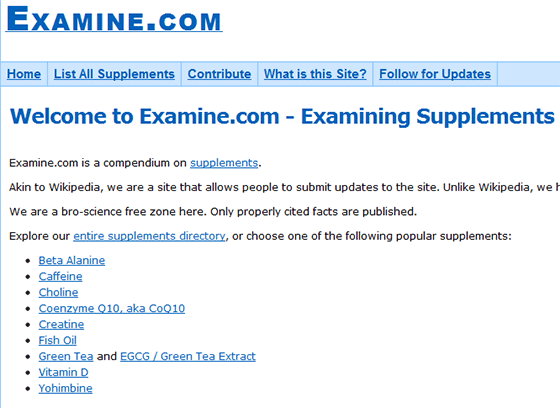 If you have a question regarding a supplement I highly recommend checking out Examine.com.
It is an independent compendium on supplements and aims to be the number one go to source for all your supplement questions.
"This site is user generated. Everyone can contribute – both in terms of information, and in ranking how useful a supplement is for various areas of fitness."
Here is a the list of supplements they already cover. Take for example the entries on creatine or vitamin d.
Each article has subcategories like:
Do Not Confuse With (what we don't call it on the street)
Goes Well With (these guys work together at the same time)
Don't Take With (it will be like pissing your money away)
Recommended Dosage (the right dosage to success)
Caution Notice (just some FYI – if needed)
Usefulness
One of the editors is Kurtis Frank aka Silverhydra (great site, definitely check it out). He was recently interviewed on "Livin la Vida Low Carb" about examine.com, supplements and his views on fitness. You can listen to the interview on here.