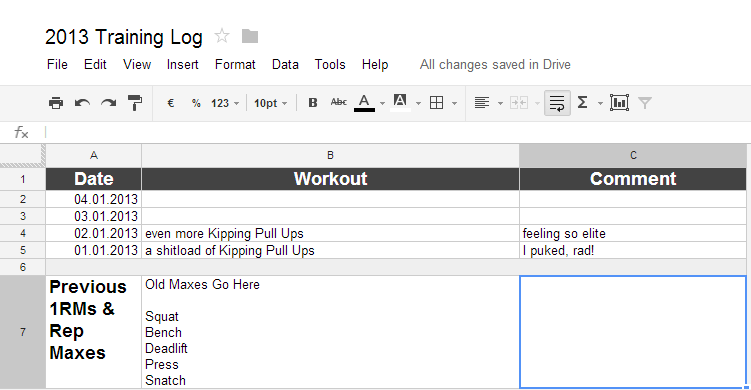 It's a new year. For those of you who are still not tracking your workouts, this is the perfect time to start.
How I Do It
I use a simple Spreadsheet available on Google Docs (choose 'File' -> 'Make a Copy' or 'Download as' to get started).
Just 3 columns (see preview below). Date, Workout, Comment.
Each day I add a new row above the previous day. So the most recent session is always on top.
In the Comment column I answer questions like "How did the weight feel? How was the speed of the reps?  Was I tired? Did I get too little sleep last night? Did I have some aches and pain? Did I PR? Ideas for the next session. etc.
You get the Idea.
Tip: You get Line breaks within cells by hitting ctrl+enter.
Why It's Awesome
searchable
always available (on Desktop, on the phone)
plan ahead, (copy & paste)
compare to past workouts, analyse
see progress – sometimes it is easy to forget what improvements you made
extendable – go fancy, track other stats like weight or sleep duration
export your data in various formats
free!
If you take one thing away from this site, I want it be this. Start, and what's more, keep a log in 2014 & for the years to come. It will make you a better athlete in the long run.
Preview
Open it in your Google Docs (choose 'File' -> 'Make a Copy' or 'Download as' to get started)