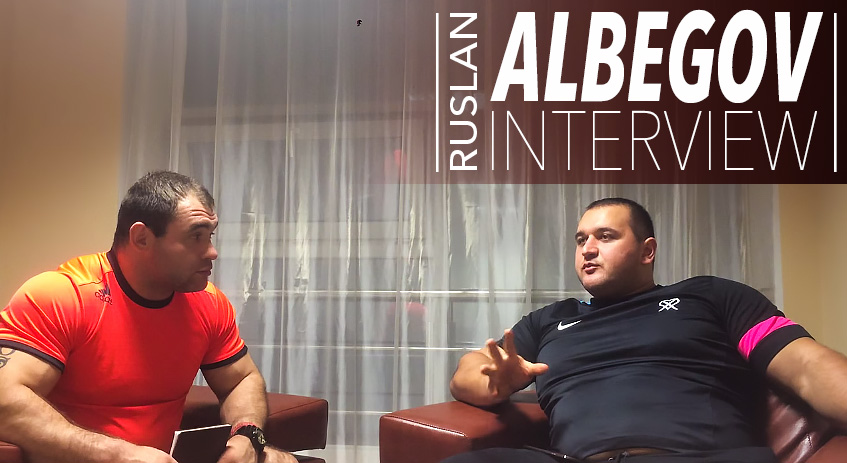 Continuing in his Interview series, Vasiliy Polovnikov sat down with Ruslan Albegov.
The Translation + Summary was kindly provided by reader "mindblowned"
Translation
Vasiliy: How did you start lifting?
Ruslan: When I was 11-12 my brother brought me with him. He became Master of sports and won the Russian championship under 18. When I was 14-15 I was lifting almost the same weight as him, so he left weightlifting 😀
Vasiliy: Did you decide to keep going yourself?
Ruslan: In the beginning brother forced me. After some competitions I got addicted. I was with my first trainer Petr Nikolaevich Zboev (not sure if spelled correctly), until age 20.
Vasiliy: I heard you joined the army when you were 20 and before that you didn't do well in sport before.
Ruslan: Yes.
Vasiliy: Do you think army helped you to improve weights or was it because of the new coach (Kazbek Zoloev)?
Ruslan: Yep, army helped. I became a commander of the tank.
Vasiliy: When did you achieve a good competition result after you came from army?
Ruslan: When I came from army I was smaller than you, Vasya. I was about 109 kg. After two years (2011) I won Russian championship and then Europeans and bronze medal in Olympics.
I think my career just startsVasiliy: Do you think you have a room for improving?
Ruslan: I have a plenty of room physically and mentally.
Vasiliy: Do you think you need to gain weight or something else?
Ruslan: My bodyweight is perfect. I just need to heal some injuries. I think my career just starts.
Vasiliy: How do you estimate your current condition?
Ruslan: I think it is only 60%. But everything is going as planned.
Vasiliy: As you know I coach online and I have my pupsiks to train. How do you recommend to train people who lack physical strength.
My physical strength is a jokeRuslan: My physical strength is a joke, so I'm a wrong person to ask.
Clean Pull is 290 kg
Snatch Pull 240 kg
Squat is 305 kg ×2
Vasiliy: Any advice how to speedup popularization of weightlifting?
Ruslan: Build gyms and show more sport shows.
Vasiliy: Do you have any plans after finishing sport career?
Ruslan: I just got my law degree. No other plans.
Vasiliy: Thanks. Any wishes?
Ruslan: Believe in yourself whatever you do.