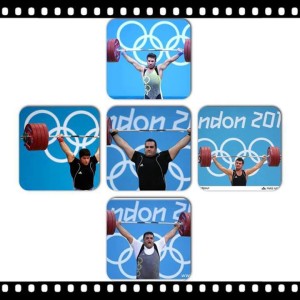 This one came unexpected.
Update 24.02.2014: Salimi and Co. are back in the national team and take part in training camps. (via)
The Iranian  National Weightlifting Team posted a photo (24 June) on Facebook showing Behdad Salimi, Kianoush Rostami, Saeid Mohammadpour,  Sajjad Anoushiravani, Navab Nassirshalal together with a caption "WE MISS THEM!".
As to why this happened, they said
They had a trouble with coach
and
Salimi and others don't want Bagheri! (coach)
This is in line with one of the interviews on Iranian television where Behdad and his coach got into a really heated argument in front of cameras.
In the video Salimi complains, among other things, about the bad language Kourosh Bagheri uses in training. Salimi says that he can't bear no more disrespecting from the coach. Coach says it's not true.
If you know more about the story please comment below. There must have been more about this in Iranian media.
Update: Translation of the Video
TV host asks Begheri in Iran we have always had problems and issues with sports and media, coaches and athletes… and now eventually in the the sport of weightlifting.
Bagheri: Unfortunately from 2003 to 2010 we haven't won any medals in the sport of weightlifting (other than Rezazadeh's medals) , that he believes it was because of his own effort and potential in the sport. There was others who worked hard, however for several reasons they didn't succeed.
In 2010 Rezazadeh became the president. Before we had 4 lifters who had positive drug test. Since after with the presence of Salimi and other lifters we managed to win several medals, for the 1st time in the history of Iran we won the world junior weightlifting with these same lifters, came third at the senior level for the first time and until olympic which we won very important medals.
The media wasn't very thankful to us and they expected higher results or first place.
TV host asks Salimi you are the world champion and Olympic champion but why are you not called for the national team since after the Olympics? Are you physically not prepared? are you not training?
Behdad: you should ask Mr. Bagheri why I've not been called to the national team. I am back to training a while now and now I'm over 80% prepared and I don't know my self that why mr Bagheri didn't call me to the training camp. However our argument is not about why he called me or not. It is not about being physically prepared or not.
TV Host: Then what is all of these problems and issues about? Where and when did all of these start from?

Salimi: We had these issues even since before the olympics. We thought if we win olympic medals maybe these problems, disrespects, insults… can be solved. Unfortunately even after the olympics they continued.
TV host: Can you tell us about the way the communicate to you and other lifters? can you tell us more? Lets solve the issue.
Salimi: Our problem (Salimi and other Olympians) is that Mr.Bagheri is disrespecting us.
TV Host: How?
Salimi: In my opinion his tone of voice and the way he speaks is very bad, the words and the language he uses is very inappropriate.
Begheri: Can you tell people two of those words that I used???
Salimi: Before all of these problems started I had an interview that I said our athletes are very innocent and nice and it's not right to communicate to them in this way and this can cause problems in the future. Three days after I went to the training hall with the kids and subjuniors were around, the kids who I am an idol for, Mr. Bagheri spoke to me in a very inappropriate way and used dirty words which I can't say the word in TV broadcast. This is just one of the examples, there were many more and still is.
Bagheri: Since you reminded me of that story I will tell you why I spoke to you and other lifters like that. This was because when you and all the other lifters were being too relax and not taking things seriously. If i'm not wrong Mr. Salimi 5 months before the 2011 world championships he lifted a total of 475kg total but now which is about 5 to 6 months to the 2013 world championships he can't even lift enough to win a medal. The reason I spoke loudly is because in training hall there is a lot of noise from the weights and lifters. These lifters want two things. First they don't want Bagheri, no problem is not what I own I came one day and will go some day. The weightlifting federation has a president and coach. The 1st place that salimi spoke to was the media and newspaper.
Salimi: the 1st place that Mr. Bagheri spoke to was also newspaper.
Bagheri: About what?
Salimi: If you have a problem with someone you go and talk to him/her personally. We had all of these issues since before the olympics but we did not let this to affect our psychology.
Bagheri: Said to Salimi that in weightlifting no one won any medal in Iran for 7 years until I came, with my programs, knowledge and this same bad personality and attitude that you are telling me about.
Salimi: Don't try to change the topic and discussion.
Bagheri: People should know how we achieved these medals.
Salimi: No you are carrying and changing the topic to some other topic. Even my self I always said that Bagheri has very scientific and good training program with great training discipline and I also agree.
Bagheri: Then why are there interviews that you said Bagheri's training program injure my shoulder.
Salimi: Yes I did said that but I also said even if his training caused to injure my shoulder we even won medal with his coaching.
Salimi: Let me tell you since from my 1st competition at junior level I alway sown Gold medal and attacked Rezazadeh's record many times without your coaching until I came to the senior level when you start coaching me.
Bagheri: So are you trying to say my coaching was not so useful?
Salimi: When you say it " worked on 4 other lifters as much as worked on Salimi they would have been as successful as salimi", you are wrong. Who is going to win gold in the superheavy this year?
Bagheri: Sit down at home and you will get your answer in 5 months. I still haven't get my answer. What do you and your friends want from Kourosh Bagheri?
Salimi: I don't think with this situation me and other lifters can work with you.
Bagheri: Why not? You will cheat on your self. You can still win many more medals.
Salimi: I can do it with you and without you.
Bagheri: Laughs
Salimi: I can win with you but not with this situations such as bad language and insult and disrespects.
Bagheri: You are making it sound like since after the olympics I have been swearing at you everyday and you didn't say anything. Why all of a sudden you are talking about this now?
Salimi: Before the Olympics I and Anoushirvani had many arguments.
Bagheri: No we never had, specially I didn't had any argument with your self before the Olympics.
Salimi: Yes we did many times you are lying now. Be honest! How many times myself, Anoushirvani and other lifters had arguments with you?
Bagheri: Zero we never did I can't remember. Specially with you never did. Why didn't you tell Rezazadeh or others?
Salimi: You are not saying the truth. Because if I did I would have the same problems as I have now before the Olymics I wanted to focus on training and didn't want anything to bother me psychologically.
Bagheri: I am sorry that you are not saying the truth your self and not being honest.
TV host: Lets now get the final result from this discussion Lets forget about these arguments " you said this, I didn't say that…" Whatever happened was in the past. Can you set aside the past mr Salimi and forget everything?
Salimi: Definetly not with this situation, if you go to the newspaper in the past you can see the sentence and word that they used for me, people can go and see what word they used for me in capital letter.
TV Host: if you didn't won Olympic gold would you still have these problems?
Salimi: Please listen now, everything I do is because of the people and the love of people of Iran and my country and to raise my country's flag in another country. All of these was for the love of my land and I would like they to have respect for me, I don't expect some people to use dirty words on me could be personally or media or newspaper.
Bagheri: So what Mr. Salimi wants now?
Salimi: Can't work like this.
TV Host: Let's not argue and fight now.
Bagheri: This is argument and fight, Have you seen anyone to share Halva (baqlava sweet) in a fight? Look weightlifting is not only Kourosh Bagheri and Behdad Salimi, Weightlifting has history of over 60 years in Iran. A lot of champions came and went. In my opinion I did not disrespect anyone, I'm not a person to speak like " Behdad could you please…"
Salimi: Just not harsh language
Bagheri: I'm sorry for you Salimi.
Salimi: I'm sorry that you are lying.
… arguement continued
At the end there was a question to people.
How can the future of weightlifting be improved in Iran? 78% work on the problems of athletes under the federation and the coaches, 21% change the programs of the federation.
Then there was also this video with the description (from April):
Following the verbal attack of Behdad Salimi, Iranian weightlifting Olympic champion, against his coach Kourosh Bagheri on Live TV, the Iranian weightlifting Federation does not take him to Uzbekistan to receive his award as the world's best weightlifter. Instead Hossein Reza Zadeh the head of Iranian weightlifting Federation receives the award!