Here are some recent news items from the world of weightlifting that have piled up over the past weeks.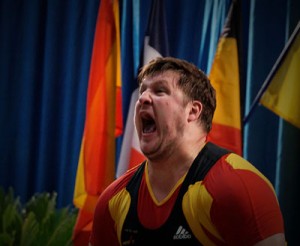 In an interview at the end of August Matthias Steiner critizised the lax doping controls.
There is too much looking away and downplaying for my taste.
He especially critizied Russia.
When it comes to international controls that were set and comissioned by the IWF and its president Dr. Tamas Ajan, in recent years there have been some very large inconsistencies that can be seen in the statistics. In this system the Russians didn't have any controls during their training this year.
Ouch, you rarely hear somebody speak out this publicly about it.
Talking about Iran's and Russia's numerous positive tests in the past he says
I have to deal with athletes from nations where, how shall I put it – the road to performance seems to be a different one than from where I am from.
Update: via IronMind
The German Weightlifting Federation (BVDG) has called for the resignation of International Weightlifting Federation (IWF) president Dr. Tamas Ajan based on what the BVDG describes as the IWF's substandard drug testing program and the IWF's attempts to bully any who challenge its policies.

In fact, a quick independent check of the IWF data shows that approximately 67% of the men's weightlifting medalists at the 2012 Olympics had either zero or one test from January–July of this year, a critical period in terms of preparation for the London Games.
Update: here are the letters between Thomas Ajan and the BVDG (German WL federation).
---
In other news, the reason that Ivan Stoitsov and Velichko Cholakov didn't lift in London was probably not because of injuries and tooth aches.
Polska Sztanga reports that the president of the Bulgarian Weightlifting Federation, Nedelchov Kolev made them a good offer that convinced them to return to Bulgaria.
Update: That turned out to be false, just as the news about Abadjiev returning.
"They always write lies and slander" . Bulgarian weightlifters Ivan Stoitsov (85 kg) and Velichko Cholakov (+105 kg) can finish his career in the national team of Azerbaijan. According apasport.az with reference to the Bulgarian press, this is related to the appearance they desire once again to defend the honor of his country's national team.