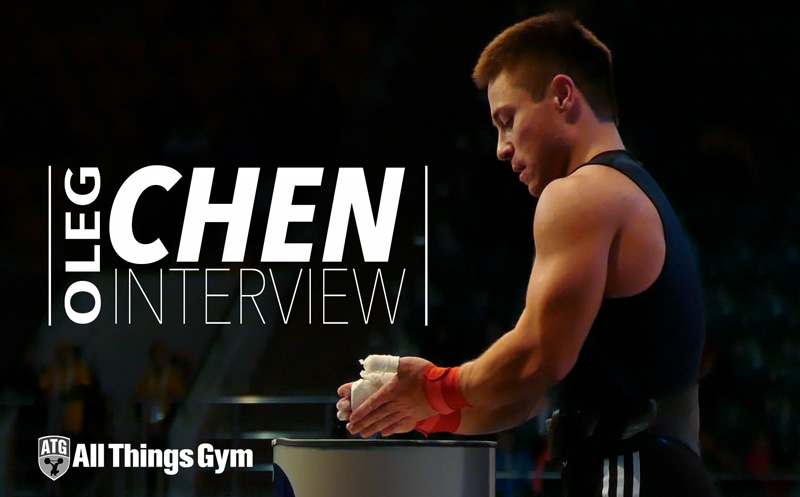 Next in the series of interviews with Russian weightlifters we talked to Oleg Chen.
Alexey Goldbergs from wodloft.ru interviewed the 26 year old shortly after the 2014 World Championships.
Oleg talks talks about the competition, his numerous injuries and of course his training,
Translation is brought to you by Sergiy Turchyn.
---
Oleg, I would like to congratulate you to the silver medal in the Snatch in the last World Championships in Kazakhstan. It's a pity you couldn't get on the podium in the total. What do you think about your performance at this competition, considering that you did not fully recover from the knee surgery performed in May?
I would give myself 3 out of 5 for my performance because even after the injury I had a chance to be in top 3. I was ready to lift enough weight to get on the podium in the total. That's why I was disappointed. I had to endure a lot during the preparation. After the surgery I had to train on painkillers.

What was your plan for this competition?
I was ready for my 160/180. However, the Clean and Jerk didn't go well after the Snatch.
However, you Clean and Jerked 178 kg. After that you had to go for 182 and you have never lifted such weight in competition.
Yes, I have never attempted such weight in competition.
You looked like you missed the first Snatch because you were nervous. It looked possible for you to lift and you did that in the second attempt where you successfully lifted those 153 kg. Was that the real reason?
At first, I planned to open with 155. Later in the competition we changed the plan and it seems that my mental preparation for 155 let me down. I was confident that I would lift this weight [153], relaxed because of that and made a mistake. As a result the barbell was too far forward. The second attempt was good and I could lift more.
We will talk about the third attempt later.
Of course, I should have performed the first attempt successfully. It was my mistake that I wasn't mentally prepared enough for this weight.
Did it matter that you competed on your motherland [Oleg Chen was born in Almaty, Kazakhstan]?
Not really. I was only a little bit nervous because it was my first meet after the surgery.
I am sure many people are interested in the following question. What happened in the 3rd Snatch attempt? After 153 it looked like you could lift at least 3 more kg, but you attempted 154. This was just 1 kg more, an automatic increase in weight after a successful attempt. Could you give us any comments?
Sure. After I lifted 153, I was walked down from the platform and told my coaches: "Let's go 160 next." When the coaches finally agreed to lift this weight, 1 kg was automatically added and when we started changing the attempt weight during the first 30 seconds out of 2 min, about 6 seconds were definitely still left on the clock.
However, the secretary from Egypt who took attempts told us that it was too late to change the attempt weight. While we tried to prove something, these 6 seconds passed and I had to lift 154 kg. [Note: In another interview, Alexander Venkov, the head coach, admitted that it was his mistake that he took too long to change the attempt.]
So, it wasn't the coach mistake, as many thought. This was more of a "sabotage" from the judges.
Yes, it seems like it. There was still time left, but the judge just refused to change the attempt. Of course, I became upset. Everyone understood that my Snatch is better than Clean and Jerk and I had to get ahead in the Snatch in order to fight for a medal in the total. Even if I Snatched my usual 157 kg and Cleaned and Jerked 180, I would get the second place.
I should also ask the question about the equipment. It was strange that during these Worlds some athletes competed in Adidas shoes where all the logos were covered and Nike logos were drawn instead. Could you explain why did you compete in Nike Romaleos II in Europeans, but decided to go with Adidas adiPower in this competition?
We were given Nike equipment before Europeans and I literally put it on 2 weeks before the competition, but couldn't get used to it. Firstly, they are too wide for me and my feet were not fixed in place. Secondly, I was always too far forward in them.
Many notice this aspect of Nike shoes.
Before that I never "spinned" in the Snatch. On Europeans I dropped 155 behind, which is not easy to do with my narrow grip.
So, I decided to discard these shoes and compete in my old Adidas ones. We later talked to representatives of Nike that has a contract with RWF and gives us equipment. Of course, the federation didn't like the fact that I competed in Adidas.
However, I really cannot compete in them [Nikes]. Not because I don't like Nike. No. I am just not comfortable in them. We came to a conclusion that they would take me together with middleweight and heavyweight guys, measure us, and Nike will fit shoes according to these measurements.
What do you mean by "fit"? They have only one shoe model.
They will sew them differently.
So, it would be some special order.
I guess so. I personally don't care if it is called Nike or Adidas. I just want the shoes to fit me and be comfortable.
You mentioned your narrow Snatch grip. What is the reason for that?
I broke my wrist in 2003I broke my wrist in 2003. If I Snatch with a wider grip, I feel discomfort in the wrist. After trial and error I ended up with my current grip.
If I didn't have the wrist problem, I would probably have a wider grip. I would probably Snatch more in this case too because I would have to pull the barbell less high.
Since you have such a narrow grip, you have very good shoulder and chest flexibility. Have you ever thought about trying the Squat Jerk like the Chinese?
No, I haven't tried that. I don't have any problems with the Jerk. I always Jerk. This time I just hurried a little bit.
I also thought that after such a heavy 182 kg Clean you rushed with the Jerk.
It crushed me and I had to Jerk it faster. I missed. I Jerk 205 from rack. But in this case I didn't even stand up completely because I wasn't stable. If I waited a little bit, there would be no problem. Overall, I don't have a problem with the Jerk. I need to work on Cleans and leg strength more.
I need to work on Cleans and leg strength more
What was your impression from the championship on your motherland? Did you like everything? Was everything comfortable and organized well?
Yes, everything was organized at the highest level. We were living right near the competition place. It was about 500 meters to it. Everything was within walking distance. I like everything. Great living conditions, organization, awesome gym… I like everything. The main thing is that we performed the task for this championship and got 6 spots at the Olympics.
Looking at the results it seems that the team went not for medals, but for spots at the Olympics. You were competing not being fully recovered from the surgery. Apti had 2 surgeries. Artem Okulov was on painkillers.
Yes, our main goal was getting the spots. The head coach made our task to get the spots at all costs. This championship is qualifying and we already aim for the Olympics. In the future, they [authorities] will care about medals at the Olympics, not Worlds. However, I hope that everyone will be able to fully recover and compete in the top shape next year.
We will talk about future plans and injuries later. Did you watch competitions in other weight classes after yours?
Of course! I didn't skip a single weight class.
Which one did you like the most?
I like the 105 class. I haven't experienced such emotions for a long time. Something unreal happened in the hall.
This was because Ilya Ilyin, Kazakhstan national hero, was competing.
Of course! However, David Bedzhanyan also did very well both in the Snatch, Clean, and Jerk. The fight was real.
It can be compared to Paris 2011 when Klokov and Akkaev competed for the gold. Of course, when Ilyin missed 239 and Nurudinov got it, everyone thought that was the end and Nurudinov was the winner. But, firstly, David pulled himself together and Jerked 240 in the last attempt.
It was still not enough for the gold, since he lost 6 kg in the Snatch to Nurudinov.
Yes, but he would be ahead of Ilyin. However, Ilya later proved that he was the champion and would not give away gold at home.
Did you live alone or with David?
I lived with Rinat Kireev. David lived with Ruslan Albegov since they arrived later.
It has been more than a year since Alexander Venkov became the head coach. Can you tell us about the atmosphere in the team?
Sure. Since Alexander Venkov became the head coach, the team has become friendlier. It is like a big family where people support each other. It is really important for the team to have warm relationships between athletes. Now there are no rivalries anymore.
Do you agree that one of the reasons for that is the team core consisting of athletes who used to be in the junior team headed by Venkov?
This is definitely one of the reasons. However, the situation was still different before Venkov. Now all athletes have equal conditions. If you deserve your place in the team, if you show the results, you compete.
There are mixed opinions about that. For example, not everyone understands the situation with the 105 weight class. There were 4 athletes preparing, but only David Bedzhanyan actually competed. I am not against him competing. It is not a question. However, it was not clear what happened to the second athlete. Why was Sabanchiev chosen?
I can explain it. Since all three 105s (Vasily Polovnikov, Martin Sabanchiev, Maxim Sheiko) totaled the same number (416 kg) in Russian nationals, the team leadership has decided to send the athlete who wins the max out to the Worlds. Everyone did the max out on the same Monday. Sheiko got 185/230 (missed 190 twice). Vasya got 185/220. Sabanchiev got 190/226. He outlifted Sheiko by 1 kg and Vasya by 11 kg. That's why he was sent to Worlds. Of course, some may not agree with this, but everyone had the same conditions.
Regadring injuries, Alexey Lovchev in his latest interview mentioned that he does not Front Squat because of an old knee injury. You also had a knee injury. Does it prevent you from Front Squatting?
Honestly, I barely did any Squats during this preparation. My knee didn't let me do it. I started the preparation just in mid-August. I barely Squatted all this time. My left leg is smaller in size and the entire load was on the right leg that made it more tired.
As far as I understand, this knee problem is not new for you. After last year's Europeans you mentioned it.
Yes. I broke my knee cartilage and in 2006 I had a surgery on it. It seemed that I recovered after it. Then in 2008 my knee made itself heard.
I had cartilage tumors in my knee
I got cartilage tumors in my knee. I always had two 3 cm balls that either went outside of my knee, or went inside and blocked it.
When I competed in Europeans this year my knee was swollen. I actually think that weightlifting shoes also influenced this. They had higher heel and there was more pressure on the knees. As a result, I had to have a surgery in May.
They cut out these two 3 cm balls and several smaller ones. I did the surgery in Germany. I was afraid to do it in Russia.
We can also perform such kind of surgeries, but for normal people, not weightlifters. I know guys who did such a surgery in Russia and couldn't recover for 1.5 years. That's why I had to go to Germany. The doctor was a very good professor. He told me that in 2.5 months I would be able to train again. So, in mid-August I started my training.
Knee problems are probably the most widespread not only in weightlifting, but also in other sports. What would you recommend to do to prevent such injuries?
It is important to stretch and work on the leg extension machine. There are other procedures too such as peloid, electricity, physiotherapy. I always do all of it each year. I also inject Durolane into the knee twice a year. One injection costs around 15 000 rubles [$289]. So, once in 6 months I inject it in each knee. It is like bearing lubrication for my joints.
If you get some small injury (such as a small strain), do you think that the athlete should continue training or rest until full recovery?
I think that in a case of small injuries you should immediately do something about that.
It can get worse. I have such experience. I used to have shoulder pain. I didn't care much about it because I had to train.
I injected CLT [not sure what it is, maybe Celestone?], Traumeel, and other anti-inflammatory medicine into the shoulder. It relieved pain for a while, but once it became much more severe. Thus, it is better to put less pressure on the injured area for a while. At least, I do that now. If something hurts, I decrease the load, use compresses and ointment until I recover.
Here is a traditional question. What are you best training results in different exercises?
Snatch: 155. Tried 160 but failed.
Hang Snatch: 160
Block Snatch: 165
Clean and Jerk: 185
Front Squat + Jerk: 190
Jerk from Rack: 205
Clean Pull: 210×2
Back Squat: 220×2
Front Squat: 200
Press: 90×3.
BTN Press: 70×5, never tested 1RM.
Bench Press: 120
I also often do Back Extensions. I usually use 70 kg for 10 reps.
Is that [back extensions] how you treat your old back problems?
Yes. It happened in Europeans in 2012 before the Olympics. I Snatched 158 and bombed out in the Clean and Jerk at 175. 158 kg crushed me and I got pain in the right side of my back.
In the Clean and Jerk even my legs started turning numb and I bombed out. I returned home and started training for nationals without recovering from this. At nationals I lifted something like 152/180. After I returned home from it my back started aching. I didn't care. I tried to forget about that and train.
I do Back Extensions Every DayLater I couldn't even stand up. I could neither stand up, nor sit down. I had no idea what to do. An ambulance brought me to a hospital. At first they thought I had kidney stones.
When they checked for it, they found nothing. They did MRI and found 4 herniated disks. One was huge. They still bother me sometimes.
But I regularly do certain procedures such as underwater spinal decompression and galvanic mud treatment. I also do Back Extensions. 1 set in the morning and 3×10-12 after training. I do it every day.
Do you pause during back extensions?
I do them in a normal tempo and only pause for a few seconds in the last set. I also do abs a lot. To have a strong core.
How do you train abs?
On a pommel horse. I lie on my side and do Side Crunches.
With a barbell?
No, I use my bodyweight and do sets of 15-20. I can also do it with a plate while standing on my feet.
What are your most and least favorite exercises?
Cleans are the hardest for meI like the Snatch. I feel it very well in all positions. From hang, from platform, from below the knees. I don't have an exercise I don't like. Cleans are the hardest for me. But I cannot say that they are my least favorite. I just make a goal to work on them, do various assistance work for that.
When do you like to train: in the morning or in the evening? For example, Alexey Lovchev likes to train in the evening.
I can train both at 8 and at 12. Of course, I like evening training more.
Adam Maligov in his interview mentioned that he likes high volume training with sets of 3-4. Khadzimurat Akkaev likes heavy singles because he quickly overtrains from high volume. What does your training look like? Do you have more volume or you prefer singles?
Depends on the training cycle. If it is 3 months out of the competition, I usually have high volume work with sets of 2-3. But I don't use 80%, I use 90%. I work with 90% almost every day.
For sets of 3?
No, for sets of 2. For example, if my best Snatch is 160 kg, I can lift 140 for 2-3 reps. Thus, when preparing for the competition 2-3 months in advance, I never Snatch less than 140. I don't even count 130 and less as work sets. Sometimes I do 6 sets of 140×2.
In the Clean and Jerk I work with 160 kg. When it is 1 month before the competition, I transition to 1-2 reps per set. The weight I lift goes up as well. For example, I may Snatch 150 for 3 singles or Clean and Jerk 170 for 3-4 singles. When it is closer to the competition, I try to do less classic lifts not to overeat.
What bodyweight are you usually at when training for a competition?
73-74 kg. After a weekend when I ate and rested it may be 74. When I am training it may be 73.
How do you lose these 4 extra kilos to make weight without losing strength? It seems that your training and competition lifts are close. Do you have a recipe for that?
When the preparation starts, I try to pay more attention at my diet. I don't eat everything such as bread, starch, and sweets. I eat mostly meat, vegetables, and fruits. For example, I only eat dairy for breakfast. For lunch I have soup, meat, vegetables, and some salad. For dinner I may only eat meat.
So, you are seriously cutting carbs.
Yes, but I may allow myself to eat bread with butter or caviar. But only for breakfast.
Do you eat groats such as rice or buckwheat?
Yes, always. However, I usually don't have to make weight. It goes down itself closer to the competition.
A day before the meet I have full breakfast, lunch, and dinner. During this championship, I weighted 69 kg in the morning. I went and had breakfast of about 700g, but my weight went down to 69 again in the evening. So, I don't usually cut weight or go to sauna.
I heard that once you had a problem with making weight. You were 1.5 kg above and you went to sauna almost in the day of the competition.
It happened once in Kazan 2006. I was competing in 62 class. I came to the competition venue and I was 64.5 kg. The next evening was my time to compete. I went to sauna on that day and the next day. I remember that I Snatched 130, Cleaned and Jerked just 145. It was rough. In 2007 I moved into 69 class.
You are too short (162 cm) for 62 kg. What is your favorite meal?
I actually like to eat. Right now I am letting myself eat what I want after the competition. I love pelmeni [dumplings]. I also love Korean national food. My mom cooks very good kuksi.
Do you take any supplements?
I usually use MuscleTech products. Protein, Gakic, Creakic, vitamins. I try not to abuse supplements. I pay attention at how my body feels. For joints I take Animal Flex, Geladrink Forte, Theraflex. But Theraflex should be taken for 3-4 months because is has additive effect.
What do you consider your highest athletic achievement?
I like last year's Worlds. I had good results. I don't consider it a highest possible result. I actually try to forger about a competition right after it finishes, so that I can focus at the preparation for the next one.
What are your plans for the future? For example, Alexey Lovchev rests at least a month after a big competition and does not even touch a barbell.
I had a rest after last year's Worlds and I am resting now. I competed on 10th and I am still resting (the interview was taken on November 20th). Next week I will start stretching and using machines. I don't like to completely rest because it is hard to start training afterwards. After competitions I try to go to the gym and do some assistance work on machines rather than lying on a couch and doing nothing.
My next big meet will be European Championship. I would like to be in good shape. Olympic spots will be reserved there. My main goal is, of course, the Olympic Games. I couldn't go to the last Olympics. Well, what do I mean by couldn't… I was in a good shape and was ready to go. I was in the training camp until the last day. However, the coaches made a different decision.
Do you think it is possible to fight with the Chinese?
The one in my weight class (Liao Hui) is a truly unreal guy. If anyone else comes, the fight is possible. In 2011 the Chinese competed in my weight class. In London not that much was lifted (344 total). In 77 kg there is also a very strong Chinese (Lu Xiaojun).
He missed this championship because of some reason. Even on Asian Games, did not look very good and almost bombed out in the Clean and Jerk, lifting his 200 kg only at 3rd attempt.
Really, everything is possible. The main thing is to set your mind and move towards your goal. It just takes time to recover from injuries and get in a good shape.
What do you like to do when you are not training?
In the training camps I try to read more. I take books with me and read them.
What do you read?
Classics. Such as Victor Hugo or Bulgakov's "The Master and Margarita".
I know that you are studying in the Institute of Municipal Management. Have you graduated or are you still a student?
I am a junior. I already have physical education degree and I am currently majoring in state municipal management in Sochi branch in Anapa. When I can, I try to attend lectures and seminars, take exams and tests. I try to spend time on this in training camps too. Sport is a sport, but I also need to think about the future.
In mid-July you participated in summer Crossfit camp where you taught weightlifting. Can you tells us about that camp? Do you plan to participate in such events in the future like other Russian weightlifters do?
I got there by accident. I have a friend from Novosibirsk who used to be a Master of Sport in weightlifting. They opened a Crossfit gym in Novosibirsk. He invited me to teach a weightlifting seminar. I don't have plans to regularly travel and do seminars. It takes effort and will definitely be detrimental to my training.
If not weightlifting, what sport would you participate in?
I did judo before weightlifting. At first I did weightlifting, then I moved to Novosibirsk in Russia where there was only judo club. I went there. After half a year, I wanted to return to weightlifting.
Weightlifting feels closer to me. Speaking about Crossfit, I would like to achieve something in my sport first, then develop weightlifting in my city. I even have plans to open my weightlifting school.
Does your wife Anita go to training camps with you?
Usually, no. She came to me in Sochi for a week before this World Championship. She usually does not come.
Is it because you don't want it or the team's authorities do not?
No, the authorities are not against it. If I need it to feel comfortable, no one will object. I don't want this myself because training camps are training camps.
You must stop thinking about everything and focus on the upcoming competition. Nothing should distract you. I try not to move unnecessarily in training camps. I rarely go to the city, only when I really need it. I try to rest more and perform various recovery methods.
This interview will be published on November 24th, two days after your birthday (Nobember 22th, 1988). So, I would like to wish you happy birthday and wish you to have good health, long athletic career, and peace at home.
Thank you! I hope to please you with my future results.