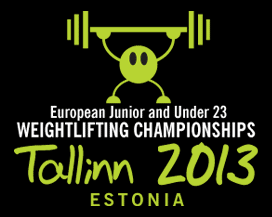 This is the 2013 European Junior & U23 Weightlifting Championships resource page which I'll update as soon as new info trickles in.
The event is being held from 22.09 to 28.09.2013 in Tallinn, Estonia. They purchased 14435kg of Eleiko equipment worth 180 000€. 23 sets of barbells for men and women, 23 competition platforms, plate holders, squat racks and magnesium barrels.
And the best part, ""After the championships, the best [Estonian] membership clubs will get their gyms furnished with the inventory."
Update: Sa. 28.09 All session done. Thanks to the media department for providing an excellent stream.
Useful Links
Recordings
Update: 24.09.2013 More training hall footage from HookGrip


Update 23.09.2013: Clarence Kennedy 200kg x5 Squat
Secret training hall video shot by an ATG reader.
Lifters in order of appearance: HANSEN Pernille Sølund – Line Niiranen Jacobsen – Sara Ellegaard Andreasen – KOCHANSKI Martin – MICHALSKI Arkadiusz – KACHAEVA Yulia – ZWARYCZ Krzysztof
And a video from the training hall via Clarence Kennedy with Timur Naniev and others.

Highest Entry Totals for U23 Men
Highest Entry Totals for U23 Women
48kg: Iana Diachenko UKR 175kg
53kg: Coban Aysegül TUR 200kg
58kg: Nadezhda Lomova RUS 215kg
63kg: Tatiana Aleeva RUS 220kg, Olga Afanasyeva RUS 220kg (Reserve)
69kg: Mariia Zubova RUS 230kg
75kg: Oxana Karpunenko 230kg RUS Ekaterina Katina RUS 230kg (Reserve)
+75kg: Yulia Konovalova, Yulia Kachaeva  RUS 250kg
U23 Men Start List Preview