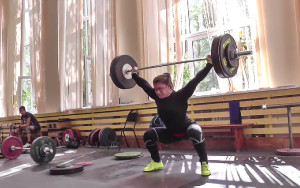 Meanwhile in Russia …
Just like he did with Tatiana Kashirina, Rashid Itsaev from YouRaiseRussia, visited 20 year old Olga Zubova (75kg) in the St. Petersburg training camp and had a quick chat with her.
Update: Here is a video from Karen Tovmasjan of the St. Petersburg training camp. Includes some Squats & Pulls from Olga.
Lucky for us, Anna van Bellinghen is also in the training camp right  now (you can see her in the video too). She was kind enough to take the time to translate the video for us. In addition I asked her to tell us about her experience training with the Russians.
I am sure you will enjoy the information. Thanks Anna!
Oh, and follow Olga on Instagram: @zubova.olga
---
Video (Translation Below)
(110kg x2 Power Snatches at 9:45)

Foreword from Anna:
In training camps, there are normally 8 trainings a week.
Monday, Wednesday, and Friday: 2 training sessions
Tuesday and Saturday: 1 training session
However, Olga missed about 3 trainings over the month, because she was tired (I didn't see the other athletes doing that though).
Like most other elite athletes, she does 3 Snatch related exercises in the morning and 3 Clean and Jerk exercises in the evening [Sounds familiar eh? Read Aramnau's Interview here].
Olga used to press like 3 times a week (back / front included). Also, she does the Presses sitting.
Her coach says she is a good Jerker, so she trains mainly the Clean. [Watch her 165kg Deficit Clean]
In one month, I saw her miss only twice
In one month, I saw her miss only twice, 150kg Snatch Balances.
Her technique is very consistent, it is rare that she has to make a step forward to catch a misbalanced Snatch for example.

Overall she is a very nice person, who smiles, laughs and dances a lot (which is rare for Russians, especially for the first). Although heavy training sessions can be very serious.
At first we didn't really communicate, but once they accepted me I realised they were a really friendly and funny group of people (along with 2-3 other girls). And I got the chance of being trained by Olga's coach – so pretty generous too.
Translation & Summary
When Olga is stretching, Rashid says that you have to warm-up every part really carefully and extensively, so that nothing ever hurts.
Her best results in training:
135 kg Snatch
170 kg Clean and Jerk
220 kg Back Squat
200 kg Front Squat
200 kg Clean Pull
Note: her bodyweight in training is always around 77 – 78 kg.
She has been training since age 12.
A little later they specify it's thus been 9 years, and back then she weighed 44kg. She became a master of the sport at 14 and 53kg, and became International master sport in 69kg.
Before that, she used to be a dancer. Her sisters brought her to weightlifting, her sister Maria won the 2013 Europeans U23, and is still lifting to this day.
Around 3:30 she explains that she often does loads at 100%.
we go by feelingThe interviewer says "it's a bit like the Bulgarian system". Then she corrects "we go by feeling, we see how it goes. If I feel good, then I load, if not then I don't." Then she says it's hard, and the interviewer says it requires a lot of motivation.
Then she starts training the Muscle Snatch: her best is 85 kg.
She then talks about examples of lifters she studied when she was young. Among them were Natalia Zabolotnaya (in particular) and Oksana Slivenko.
Exercice at 10:00: Push Press in Snatch Squat. [Video: Nadezda Evstyukhina showing this one]
Really good exercise for coordination and strength.
Note: she does them at least once a week.
At the end of the video Rashid asks: "is there a secret?" Karen answers: "No", and Rashid adds: "only hard training and strength". And someone in the back: "you also need rest".