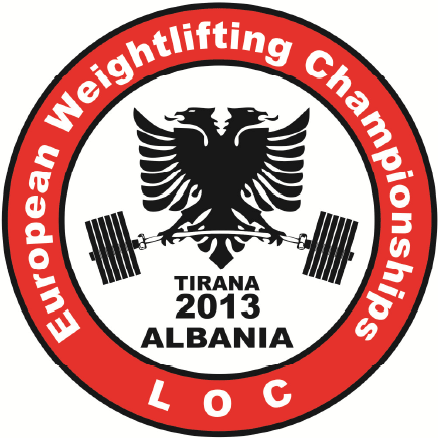 Here is the final (last updated 3.04)  start list of the 2013 European Weightlifting Championships (08-14 April 2013).
Also available as PDF and another PDF with some stats.
Update: Seems like it is not the last word. The Russians want to wait for the results of doping controls before announcing their Euros team on April 9th.
Update: New Version with some big names added!
Some of which are…
Complete List Below (Final Version)
MEN
| | | | | |
| --- | --- | --- | --- | --- |
| Class | Name | Country | Born | Total |
| 56 | | | | |
| | SIRGHI Oleg | MDA | 1987 | 265 |
| | MURADOV Asen | BUL | 1991 | 260 |
| | CHENKOV Todor | BUL | 1993 | 255 |
| | GOEGEBUER Tom | BEL | 1975 | 254 |
| | BRACHI Josue | ESP | 1992 | 249 |
| | SCARANTINO Mirco | ITA | 1995 | 245 |
| | OTERO Micheal S. | ESP | 1990 | 244 |
| | PRZEPIÓRKIEWICZ Maciej | POL | 1987 | 240 |
| | DI GIUSTO Michael | ITA | 1995 | 240 |
| | TIUTIUNNIK Artur | UKR | 1987 | 240 |
| | CERCIZI Arber | ALB | 1997 | 215 |
| | SHABANI Anxhelo | ALB | 1996 | 210 |
| | | | | |
| 62 | | | | |
| | HRISTOV Valentin | AZE | 1994 | 300 |
| | DUDOGLO Ghenadie | MDA | 1986 | 295 |
| | SULEYMANOV Zulfugar | AZE | 1982 | 290 |
| | CROITORU Florin Ionut | ROU | 1993 | 290 |
| | ENEV Stoyan | BUL | 1989 | 285 |
| | URUMOV Vladimir | BUL | 1990 | 285 |
| | BOUR Igor | MDA | 1984 | 285 |
| | NAZIF Ferdi | BUL | 1989 | 280 |
| | CAESEMAEKER Kévin | FRA | 1986 | 275 |
| | GARCIA Iván | ESP | 1983 | 260 |
| | AKRITIDIS Arthouros | GRE | 1986 | 255 |
| | AVDIRAJ Romario | ALB | 1995 | 250 |
| | | | | |
| 69 | | | | |
| | CALJA Briken | ALB | 1990 | 333 |
| | CHEN Oleg | RUS | 1988 | 330 |
| | GODELLI Daniel | ALB | 1992 | 320 |
| | CECHIR Serghei | MDA | 1990 | 315 |
| | MIRZOYAN Arakel | ARM | 1989 | 310 |
| | HASANOV Sardar | AZE | 1985 | 310 |
| | FILEV Ivaylo | BUL | 1987 | 310 |
| | MINCHEV Dian | BUL | 1983 | 310 |
| | KINGUE MATAM Bernardin | FRA | 1990 | 310 |
| | Simon Brandhuber | GER | 1991 | 310 |
| | JOACHIM Robert | GER | 1987 | 305 |
| | AUCOUTURIER Yann | FRA | 1986 | 300 |
| | BĒRZONS Ulvis | LAT | 1989 | 300 |
| | PETROV Petr | CZE | 1989 | 295 |
| 77 | | | | |
| | SPAC Alexandru | MDA | 1989 | 350 |
| | STOICHITA Paul catalin | ROU | 1989 | 340 |
| | MARTIN Rozvan Constantin | ROU | 1991 | 340 |
| | KHOMYAKOV Dmitry | RUS | 1992 | 340 |
| | GOBEEV Mikhail | RUS | 1984 | 335 |
| | CHRUŚCIEWICZ Piotr | POL | 1986 | 335 |
| | KRENAR Shorja | ALB | 1992 | 335 |
| | KARAPETYAN Andranik | ARM | 1992 | 330 |
| | DIRNITROV Aleksandar | BUL | 1989 | 330 |
| | SAVCHENKO Eduard | UKR | 1990 | 330 |
| | MARTASIDIS ANTONIS | GRE | 1992 | 330 |
| | KUCZYŃSKI Damian | POL | 1984 | 325 |
| | González Baez, Alejandro | ESP | 1990 | 320 |
| | DE LUCA Giorgio | ITA | 1984 | 325 |
| | DIAZ Alberto | ESP | 1992 | 305 |
| | ZORBA Halil | GBR | 1988 | 291 |
| 85 | | | | |
| | MARKOV Ivan | BUL | 1988 | 380 |
| | TSIREKIDZE Rauli | GEO | 1987 | 375 |
| | SINCRAIAN Gabriel | ROU | 1988 | 375 |
| | RYBAKOU ANDREI | BLR | 1982 | 375 |
| | KHUHAYEU Aleh | BLR | 1993 | 371 |
| | NOVIKAU Mikalai | BLR | 1986 | 370 |
| | Apti Aukhadov | RUS | 1992 | 370 |
| | Sayakhov Albert | RUS | 1991 | 370 |
| | SROKA Krystian | POL | 1991 | 360 |
| | BARANYAI Janos | HUN | 1984 | 355 |
| | MUSIC Ensar | CRO | 1987 | 355 |
| | BARDIS Giovanni | FRA | 1987 | 350 |
| | Tovmasjan Karen | NED | 1990 | 350 |
| | SELIVANOV Kostyantyn | UKR | 1981 | 345 |
| | XHULIO Proni | ALB | 1993 | 340 |
| | Endri HAXHIHYSENI | ALB | 1986 | 340 |
| | IAKOVIDIS THEODOROS | GRE | 1981 | 340 |
| | Mata Andrés | ESP | 1992 | 339 |
| | MULLER Michael | GER | 1987 | 335 |
| | ZWARYCZ Krzysztof | POL | 1990 | 335 |
| | AMDAL Jarleif | NOR | 1988 | 305 |
| | KARAPETYAN Tigran | ARM | 1989 | 325 |
| | BERAN Andrej | CZE | 1988 | 300 |
| | MANNELLA Clemente | ITA | 1988 | 305 |
| | Tokola Milko | FIN | 1992 | 300 |
| | TERMIGNONE Dany | SUI | 1987 | 290 |
| | BECAREVIC Eldin | BIH | 1984 | 250 |
| | | | | |
| 94 | | | | |
| | ZAIROV lntigam | AZE | 1985 | 390 |
| | Kireev Rinat | RUS | 1987 | 390 |
| | ZIELIŃSKI Tomasz | POL | 1991 | 385 |
| | STRALTSOU Vadzim | BLR | 1986 | 385 |
| | MAKARANKA Aliaksandr | BLR | 1990 | 385 |
| | KLIMONOV Egor | RUS | 1992 | 385 |
| | Bideev Aslan | RUS | 1988 | 385 |
| | Stanulis Žygimantas | LIT | 1993 | 375 |
| | GHONGHADZE Vazha | GEO | 1990 | 370 |
| | TATURU Aurel | ROU | 1980 | 370 |
| | SALTSIDIS Christos | GRE | 1987 | 370 |
| | Antti-Roiko Miika | FIN | 1988 | 360 |
| | PENT Leho | EST | 1990 | 360 |
| | VASPORI Gabor | HUN | 1983 | 360 |
| | CHERNYSHOV Yaroslav | UKR | 1992 | 360 |
| | KOVAC Matej | SVK | 1992 | 360 |
| | MATAM David | FRA | 1975 | 355 |
| | MANUSHI Redon | FRA | 1990 | 345 |
| | BENZA Stephan | BEL | 1990 | 340 |
| | TABAKU Ervis | ALB | 1989 | 340 |
| | KOTERBA Przemyslaw | POL | 1992 | 335 |
| | KRYWULT Patrik | CZE | 1990 | 330 |
| | META Sajmir | ALB | 1993 | 330 |
| | GASIOR Jiří | CZE | 1991 | 325 |
| | HORDNES Per | NOR | 1981 | 320 |
| | KIRKBRIDE Peter | GBR | 1987 | 320 |
| | MANFREDI Giuseppe | ITA | 1989 | 315 |
| 105 | | | | |
| | KUZILOV Albert | GEO | 1985 | 410 |
| | ARAMNAU ANDREI | BLR | 1988 | 410 |
| | GOGIA Davit | GEO | 1990 | 405 |
| | Sheiko Maxim | RUS | 1988 | 400 |
| | David Bedzhanyan | RUS | 1988 | 400 |
| | PLĒSNIEKS Artūrs | LAT | 1992 | 398 |
| | GYURKOVICS Ferenc | HUN | 1979 | 390 |
| | CZEKIEL Kornel | POL | 1987 | 390 |
| | KAVELASVILI DAVID | GRE | 1985 | 390 |
| | GOSPODINOV Vasil | BUL | 1993 | 380 |
| | MICHALSKI Arkadiusz | POL | 1990 | 380 |
| | LOBAN Aleh | BLR | 1988 | 375 |
| | ZBIRNEA Adrian | MDA | 1990 | 370 |
| | TAGIROV Sergiy | UKR | 1989 | 370 |
| | TKACHENKO Oleksandr | UKR | 1991 | 370 |
| | BEHM Robby | GER | 1986 | 365 |
| | KOZIENKA Lukas | SVA | 1989 | 360 |
| | STROUMPIS EFSTATHIOS | GRE | 1993 | 355 |
| | ANDONOV Danijel | CRO | 1985 | 345 |
| | BOULY Kévin | FRA | 1981 | 345 |
| | KARINA Endri | ALB | 1989 | 345 |
| | NOTO Pietro Giovanni | ITA | 1991 | 335 |
| 105+ | | | | |
| | UDACHYN ARTEM | UKR | 1980 | 430 |
| | TURMANIDZE Irakli | GEO | 1984 | 430 |
| | Ruslan Albegov | RUS | 1988 | 430 |
| | ABUEV Magomed | RUS | 1992 | 430 |
| | Kozlov Andrey | RUS | 1982 | 430 |
| | ZHARNASEK Yauheni | BLR | 1987 | 426 |
| | Orság Jiří | CZE | 1989 | 425 |
| | Almir Velagic | GER | 1981 | 420 |
| | DOLEGA Marcin | POL | 1982 | 420 |
| | SEIM Mart | EST | 1990 | 405 |
| | NAGY Peter | HUN | 1986 | 405 |
| | VORNIK Dzmitry | BLR | 1985 | 400 |
| | HAKOBYAN Hayk | ARM | 1990 | 400 |
| | MINASYAN Gor | ARM | 1994 | 400 |
| | DOŁĘGA Daniel | POL | 1988 | 400 |
| | KLICKI Krzysztof | POL | 1990 | 390 |
| | OLSHANETSKIY Egor | ISR | 1986 | 380 |
| | KUCERA Kamil | CZE | 1985 | 370 |
| | JOKARZADEH, Darius | GBR | 1993 | 361 |
| | BALA Isa | ALB | 1984 | 360 |
| | Roininen Teemu | FIN | 1986 | 335 |
| | TOLLEFSEN Kim Eirik | NOR | 1989 | 325 |
| | OJA Eero | FIN | 1991 | 320 |
| | | | | |
| Women | | | | |
| 48 | | | | |
| | PAGLIARO Genny Caterina | ITA | 1988 | 185 |
| | ANDRIES Elena Ramona | ROU | 1994 | 180 |
| | ANGELOVA Silviya | AZE | 1982 | 170 |
| | DIACHENKO Iana | UKR | 1990 | 170 |
| | JUAN Estefanía | ESP | 1981 | 162 |
| | MICHEL Anaïs | FRA | 1988 | 160 |
| | FUS Agata | POL | 1989 | 155 |
| | JASTRZĘBSKA Wioleta | POL | 1992 | 155 |
| | DRAGANOVA Natalia | BUL | 1993 | 155 |
| | D'ALESSANDRO Giovanna | ITA | 1982 | 150 |
| | BONNAMANT Mélanie | FRA | 1992 | 150 |
| | BAILLET Florence | FRA | 1990 | 145 |
| | DEMIREL Hacer | TUR | 1991 | 145 |
| | | | | |
| 53 | | | | |
| | IVANOVA Maiya | BUL | 1991 | 200 |
| | PARATOVA Iuliia | UKR | 1986 | 200 |
| | CHEREMSHANOVA Svetlana | RUS | 1985 | 190 |
| | ULIANOVA Svetlana | RUS | 1979 | 190 |
| | BERCHI Dana Alexandra | ROU | 1990 | 180 |
| | COBAN Aysegul | TUR | 1992 | 180 |
| | LOMBARDO Jennifer | ITA | 1991 | 175 |
| | LORENTZ Manon | FRA | 1991 | 170 |
| | ANDRIEUX Virginie | FRA | 1980 | 170 |
| | SENSOY Emine | TUR | 1991 | 160 |
| | BERNTSSON Lena | SWE | 1978 | 160 |
| | EJSTRUP Christina Trier | DEN | 1985 | 150 |
| | MYKHLYNINA Alina | RUS | 1995 | 150 |
| | KUKKONEN Sini | FIN | 1986 | 145 |
| | VEZNIKOVA Veronika | CZE | 1990 | 139 |
| | | | | |
| 58 | | | | |
| | NOVIKAVA Nastassia | BLR | 1981 | 220 |
| | BEGAJ Romela | ALB | 1986 | 190 |
| | DRIUMOVA Kateryna | UKR | 1990 | 210 |
| | KUSTERER Sabine | GER | 1991 | 200 |
| | TOMA Loredana Elena | ROU | 1995 | 200 |
| | TITES Georgiana Andrea | ROU | 1992 | 200 |
| | CHYCHKAN Alena | BLR | 1993 | 200 |
| | ŁOCHOWSKA Janna | POL | 1988 | 195 |
| | KASAJ Fetije | ALB | 1985 | 190 |
| | ROOS Angelica | SWE | 1989 | 180 |
| | MIGUET Sophie | FRA | 1992 | 175 |
| | HUGUENOT Aurore | FRA | 1992 | 175 |
| | RUSSO Giorgia | ITA | 1983 | 175 |
| | LOMBARDO Jennifer | ITA | 1991 | 175 |
| | PUPUTTI Jenni | FIN | 1986 | 165 |
| | | | | |
| 63 | | | | |
| | SHAINOVA Marina | RUS | 1986 | 240 |
| | MANEVA Milka | BUL | 1985 | 230 |
| | LEPSA Irina Lacromioara | ROU | 1992 | 220 |
| | NIYAMATOVA Tatiana | RUS | 1986 | 220 |
| | BATSIUSHKA HANNA | BLR | 1981 | 210 |
| | GOLTSOVA Dariya | RUS | 1994 | 210 |
| | LEŚNIEWSKA Anna | POL | 1985 | 208 |
| | OSTAPSKA Katarzyna | POL | 1988 | 207 |
| | NAGY Nikoletta | HUN | 1983 | 205 |
| | KLADIVOVA Pavla | CZE | 1984 | 200 |
| | KENISOVA Lenka | CZE | 1983 | 200 |
| | CHIQUET Agnès | FRA | 1984 | 195 |
| | EVERI Anna | FIN | 1987 | 190 |
| | BORDIGNON Giorgia | ITA | 1987 | 195 |
| | ALEMANNO Maria Grazia | ITA | 1990 | 185 |
| | JORDALEN Anja Evelin | NOR | 1987 | 185 |
| | GODLEY Emily | GBR | 1989 | 182 |
| | OKUMUS Neslihan | TUR | 1994 | 180 |
| | KURNAZ Mehtap | TUR | 1995 | 180 |
| | ZAHNER Salomé | FRA | 1993 | 175 |
| | | | | |
| 69 | | | | |
| | Oxana Silvenko | RUS | 1986 | 250 |
| | SAZANAVETS DZINA | BLR | 1990 | 240 |
| | MATVEEVA Tatiana | RUS | 1985 | 240 |
| | SHIMKOVA Svetlana | RUS | 1983 | 240 |
| | ROMANOVA Anastasiia | RUS | 1991 | 240 |
| | AKSENOVA Olga | RUS | 1984 | 235 |
| | MYRONYUK Nadiya | UKR | 1984 | 225 |
| | MIZDAL Ewa | POL | 1987 | 220 |
| | STANCHEVA Rumyana | BUL | 1982 | 220 |
| | USOLTSEVA Nataliya | RUS | 1993 | 215 |
| | PIECHOWIAK Patrycja | POL | 1992 | 217 |
| | KIRIYENKO Alyona | AZE | 1987 | 210 |
| | RAMOS Sheila | ESP | 1990 | 210 |
| | KORNILOVA Kristina | RUS | 1991 | 210 |
| | WIÓR Jolanta | POL | 1995 | 195 |
| | TRETIACOVA Ecaterina | MDA | 1996 | 200 |
| | HANSSON Carita | SWE | 1991 | 200 |
| | HOLMSTRØM Elisabeth | NOR | 1983 | 175 |
| | KRULJAC Mihaela | CRO | 1984 | 170 |
| | KARA Maniola | ALB | 1994 | 135 |
| | | | | |
| 75 | | | | |
| | EVSTIUKHINA Nadezhda | RUS | 1988 | 270 |
| | VALENTIN Lidia | ESP | 1985 | 255 |
| | DALUZYAN Meline | ARM | 1988 | 240 |
| | KOZENKO Ganna | UKR | 1991 | 230 |
| | KHARLOVA Mariya | RUS | 1993 | 230 |
| | KRAKHMALEVA Elizaveta | RUS | 1995 | 230 |
| | WIEJAK Małgorzata | POL | 1992 | 228 |
| | WEDOW Mandy | GER | 1987 | 220 |
| | PRISCEPA Natalia | MDA | 1989 | 215 |
| | TROJCAKOVA Lucia | SVA | 1981 | 200 |
| | LIZDE Almira | BIH | 1982 | 195 |
| | ILMARINEN Meri | FIN | 1991 | 190 |
| | BRUNELLI Carlotta | ITA | 1993 | 200 |
| | | | | |
| 75+ | | | | |
| | Tatiana Kashirina | RUS | 1991 | 290 |
| | KONOVALOVA Julia | RUS | 1990 | 270 |
| | SHKURATAVA Katsiaryna | BLR | 1987 | 250 |
| | CHERNIAVSKA Svitlana | UKR | 1984 | 250 |
| | BAGIŃSKA Sabina | POL | 1985 | 225 |
| | KRANZ Yvonne | GER | 1987 | 215 |
| | MAGAT Krisztina | HUN | 1989 | 215 |
| | JURIC Olivera | BIH | 1984 | 200 |
| | BUTTIGLIERI Roberta | ITA | 1993 | 190 |
| | PODERSOO Triin | EST | 1990 | 180 |
| | BAJRAMI Mariela | ALB | 1994 | 145 |
| | KOLLOZI Besnarda | ALB | 1998 | 120 |
Stats – Country / Weight Class Distribution
56
62
69
77
85
94
105
+105
Sum
ALB
2
1
2
1
1
1
8
ARM
1
2
3
AZE
2
1
1
4
BEL
1
1
BLR
1
1
1
3
BUL
2
2
2
1
1
8
CRO
1
1
2
CZE
1
1
2
ESP
2
1
1
1
5
EST
1
1
2
FIN
1
1
2
4
FRA
2
1
2
1
6
GBR
1
1
2
GEO
1
1
2
1
5
GER
2
1
1
1
5
GRE
1
1
1
1
2
6
HUN
1
1
1
1
4
IRL
1
1
ISR
1
1
ITA
2
1
1
4
LAT
1
1
2
LIT
1
1
MDA
1
2
1
1
1
6
NED
1
1
2
NOR
1
1
1
3
POL
1
1
1
2
5
ROU
1
2
1
1
5
RUS
1
1
2
1
2
1
8
SUI
1
1
SVK
1
1
UKR
1
1
1
1
4
SUM
11
10
13
12
18
17
18
15
114