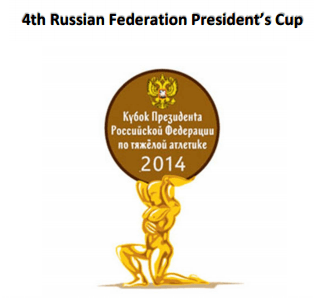 Time for the 2014 President's Cup.
As was expected after the crazy Russian Championships there are no Russian big names on the start list.
I was surprised to see Marcin Dolega on the list (+105). Also Rinat Kireev (94kg at Russian Champs) will lift in the 105kg.
Useful Links:
Highlights
+105kg: Marcin Dołęga 190kg Snatch + 220kg C&J (230x) at 110.9kg Bodyweight.
Update 29.10.2014: Marcin Dolega was suspended by the Polish federation. He supposedly tested positive for elevated levels of norandrosterone (nandrolone or its derivatives).


Antoniy Savchuk's 224kg Clean & Jerk

75kg: 145kg Clean & Jerk by Hongli Xie (the lightest athlete in the field at 69.4kg)
94kg Best Snatches: (Full Results here)

Top 3 Snatches from the 75kg Session: