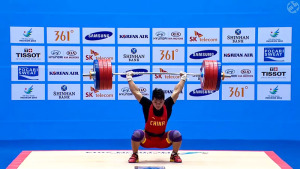 Meanwhile in Korea at the 2014 Asian Games.
The 85kg session was quite a spectacle! We even had got an amazing HD stream.
Kianoush Rostami Snatched 172kg, Sa Jae-Hyouk got 171kg (skipped his 3rd) and later bombed in the Clean & Jerk (x207, x207, x210).
Then it was for the Tian Tao show. The 20 year old was 9kg behind after the Snatch (he only made his 163kg opener, missed 168kg on his 2nd and had timing issues on the 3rd), but he blew everyone away in the Clean & Jerk (Full C&J Recordings: C&J #1, C&J #2).
He went 205, missed 211 and lifted 218kg for the over all lead on his 3rd attempt!
This equals the 85kg Clean & Jerk World Record set by Zhang Yong in 1998.
Update: It's now confirmed that it is a new Junior World Record, surpassing Ilya Ilyin's 216kg.
More: Watch Tian's 280kg x2 Squat here.
Short Interview with Tian and Coach Yu Jie
(Translation Below)

Translation: Thanks to Victor and "shittytranslator", who did an excellent job translating.
The video says Tian Tao has pulled the tooth from a tiger's mouth in taking that gold from Rostami!
We came to carve a blood path to the goldNo one had touched this weight since Zhang Yong did it 16 years ago. Tian himself says that he was mentally prepared to go to 220.
Yu Jie says they came to carve a blood path to the gold; there was no other medal worth attempting. During the Snatch, Sa pulled out after Tian's 168 failure, forcing Tao to take 1 minute rest instead of 2.
He rushed onto the stage in the last 10 seconds for his third Snatch and failed. Yu Jie was so anxious for Tian's last Clean and Jerk that he forgot that Rostami was heavier and had Tian take 218 instead of the 217 that he needed.
Interviewer (M): "Do you have any words to
say?"
Tian Tao: "Thank you everybody. I was too rushed. I wanted to go for 220kg, went for the lighter weights, failed one, but this it how it went."
Yu Jie (Coach): "Today, we wanted to secure the Gold Medal. No matter what, we will call for the weight that will allow us to get the gold. Before this when we were preparing I told (him) that we will do what it takes to get the gold."
Interviewer: "What happened just now? Why was there only 1 minute between the attempts (referencing the 2nd and 3rd attempts at the Snatch)?"
Tian Tao: "(Laughing) This, I don't know. It was supposed to be 2 minutes, but suddenly it was 1 minute and I had to rush onto the stage at 30s. I didn't get enough time to prepare."
Yu Jie: "This was because of the rules. After Tien Tao had his second attempt, the Korean Lifter (Sa Jae-Hyouk) was due to lift. But he suddenly changed his mind, and that meant that Tian Tao was not following himself according to the rules. So this was because of the rules. We have to be more careful about this in future competitions."
Tian Tao: ".. Then, even though I've never attempted this weight, but my training should have been enough for it."
Interviewer: "Have you attempted this weight (218kg) in training?"
Tian Tao:  "No, never."
Interviewer: What is your best in training?
Tian Tao: "215kg, but this took me 3 attempts when I was focused. But having attempted it 3 times, cleaned it 3 times easily, then I should have the strength (for 218kg) ."
Yu Jie: " '12 was a waste [referring to Lu Yong's tragic bomb out and failure to defend the 85kg Olympic title]. That means we have to get it back in '16. We have to work on
improving his (Tien Tao's) Snatch, must get it more consistent. This will help raise his C&J, and help us take back the Gold medal in '16."
Side View