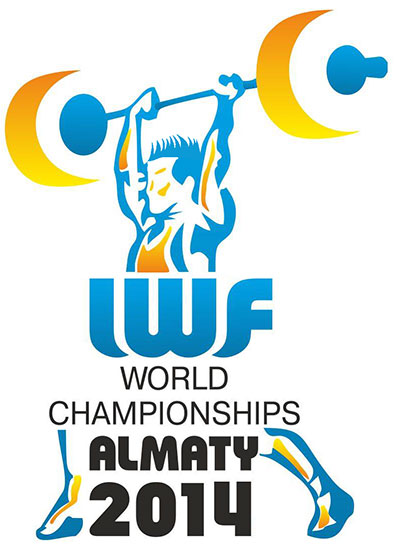 This is  the 2014 World Weightlifting Championships Resource page.
As always, I will keep this page updated throughout the event as soon as new information is available.
Thank You!
Big thanks go to Anton from Sweden and Phil from Scotland, who on very short notice took over ATG and kept the site up to date. Without them it would have been really quiet here, while I was running around like a madman in Almaty, trying to get good footage of the event. The support you guys gave me took a huge burden off my chest! I owe you big time!
Also thanks to Nat (HookGrip) and Steve (@210weightlifting). What can I say… you guys are the best. So much fun and positive energy.
Thanks to the IWF and especially Lilla for making this trip possible in the first place and for providing us with such a great work environment.
Athletes: Thanks for letting me take your pictures and being so approachable (yes I am even looking at you team PRK).
Readers: Also thanks to you the readers who commented and submitted links and updates. Especially wlift84 should be mentioned here. It's great to have a community like this around.
Contact Info: I'm @atginsta on Instagram and @allthingsgym on twitter. ATG Submit Page.
Also, subscribe to my new ATG YouTube channel where I'll be posting clips!
Useful Links
Highlights
Recordings
News
Update 23.04.2015: RI Jong Hwa (see Update 04.12.2014 below) will receive no suspension, but she'll still lose her medal! (via)
After a careful consideration the IWF Hearing Panel has decided that no suspension shall be applied in the case of Ms. Jong Hwa Ri. However in line with Article 9 of the Code and IWF Anti-Doping Policy the Panel had no choice but to the disqualify her results from the 2014 World Championships. The Athlete is eligible to compete and shall be treated accordingly.
All this sounds to me like she was able to somehow show that the positive test was not her fault. I bet it has nothing to do with the Dear Leader.
Update 04.04.2015: "Godelli and Begaj were suspended with 2 years of sports activities, while Pulaku was punished with 8 years of suspension." (via)
Update 14.01.2014: Hysen Pulaku's and Romela Begaj's B Sample came back Positive too (via). Hysen still has the option to appeal at the Court of Arbitration for Sports (CAS).
Update 29.12.2014: Ilya, Zulfiya and Zhassulan get new cars (via)
Update 23.12.2014: Prize money for some of the Kazakh lifters (via).
Zulfiya Chinshanlo 2,715,000 tenge ($14893 US), Vladimir Sedov 1,267,000 tenge ($6950 US), coaches – 1,810,000 tenge ($9929 US) and Sergei Sedov – 905 000 tenge ($4964 US).
Update 22.12.2014: Tseveleva Darya (Belarus) 15th at 63kg, Stanozolol (via)
Update 19.12.2014: Update: 11.12.2014: Romela Begaj's B test came back positive (via).
Update 11.12.2014: More positive tests…
Update 04.12.2014: Next positive tests by *drum roll* North Korea, Albania, Uzbekistan! (via)
BEGAJ Romela, ALB (63kg Snatch Gold Medalist 113kg)
RI Jong Hwa, PRK (58kg C&J Gold, Total Silver)
SISOEVA Marina, UZB (53kg 4th place)
MAMASALIYEVA Manzurahon, UZB (69kg 9th place)
Ilya thinks he can increase the C&J WR by 12-16kg until Rio 2016 (via). Furthermore:
If all goes according to plan, I will try to Clean & Jerk 260 kg for a new World Record.
Update 28.11.2014: First positive doping test – Makhliyo Togoeva, UZB (48kg 5th place) (via)
Update 23.11.2014: Made an extra post to collect all Training Hall Videos
Update 13.11.2014: womens 69kg, 75kg A-group and mens 105kg added to the recordings section.
Update 13.11.2014: womens 63kg A and mens 85kg A-group, 58kg B group now available in the recordings section.
This is how champions share their platforms…
Update 12.11.2014: 77kg, 69kg A group, 48kg 53kg, 56kg, 69kg, 77kg B groups have been posted. On facebook I shared this video of Dmitry Klokov snatching 200kg. I'm still speechless. Update 11.11.2014: Ivan Makov (BUL, 85kg) Squats 240 for a double to keep his legs fresh.
Update 10.11.2014:
Update 09.11.2014:
Added 48kg, 56 kg, 62kg in the Recordings Section below
The North Korean secret to Weightlifting? It's all about those abz!
Update 08.11.2014: Sorry for not uploading more videos guys. Schedule is crazy here. Here is Kim Tuan Thach's 135kg Junior Snatch World Record in the 56kg class. It's his third time breaking the Jr record this year alone (Jr Worlds, Asian Games, now Worlds).
Update 08.11.2014: Added links for IWF streams (for non A Sessions).
Update 07.11.2014: Added final start lists.
Update 06.11.2014: I'm on my way to Almaty.
Update 05.11.2014:
Poland: Bartlomiej Bonk (105kg) will not go to Worlds. He tore his quad (via). Because he also missed Europeans (injury), his funding will be cut. He said this will have "serious financial consequences" for him.
China: Checking in with the Chinese Women's Team
The women's clip basically says that the team is in fine shape, but still smarting from getting only 2/7 golds in Incheon. The coach says the recent performances of North Korea and Chinese Taipei have sounded an alarm that the Chinese team must adapt and improve to regain its dominance. In general, both women's and men's teams are in good shape (with the exception of Liao cutting his hand).
Update 04.11.2014: Checking in with the Chinese Men's Team.
Liao Hui has stitches on his thumb.

Update: Thanks to Victor for the translation.
Liao Hui broke a teacup while washing it, causing a deep wound that required 5 stitches. His stitches are supposed to come off only one day before the 69kg A group.
Although it hurts his training, he says the main problem is that he can't go into the sauna for fear of infecting it and that causes it to be difficult on his pre-comp weight-loss. He says it's really mind-over-matter this time but he says he'll probably still perform fine.
Update 29.10.2014: Marcin Dolega was suspended by the Polish federation. He supposedly tested positive for elevated levels of norandrosterone (nandrolone or its derivatives).
Update 24.10.2014:
Ruslan Albegov says he's not in the best shape (via). Due to an injury his prearation did not go to according to plan. … Is he just low balling?
Syrtsov said says that the final composition of the Russian team will be announced November 6th (via)
Update 22.10.2014: Tian Tao posted this teaser photo on his weibo. Says: "220 See You at World Championships"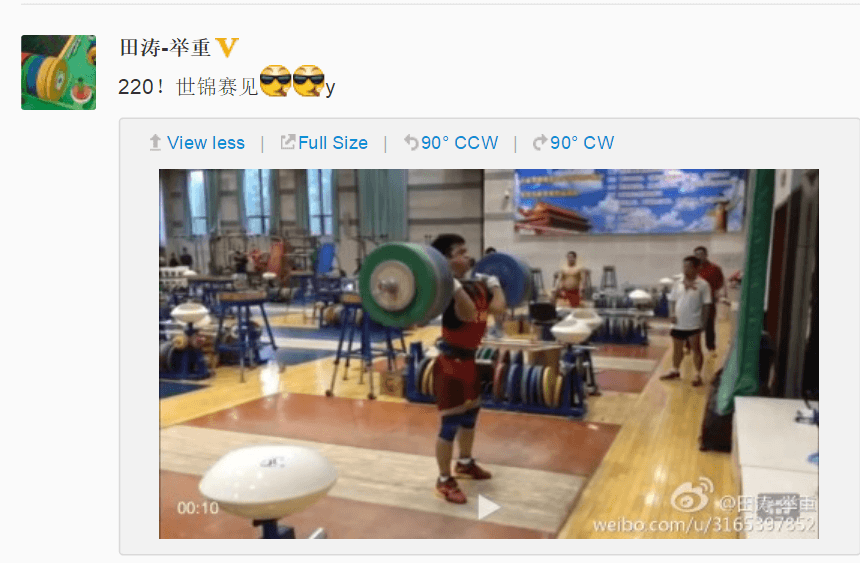 Update 18.10.2014: First update to list already.
First Impressions:
I would not be surprised to see some changes to list though. The "Final" Final Start List usually appears one week out.
Update 15.10.2014:
Andrey Aramnau won't be lifting. (via) He has a small injury and will prepare for next year's worlds (thanks Robert).