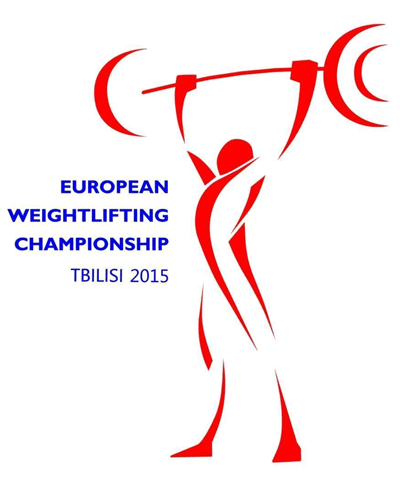 Those were the  2015 European Weightlifting Championships in Tbilisi, Georgia.
Date: 11-18th April 2015
Useful Links:
Doping News
Update 10.06.2015: Adrian Zbirnea MDA, 105kg Silver tested positive for nandrolone (via).
Update 18.05.2015: Oleg Proshak (+105kg Winner) tests positive for dehydrochloromethyltestosterone. (via)
Update 08.05.2015: First positive test comes from *drum roll* Georgia.
Davit Gogia (105kg) returned a sample that on first testing contained stanozolol (via). This would mean Simon Martirosyan would get a Snatch bronze medal.
Recordings
Highlights
Update 06.09.2015: Chingiz Mogushkov & Irakli Turmanidze battle it out for the Snatch Gold medal.
Update 26.05.2015: All lifts by Lydia Valentin.

Update 06.05.2015: 4 Minutes in the training hall with Viktor Getts (77kg)

Update 01.05.2015: Lydia Valentin doing Hang Snatches in the training hall.


Daniyar Ismayilov (69kg, Turkey) – 156kg/181kg

Chingiz Mogushkov wins the Snatch with 202kg
Chingiz wins the +105kg Snatch with 202kg!

Posted by All Things Gym on Saturday, April 18, 2015
Arkadiusz Michalski (105kg, Poland) with his 227kg Clean & Jerk

Khetag Khugaev Snatches 180kg & Clean and Jerks 219kg to win 3 silvers in his first senior competition.
Update: From reader Sergeyevich "Same sinclair as 17 year old Ilyin!"
Dzina Sazanavets wins the 69kg class with a 20kg lead. She also completed most of her lifts following herself.
Valentin Hristov wins the 62kg class with ease, only using one Clean and Jerk attempt to secure a gold total.
Boyanka Kostova wins the 58kg category in a one-horse race setting 6 records.
Daniyar Ismayilov with his winning Snatch in the 69kg Category.
Oleg Sirghi (56kg, Moldova) Clean and Jerks 151kg to win the CnJ and Total Gold Medal