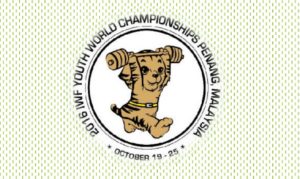 This is the resource page for the 2016 Youth Worlds.
I will be keeping it updated with training hall videos, so keep an eye out for those.
Where: Penang, Malaysia
When: 20-25th October
Next Sessions
Tuesday 25th
10:00 – M94kg A
12:30 – W+69kg A
15:00 – M+94kg A
Highlights
17 year old Ritvars Suharevs Snatching 154kg at 78kg.
Yeison Lopez (77kg, Colombia) broke his own youth world record in the snatch twice, +1kg on his second attempt with 157kg then on his final attempt 160kg. He then broke his total and clean and jerk world record by lifting 191kg.
16 year old CJ Cummings (69kg) Clean & Jerks 182kg for a new Youth World Record.
Wei Yunban (62kg, 15y/o, China) gets a gold medal in the clean and jerk by fighting with 156kg.
Clarence Cummings (69kg, USA) broke his own youth world record in the clean and jerk by 2kg with 182kg. His total tied his current youth world record.
15 year old Zhang Jinhong (46.45kg, China) snatching 80kg to win the 48kg A Group.
17 year old Song Huibing Clean & Jerking 140kg!
Some clips from the training hall
News
The start list is out with 325 lifters competing.
Anaheim, United States of America, will be hosting the 2017 World Championships instead of Penang, Malaysia. (via)