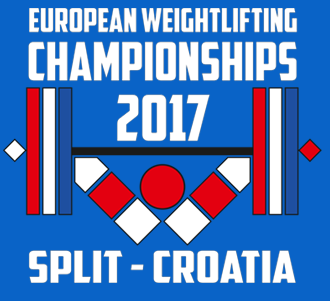 This will be the resource page for the 2017 European weightlifting championships in Split, Croatia.
In the meantime see the 2016 Europeans highlights here.
When: 01.04 – 08.04.2017
Recordings
News
Update 19.05.2017: First positives are in. Iurie Dudoglo (56kg, Moldova, via), Alexander Spac (77kg, Moldova, via).
Update 08.04.2017:
23 year old Lasha Talakhadze (158.1kg, Georgia) set a new all time snatch world record of 217kg!
20 year old Simon Martirosyan (105kg, Armenia) clean and jerks 230kg to become 2017 European champion.


Update 07.04.2017:
Aurimas Didzbalis (94kg, Lithuania) snatching 181kg to win snatch gold!

Adam Maligov snatched 180 and went on to win his first Europeans.
Update 06.04.2017:
Lydia Valentin wins Gold. Here is her 137kg Clean & Jerk.
Artem Okulov Clean & Jerks 212kg!
Oleksandr Pielieshenko snatches 175kg.
Big Armenians jumping in the training hall


Update 05.04.2017: Max Lang Snatches 156kg for a new PR!
Update 04.04.2017: Bernadin Kingue Matam 180kg Clean & Jerk for Gold + Backflip!


Update 03.04.2017: 18 year old Rebeka Koha (57.25kg, Lativa) Clean & Jerks 118kg for Silver at Europeans 2017!


Update 02.04.2017: Anaïs Michel (48kg, France) becomes 2017 European Champion with 80kg Snatch + 100kg Clean & jerk.
Update 01.04.2017: 19 year old Alba Sanchez (58kg, Spain) squats 140kg for a double!


Update 31.03.2017: Bernadin Kingue Matam (69kg, France) Squatting up to 220kg.


Update 30.03.2017: Made it to Split!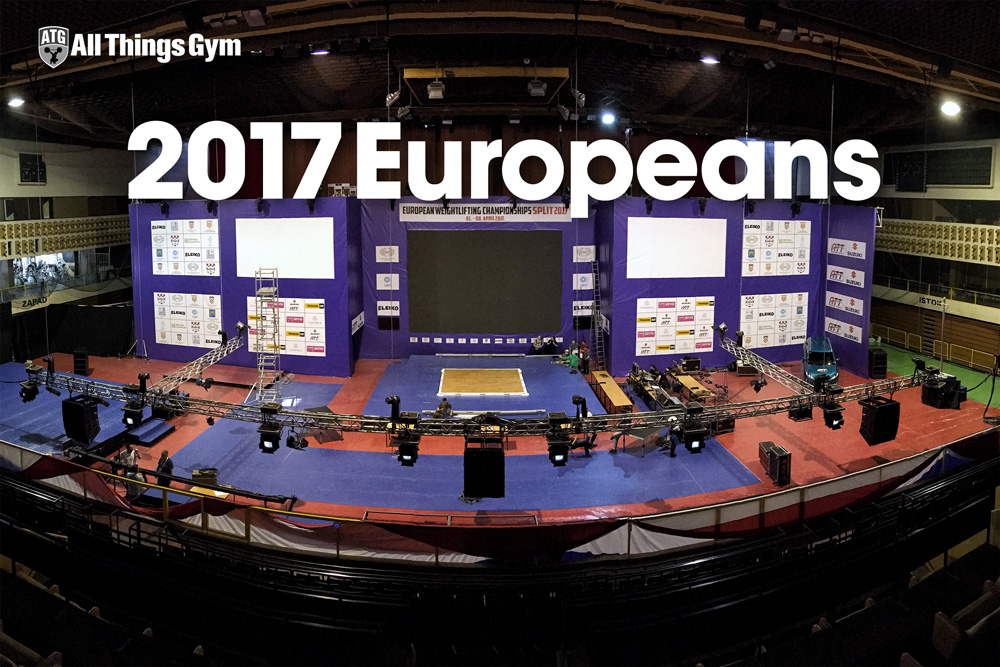 Update 28.03.2017: Russia announced that Maxim Sheiko is injured. So now David Bedzhanyan (105kg) and Sergey Petrov (77kg) will be going. (via)
Update 21.03.2017: Russian Team candidates announced. (via & via)
Felix Khalibekov (62kg), Oleg Chen ( 69kg), Artem Okulov (85kg), Adam Maligov , Egor Klimonov (94kg), Maxim Sheiko (105kg) and Ruslan Albegov (+105kg). Sergey Petrov (77 kg) and David Bedzhanyan (105kg) are also in discussion. Final decision will be made later.
Natasha Khlestkina, Anastasia Ivanova (58kg), Tima Turieva, Tatiana Aleeva (63kg), Anastasia Romanova (69kg), Maria Vostrikov (75kg), Diana Mstieva (90kg), Tatiana Kashirina (+90kg). Irina Baymulkina (53kg) as reserve.
Update 15.03.2017: Armenian team announced. (via)
Andranik Karapetyan (85kg!), Karush Ghukasyan (94kg), Simon Martirosyan and Samvel Gasparyan (105kg), Gor Minasyan and Ruben Alexanyan (+105kg).
Isabella Yaylyanin (58kg), Sona Poghosyan (75kg) and Tatev Hakobyan (90kg).