Here is a nice post about the golden age of bodybuilding.
It features a classic 4 day Bodybuilding POF (positions of flexion) routine.
POF (positions of flexion) training was created by Steve Holman, editor of Ironman magazine. A POF routine has three positions which can be achieved in 2-3 movements for each bodypart.
Mid range Position: Regular compound movements, the real mass builders
Stretch Position: The muscle is stretched.
Contracted Position
Check out this 4 day split. Looks like the guys back then did a helluva lot of sets.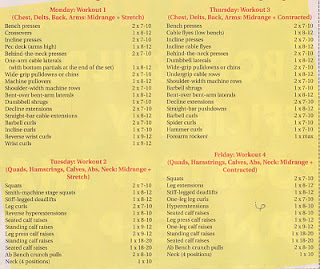 Here are the Exercises, Sets and Reps in text form.
Monday: Chest, Delts, Back, Arms: Midrange + Stretch
(Here is another example of an POF Chest Workout)
Bench presses 2 x 7-10
Crossovers 1 x 8-12
Incline presses 2 x 7-10
Pee deck (arms high) 1 x 8-12
Behind-the-neck presses 2 x 7-10
One-arm cable laterals 1 x 8-12
(with bottom partials at the end of the set)
Wide-grip pulldowns or chins 2×7-10
Machine pullovers 1 x 8-12
Shoulder-width machine rows 2 x 7-10
Bent-over bent-arm laterals 1 x 8-12
Dumbbell shrugs 1×7-10
Decline extensions 2 x 7-10
Straight-bar cable extensions 1 x 8-12
Barbell curls 2 x 7-10
Incline curls 1 x 7-10
Reverse wrist curls 1 x 9-12
Wrist curls 1 x 9-12
Tuesday: Quads, Hamstrings, Calves, Abs, Neck: Midrange + Stretch
Squats 2×7-10
Smith-machine stage squats 1 x 8-12
Stiff-legged deadlifts 1 x 8-12
Leg curls 2 x 7-10
Reverse hyperextensions 1 x 8-10
Seated calf raises 1 x 8-10
Standing calf raises 1 x 9-12
Leg press calf raises 2 x 9-12
Standing calf raises 1 x 18- 20
Seated calf raises 1 x 18- 20
Ab Bench crunch pulls 2 x 8-10
Neck (4 positions) 1 x 10
Thursday: Chest, Delts, Back, Arms: Midrange + Contracted
Bench presses 2 x 7-10
Cable flyes (low bench) 1 x 8-12
Incline presses 2 x 7-10
Incline cable flyes 1 x 8-12
Behind-the-neck presses 2 x 7-10
Dumbbell laterals 1 x 8-12
Wide-grip pulldowns or chins 2 x 7-10
Undergrip cable rows 1 x 8-12
Shoulder-width machine rows 2 x 7-10
Barbell shrugs 1 x 7-10
Bent-over bent-arm laterals 1 x 8-12
Decline extensions 2 x 7-10
Straight-bar pushdowns 1 x 8-12
Barbell curls 2×7-10
Spider curls 1×7-10
Hammer curls 1 x 7-10
Forearm rockers 1x max
Friday: Quads, Hamstrings, Calves, Abs, Neck: Midrange + Contracted
Squats 2×7-10
Leg extensions 1 x 8-12
Stiff -legged deadlifts 1 x 8-12
One-leg leg curls 2 x 7-10
Hyperextensions 1 x 8-10
Seated calf raises 1x 8-10
Leg press calf raises 1 x 9-12
One-leg calf raises 2 x 9-12
Standing calf raises 1 x 18- 20
Seated calf raises 1 x 18- 20
Ab Bench crunch pulls 2 x 8-10
Neck (4 positions) 1 x 10