Group A of the Men's 56kg of the London 2012 Olympics are over.
Thanks to everyone of you who participated in the chat. You guys make the site worthwhille.
Update: Official Recordings on YouTube
What a bunch of nice lifts. North Korea's Om Yun Chol, who lifted in the B Group, took Gold! When have you ever seen a B Group lifter take Gold? Wu Jinbiao didn't care and rather took a nap.
Recordings: BBC already has the recordings. (I use a VPN to watch BBC Streams) But as soon as other videos appear I will post them.
Update: Wu Jingbiao's Snatch
Update: Thanks to Edwin who found a video of the final lifts of the Men's 56kg.
Wu Jingbiao won the snatch with 133kg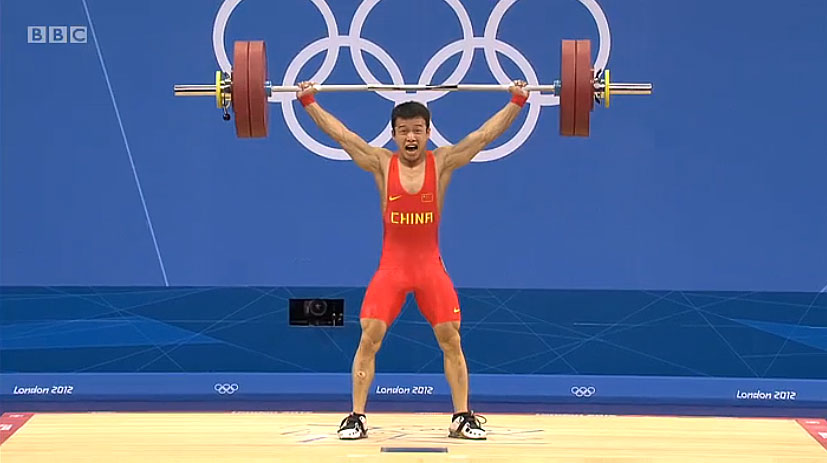 18 year old Valentin Hristov won Bronze with 159kg in the C&J.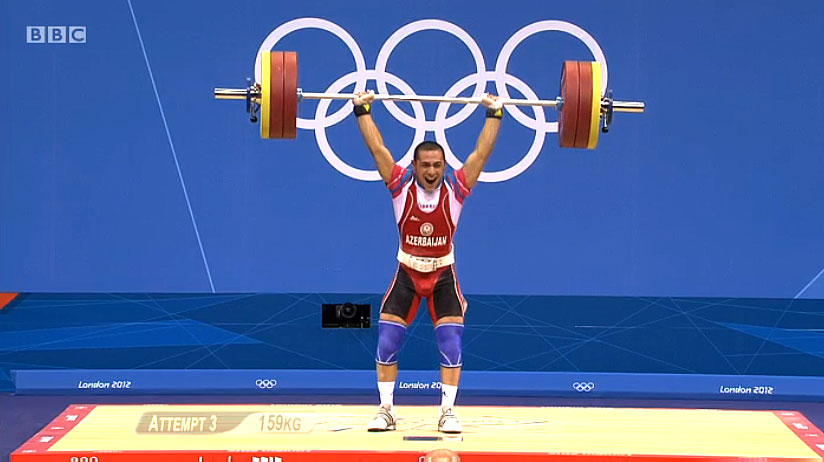 Video of the triple bodyweight C&J by Om Yun Chol
"My plan to lift in the Group B to make my opponents nervous worked 100%. I feel very satisfied and happy about my victory." via
And of course he mentioned the Dear Leader:
"How can any man possibly lift 168kg? I believe the great Kim Jong-il looked over me," Om said, referring to the North Korean leader who died in December.
"I am very happy and give thanks to our Great Leader for giving me the strength to lift this weight." via
Update: Check out Wu Jingbioa tearing up. He must have been under immense pressure.

Results:
Athlete
Group
Body weight
Snatch (kg)
Clean & Jerk (kg)
Total
1
2
3
Result
1
2
3
Result
Om Yun-Chol
B
55.76
120
125
125
125
160
165
168
168
293
Wu Jingbiao
A
130
130
133
133
156
156
161
156
289
Valentin Hristov
A
123
127
130
127
154
158
159
159
286
Tran Le Quoc Toan
A
125
125
125
125
155
159
162
159
284
Jadi Setiadi
B
55.48
121
125
127
127
150
150
156
150
277
José Montes
A
112
116
116
112
150
157
160
157
269
Sergio Rada
A
118
118
121
118
148
151
155
151
269
Carlos Berna
A
55.55
115
115
118
118
150
153
153
150
268
Florin Ionut Croitoru
A
121
125
125
121
145
145
147
147
268
Sin Chol-Bom
B
55.72
110
110
113
113
145
150
150
145
258
Yasmani Romero
B
55.95
112
112
116
112
142
146
146
146
258
Tom Goegebuer
B
55.88
111
115
117
115
132
137
138
132
247
Manueli Tulo
B
55.77
100
105
110
105
128
132
132
128
233
Mirco Scarantino
B
55.42
97
97
97
97
123
128
132
128
225
Sergio Álvarez
A
117
121
125
121
150
150
150
—
DNF
Bekzat Osmonaliev
A
120
125
127
127
147
147
147
—
DNF
Ruslan Makarov
A
117
117
119
117
145
145
145
—
DNF
Khalil El-Maaoui
A
127
130
132
132
—
—
—
—
DNF
Entry Weights