Update 14.10.2015: Greg Everett asked me to take down the sheets.
For other Program Spreadsheets check out the ATG Spreadsheet Category.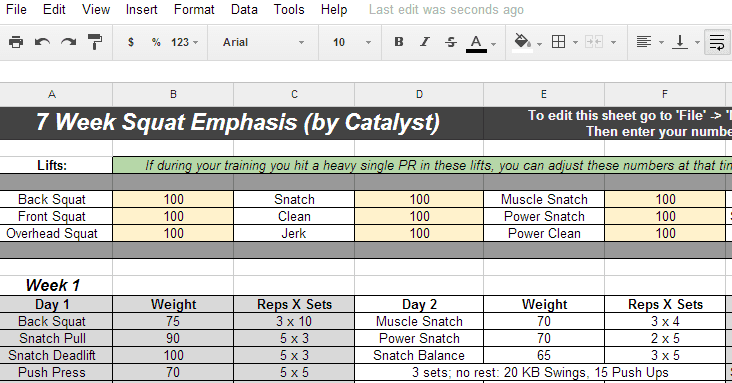 Here is another weightlifting program spreadsheet for you.
Thanks to reader Kirt, who sent this is. He wrote:
This was one of Catalyst Athletics from last year, and possibly some of my favorite programming from them ever. 7 weeks, lots of squats and pulling. Had great gains on this. I made a spreadsheet for some lifters I am helping out, and figured it would be a waste to not share it.
Download:
not available anymore. see reason at top
Just enter your numbers in the yellow cells and you are good to go.
More:
5 Week Front Squat Cycle
4 Week "Quick & Classic" Spreadsheet
For all the other spreadsheets check out the Spreadsheet Category on ATG.