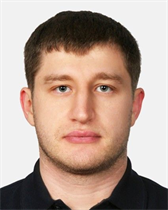 Update: Akkaev commented on his situation.
Update: Dmitry Klokov is out too.
Updates on the Akkaev rumors:
So apparently Khadzhimurat Akkaev underwent a spinal surgery on  Thursday, 2. August and is at risk of missing the Olympics.
The report I found says something about cutting out a hernia. Any doctors here that can comment on the seriousness of such a surgery?
The Google translation is spotty, so if someone of you can look over it, that would be great.
Back problems plagued the athlete all the last few months of training, but he continued to prepare for using a "blockade." [Blockade is when you inject a local anasthetic to numb a nerve. Thanks Dadlift!]

However, after arriving in London on the spine hernia given complication – were denied their feet [this may mean that he felt radiation (nomeness) in his feet, what would mean the hernia was between L3 and S2. Thanks Vincent].

This required urgent surgical intervention. The operation of a laser, for some reason did not work, and I had to have surgery lane, which was done on August 2, cut out a hernia.

Competition in the weight category up to 105 kg at the Olympic weightlifting tournament scheduled for August 6. Akkaev itself torn on the platform, but the Russian delegation, doctors are not prepared to take responsibility for the consequences – and do not give admission to competitive activity four days after spinal surgery.

In this case, replace Akkaeva to another athlete is no longer possible. Note that the sports officials responsible for Akkaev's situation for some reason do not comment.
Update: Sergey Sytsov commented on the situation:
"We had hoped until the end that there was still a chance and that he could perform at the Olympics," said Russian weighting federation head Sergei Syrtsov.

"But now we can say that unfortunately, and there's no way back, he will take no part at the Olympics," he added. "For us this is a huge blow, yet another gold medal has escaped us."
Update: For all the surgery doubters:
Akkaev stood, baring his back to reporters and displaying a bandaged surgery wound.