Saw this photo of Chen Yibing on the Gymnastic Bodies FB Page.
Olympic Champion Chen Yibing is doing one of his twice weekly THIRTY minute wall handstands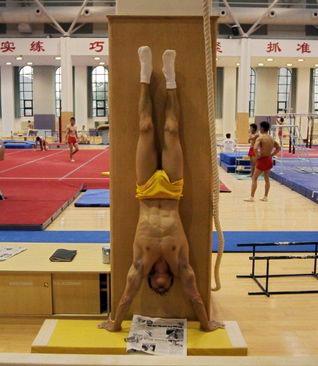 The reason I post this is because I remembered that I posted a video about Chinese Gymnastics training a while ago.
And 30 minutes is actually not quite right.
They do 2 of these brutal handstand sessions per week, each at the end of their trainin.
Tuesday: 20mins with weight belt around the waist
Thursday: 40mins without extra weight
So it's 30min on average …
On a side note, I have reintroduced handstands as a finisher of my Overhead Press days.
Easing into it with 5min cumulative Handstands / Handstand Wall Runs in as few sets as possible.
But I digress …
The info is taken from the video below and comes from Chen himself.
Transcript:
Narrator: Holding handstands is a more gruelling conditioning [compared to other conditioning]. The team does this after the entire day's training.

Chen Yibing: (Something) -sorry, I can't catch it, but I think it's blood- will flow downwards, I'm not kidding you!

Woman: So handstands have their advantages?

CYB: It's good for it to go to the brain. -My CHN coach used to say that it makes you smarter-

W: How many times a week do you do this?

CYB: Twice. Tuesday we do 20mins with weights on the waist, Thursday we do 40mins.

N: The time for holding handstands is 20mins, but the gymnasts have to do that with weights. Some of them plug in their earphones; using music to while away this grueling period of time.

W: Xiao Mi -nickname of Zoukai, meaning small eyes, you said something about being especially ugly when you're doing handstands?

ZK: Even my eyes disappear. When I come down, even my mom won't recognise me.

N: Despite it being the last spurt before Worlds, the training is tougher than usual so as to ensure they take the team gold. However, the gymnasts still maintain a very good psychological condition. Recently, to improve the team spirit, many of the trainings are done with the teammates together, a bit like a mock competition.

The performing gymnast would assume that he's at the competition grounds and his teammates, other than cheering for him, will also assume the positions of judges or coaches, pointing out his mistakes.
(ZK spinning around in circles)

N: This is when the team was discussing whether ZK's (I don't know what it's called, the Russian spinny thing) rotates enough degrees to be counted.

Feng Zhe: This team competition thing, it's something that forces you to perform even when you think you can't.

FZ: You're putting in effort not for yourself, but for the team. Everyone's like this. Even if there are difficulties, the situation forces you to complete [what you have to do].

N: FZ is being pushed for his training. He's currently training with a bad skin condition. Because of the condition on his back, he even has to change his falling technique during vault to avoid impacting that patch of painful skin.
W: What do you think is your worst enemy now?

FZ: That skin condition. I'm so affected that I can't sleep, can't eat, and coupled with my shoulder injury in the recent past, I haven't been training properly. I'm currently adjusting [back to top form] now. Hopefully I can outperform myself.