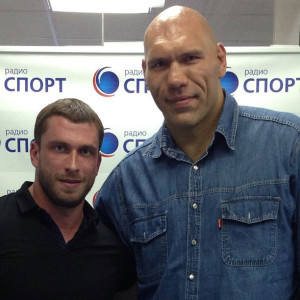 Here is the translation of an interview with Dmitry Klokov.
He was guest on Russia's Radio Sport 93.2 FM with host Nikolai Valuev. Here is the Russian interview.
Check out Dmitry's other interviews here.
Please thank ATG reader Dazzed who translated the entire thing.
Update: Translation complete!
Interview
At the beginning he talks about how his father was a weightlifter and that Dmitry was brought up in that environment even if his father didn't want him to be a weightlifter himself, he wanted him to go to school and be smart.
But he decided to follow the path of the weightlifter and it was a big moment for him when his father finally accepted and respected him as a weightlifting athlete. Basically, his father was happy that weightlifting was keeping Dmitry off the streets.
However, his father didn't fully accept it even during world championship, because he still wanted him to be a scholar and go to school to be smart.
Then the commentator asks about Dmitry's weight class and how it has evolved with time to reach the 105kg. He responds by saying that he passed by virtually every weight class through the ages, starting from 50kg.
He also says that he has competed in 105+, but his true category is 105.
However, he says that it creates a bit of discomfort because he weighs a bit more than that and he has to constantly put off weight before competition. He adds that he would like to have a 110kg category like in the age of his father; it would be perfect for him. The weight he would need to lose would be lost easily and the overall process would be less harsh on his body and on his results.
Then commentator asks if Dmitry has a talisman or lucky charm that he brings with him to the competition.
Do the impossible, and you will get the maximum out of yourselfHe responds that he doesn't need one, and says a quote that he likes from who he thinks is Napoleon : "Do the impossible, and you will get the maximum out of yourself." He explains that when you want the impossible for yourself or you want to reach an impossible goal, you will push yourself hard enough and only then will you reach your limits.
After the break, the commentator says that he understands that Dmitry's moto is do the impossible so it becomes possible. Dmitry says yes and adds that even if he feels completely destroyed, he will show up to training to give it his best and grind through, even if it makes things worse.
Furthermore, he says that even if he doesn't have a chance to win a competition, he will show up and do his best, and not mind knowing that he did all that was in his power (a mindset that he tries to keep during training and competition).
Then the commentator asks who does he compete with: himself or his competitors ?
Dmitry says that first it his himself and then it is others, and by others he means Russian competitors because he doesn't feel great motivation from outside competition given the fact that they barely see each other and has very few interactions with them.
He says that his russian competitors push each other a lot more with anger and even they reach points where they hate each others faces ( he says jokingly and laughs after).
The commentator then thinks that Dmitry does better in Russian then in international competition and Dmitry says that its not true because in international competitions there are generally 2 russian competitors in the same category and it pushes him to surpass his fellow competitor, but in russian competitions the venue is generally packed which creates motivation.
After that the commentator asks who does Dmitry have a lot of respect for in the weightlifting world.
He talks about Ilya Ilyin who is a great athlete and who won Olympic gold in 2008 and in 2012, and who is now moving up to Dmitry's category where he is going to compete in the next years worlds. He considers him as a great competitor. He also says a quick word about Andrei Aramnau who won the 2008 olympics, but who he says got star fever (super star) from the internet and who has disappeared from the scene since.
Then he asks Dimitry if he's more an emotional or rational person. Dmitry says that he is a mix of both. He says that being a mix of both is better, because a middle is better.
He then asks him how did he compete at the Arnolds Classics and how did he get invited. Dmitry says that he had just won Worlds in 2005 at the time, Arnolds Classics needed some publicity so they decided to invite a favorite and loved russian weightlifting athlete, because Arnold loved russian weightlifters.
Dmitry was overjoyed with the offer, because for him it was like a mini Olympics with 20 different sports, with nice venues and a bunch of restaurants. He adds that if something similar was done in russia every year it would be amazing, because it's like a big congress hall to celebrate sports for 3 days in a relaxed atmosphere where people come to watch and perform.
The commentator asks about the difference between weightlifters and bodybuilders, and states that both train very differently even though they have great physical appearances.
Dmitry talks about it from his point of view and the fact that most people want a lot, but for example the snatch is a very complicated and heavy movement to complete. Both clean and jerk and snatch are hard to do, not everyone can do them.
A normal person doesn't really want to lift a lot of kilos, they want more to pump up the muscles. So it would be easier and healthier for people of that kind to do bodybuilding training. The commentator then says that kids are very impressed with big biceps and so forth; Dmitry agrees and adds that people can't understand how heavy 200kg is. He explains that 200 kilos to someone by saying it is 4 athletic girls and people have a better idea of the kind of weight.
The commentator says that weightlifting is not only about explosive strength, but also about the regime and all the things you have to refuse to get your results higher.
Dmitry talks about the importance of explosive strength and talks about how they do box jumps. He also adds that there are guys that are heavy, in the gym, but can still jump amazingly high because of their explosive strength.
Then Dmitry changes subjects and talks about how he says he has the pleasure of appearing on TV shows such as the diving show. He talks about how he prepared for the show, how he had to start from 0 and low heights and slowly build up to the 10 meter jump.
He said it was hard because the muscles were working in a different way, so when he would get to the gym afterwards him muscles would crave something different. He had great pleasure from this, but his muscles were in a big shock not knowing what was going on.
After the break, they talk about the weightlifting mindset and how should a weightlifter act towards the bar.
Dmitry says that for them it is a living thing, so you can't in any case hit the bar, kick it or move it with your feet.
In theory, you can move the bar with your feet but no weightlifter that has respect for himself will move it with his feet or step over the bar.
The commentator reacts and says that weightlifters do have their special beliefs. Dmitry says yes and that it started as a joke a long time ago, but that has now became a tradition.
The commentator asks if something motivated this kind of taught, if something happened, and Dmitry says maybe.
Then the commentator asks if Dmitry remembered the first time he became world champion.
Dmitry says that it was his first world championship ever. He laughs and adds that he went to many world championships, but only won the first. It was completely unexpected. He laughs and adds that unexpected things happen all the time, like with London where Klokov and Akkaev should have won first and second place.
The commentator then asked what happened in London and Klokov explains that they (him and Akkaev) were both training very hard. He also adds that they were both lifting 10-15 kg over world records and this only 1 or 1/2 month before the olympics, not in the preparation phase.
The commentator asks why didn't either of them compete. Dmitry says that they were training hard and pushed by the fact that both wanted one thing: the olympic gold medal.
why should I quit when half a year ago I was in the greatest shape of my life, there is no reason to quitHe also said that they were training so hard because both had planned to retire after London.
The commentator then understands that Dmitry decided to continue due to the events, and Dmitry says why should I quit when half a year ago I was in the greatest shape of my life, there is no reason to quit anymore.
He says that yes he has had a few injuries over the years and even before the Olympics, but nothing very serious (not the kind of injuries that would make you quit). He had small injuries that didn't let him compete on one certain day, but with just a bit of time it goes away.
He talks about his recent results at the Russian Championship and how he couldn't train much the months before it.
But he adds that it is not a career ending injury like the one he had in Beijing, where he taught that his weightlifting career was over given the fact that his competitors were going up in results and at the same time he couldn't lift just the bar; everyone is lifting world records, but he can't do anything.
He thanks god that some doctors took him in and started doing serious recovery work. After that, the same competitors started to fall off and he got second place.
The commentator then understands that since Dmitry reached his peak not too long ago, all he needs to do is maintain his current power and not get any injuries. Dmitry says it is exactly that and talks about how he is pressing his record of 180kg and that it is 50 kg under his jerk but has helped him with his shoulders.
The commentator laughs and adds that it is not bench press but Military Press.
The commentator then asks about Beijing and if he had participated in the opening ceremony. Dmitry says that no, because they got their later on.
He adds that for them it was a bit more of a tourist visit and that they went to see some landmarks, in contrary to London where they wanted to go only for the medal, but ended up with no metal and no visit. The commentator adds that a visit is relaxing and takes the mind of the competition and Dmitry says that in the case of London, they were too caught up in the race for Olympic gold to visit and refused all touristic offers.
The commentator talks about the moment when it was confirmed that Russia would have no competitors in the 105 kg category, the journalists rushed to the conclusion that the russian athletes had a problem with performance enhancing drugs (Dmitry says that it is the journalists favorite subject). He asks him how does he deal with the situation.
Dmitry says that there are subjects where there are no answers; the commentator adds that the best answer is doping control. Dmitry agrees and adds that there are certain number of rules by which they play and that there are doping controls where they have to show everything, but there was no occasion of a positive test, so nothing more can really be said.
The commentator then asks about how both Klokov and Akkaev said in separate interviews that it was going to be hard to find the motivation after London, but has the situation changed with the upcoming 2016 Olympics?
Dmitry says that it was not what he meant. What he meant was that before London they were preparing for a year or half a year with a great motivation and giving it 100%.
But in the case of the Russian Championship, where he had won several times, or World Championships where he had been 6 times in the past, it is harder to look inside yourself and find the motivation needed.
It is almost impossible to get that kind of motivation.
In preparation for 2016, he compares the first 2 years to work, where he has to come in, grind through and hopefully get his injuries to get better, but the last year before olympics is where the serious preparation with the motivation needed comes in.
He laughs and adds that the motivation will be great, because this time it will be his last Olympics.
After the break, the commentator asks about the general popularity of weightlifting among the young in Russia.
Dmitry says that you can basically divide the territory into 2 groups: the big cities and outside the cities. He says that most of the weightlifting happens in the rural areas and outside of cities because it is a very cheap sport.
All you need to practice it is a bar and you could come in with holes in your shoes and still be able to train. He adds that even then they can get a pair of weightlifting shoes that would last someone for 3 years.
He then talks about his coach who trains people with no weightlifting room in Balashikha. He explains that they train in a basement on a concrete floor, throwing the bars on rubber sheet, but the floors cracks more and more with every attempt.
He also adds that the ceiling is 2 and a half meters high. Considering that, he says that he as a champion came from there and that there are still many champions training there.
The commentator in shock asks "from that basement ?". Dmitry says yes and adds if you take all the regions in Russia, none has had more champions or won more medals than the Bashkortostan area. He says that its the soul of Russian weightlifting, but they don't have a training complex and train in a basement.
The commentator says that it's a sad story and hopes that in the future they can resolve some things. He then changes subject and talks about about the diving show once more and about the possibility to live off this and off weightlifting in general.
Dmitry says that if you want to make a living from weightlifting you have to become a trainer or a fitness instructor. He also adds that for the preparation of the diving show, which lasted some time, he couldn't train his lifts properly so it wouldn't be an option to make living off it as a weightlifter.
He then says it would be impossible to make a show with weightlifting, because the sport isn't popular enough. He says that people don't respect the sport much, but they have respect for the athletes.
He gives the example of Rigert whom people came to watch train and perform because of his physical abilities. He finally adds that the sport lives through people who are able to perform impressive lifts, so he personally tries to share it to the world, through himself.
Then they talk about the recent interview with Akkaev and his great criticism about the federation.
Dmitry laughs and says that he doesn't know exactly what set Akkaev off and he adds that he wants to turn the page, but that he will say this. Dmitry says that they upset Akkaev, because they were ready to pay him good money to train, get certain results and to pay a lot to get him to London for the medal.
But when he didn't put up the results that was awaited from him, they slowly striped him of the benefits and they started to forget about him, even though Akkeav is still Akkeav. He adds that they need to let him breath and take some time, because he also suffered a great tragedy by not competing for the guarantied medal. He gives the example of the 6 Russian athletes who tested positive in Beijing, but who still brought some metals after that.
The commentator then decides to talk about family, which seems very important to Dmitry (his wife and child). He asks Dmitry how they support him.
He talks about how lucky she was to meet him. Back when his father was the president of the federation in 1998-1999, he had built the training center in Taganrog which he called the Weightlifting Academy of Rigert.
He says that Rigert and his father had a good relationship, and that his father, out of respect and the need to give Rigert a place to work, built it in his honor.
Dmitry then explains that he moved there, trained there, met his wife and had a child there, but that it all started because of the training complex. Dmitry then jokes that after London he sold everything that he had in Taganrog to move to Moscow, but the he has since come back.
The commentator ends the interview by saying that he hopes, and knows, that Dmitry's dream for Olympic gold will be fulfilled because of his attitude and his positiveness.