Last week I came across this feature packed 5/3/1
Excel spreadsheet by a redditor.
At first it was missing some features, which have now been added in v2.1.
Download: Google Docs (open link and choose File – 'Make a Copy' or 'Download as')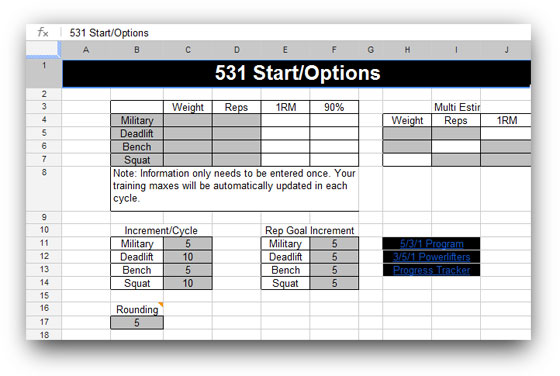 Features:
3/5/1 for Powerlifters Templates
progress tracker graphs that automatically update
stall feature – choose which exercises and how much you want to reset them, without adjusting the numbers from previous cycles; simply type any words into the Stall Box next to the appropriate exercise and enter the amount of weight to back off. Your weights for the NEXT cycle will be appropriately adjusted. Weights for the current cycle will remain unchanged.
rep goals
increment Per Cycle: 10lbs lower body, 5lbs upper body lifts
multi Estimators
supports kg, pounds and microloading
plans out 1 entire year
Support Jim and buy the 5/3/1 2nd edition from Amazon.
And while we are on the topic, Jim recently put out a comprehensive 531 FAQ.
More: Check out other 531 Excel spreadsheets (2nd Edition)