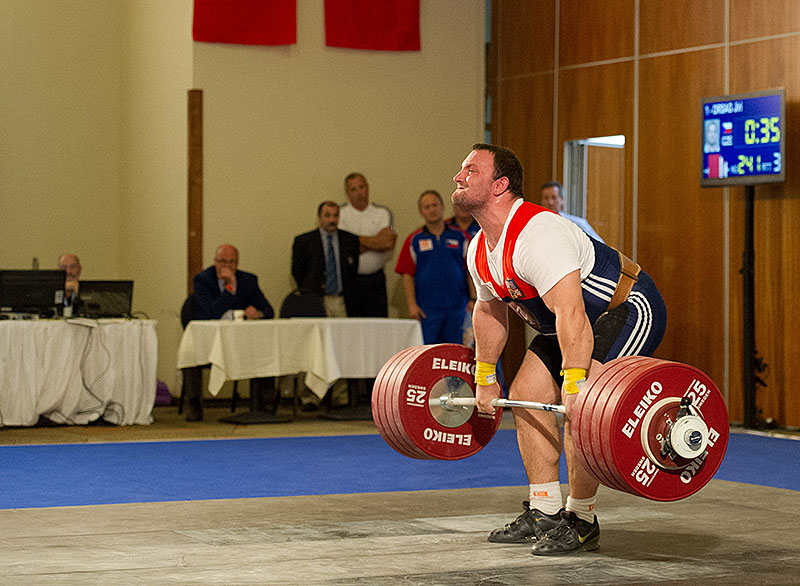 You have seen Jirka Orsag's training and competition lifts posted frequently here on ATG.
That is why I am super stoked that I had the chance to chat a bit with the man himself.
Thanks to Jiri for being so generous with his time.

Hope you enjoy this interview.
Stats
Age: 24
Bodyweight: 130kg
Height: 181cm
Weightlifting Since: started in 2000 at the age of 11
Personal Records:
Snatch: 187 kg in competition / 192 kg in training
Clean & Jerk: 241 kg in competition / 240 kg in training
Front Squat: 290 kg
Back Squat: 325 kg
Deadlift: Snatch Grip 250 kg , Clean Grip 300 kg
Push Press: 181 kg x2
First Some Background Information
First off, congratulations on becoming U23 European Champion. So how did it feel when you made it?
Thank you. It was great! This has been my goal for the whole year – win again and set a new European record in the Clean & Jerk!
That goal was reached 100%, and I consider it a good way to end my junior career.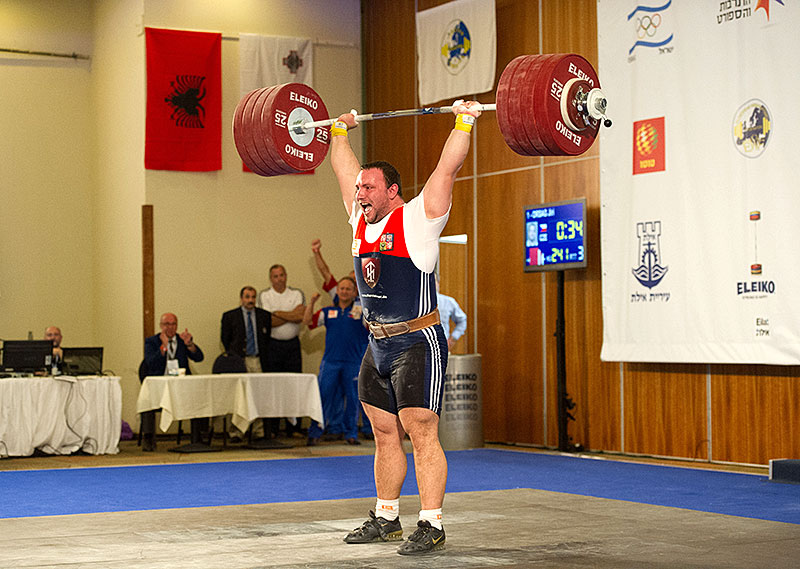 Which lifter/s did you find most impressive in the U23 Euros?
Very impressive was Milko Tokola (FIN), very fast, great technique! I like to watch his training videos!
For those not familiar with you, where do you currently train?
Right now I train in Prague, in the national sport center under the Ministry of Interior, which pays big part of all Czech athletes. Second biggest organization which is "employing" athletes is Dukla Praha, it's an Army club, but there is no weightlifting.
Who is your Coach?
Pavel Ivanič – We have been working together for about 8 years (from 2004). The first contact I had with him just before the start of high school.
Can you tell me a bit about your sports background? What did you do first? How many sports did have you participated in? How did you get to where you are now?
Weightlifting is my first sport. Love at first sight.
How did I get where I'm now? It's easy… You just need to hold on and keep training.
And how did you get into weightlifting?
It was in March of 2000. My stepfather knew a local weightlifting coach.
And now I want to see you train here every day or I will find you!
I was lazy guy and the ball was not my best friend, so once he took me to local weightlifting club.
Big guys, barbells and a lot of noise.
I just sat on the bench for maybe 2 hours and watched them, playing with the monster barbells.
After their training, the coach came to me, gave me a small bar and said "show me what you just saw, repeat it" I started with C&J. Then he showed me snatch and after an hour we went home.
Coach stopped me outside and said "And now I want to see you train here every day or I will find you!".
I was so scared I didn't stop till today 😀
No it's true. I liked to go train, it was fun. After a month I was sure I love this sport and I started setting some goals.
First was to get medal from nationals. I had no idea 5 weeks of training will be enough to get it 😀 And that was what convinced me to stay with this sport.
Who was your inspiration as a kid?
Guys from the club. They were so big and strong! I had no idea about European or world weightlifting. I had no internet, no Eurosport …
What are your favorite memory / experiences or anecdotes from a competition? What are you most proud of?
Olympics at all. Best experiences, best memories! I'm most proud of I was on Olympic games. Qualification was not easy for us, but we did it and I got a chance. I think I can feel satisfied with my performance and placement. I did my max there.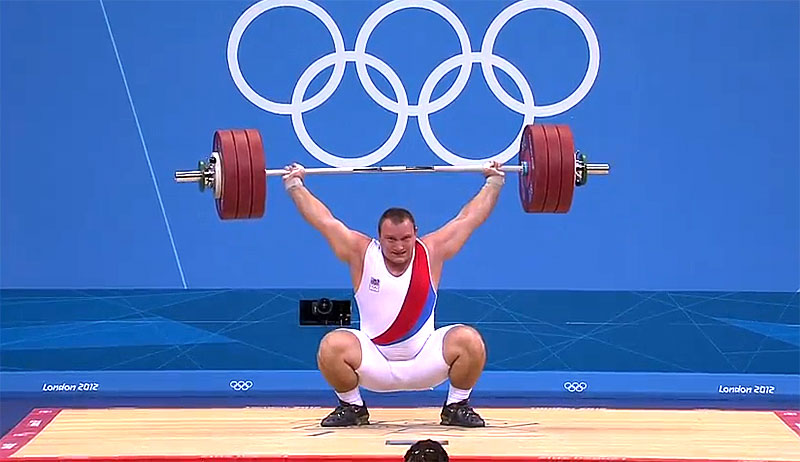 Let's Talk Training
Do you train alone or have regular training partners?
As I said, I train in the national sport center. We are 6 professional weightlifter here now.
We train together every day. We are great team. We support each other and so.. I can't imagine to train alone… I did it most of time when I was on high school… I have no good memories for these times…
What does a typical training day look like?
My typical training day starts at 8:00 with breakfast.
I go to training at 9:00 and start about 10:00. I need a time to warm up…
Weightlifting hurts, but hold on. It's worth it!Training takes about 2 hours. About 12:30 I have lunch and after I sleep till 15:00, take a little snack and go to next training which starts about 16:00 and takes again about 2 hours.
After the second training a take a snack and we go (up to 5 times a week) to Cryo Chamber. Great recovery!
About 19:30 I have dinner, 22:00 second dinner and sleep.
What other recovery techniques do you use if any?
Like I said before, up to 5 times a week we go into the Cryo Chamber. This I found to be a great form of recovery.
Once a week, usually Friday, I visit a physio therapist.
Massages I have 1 – 2 times a week.
Can you give us a general outline of your programming?
Usually I train 2 hard weeks, and one "easy" week.
Hard means high volume with the biggest intensity I can manage.
Easy means only biggest the intensity I can manage. Just go to the max and that's it.
It's very similar to the Bulgarian system, but it's modified for my needs. I'm not Bulgarian and I have no Bulgarian or Russian "conditions"…
I'm listening my body, which knows better than myself what I need.
When I can train hard, I train hard, when I feel I need a rest day, I take a rest day.
I noticed over the past 3 years you maintained your strength in the back squat and increased your weights in the competition lifts (Back squat stayed around 320kg, but your total increased a lot). How has your training evolved over the past years?
I started to write my own programs.
That's because 4 years ago I made a big change in my training.
I started to write my own programs.
Coach is just watching my technique and he takes a care of what I need.
I have been weightlifting for 13 years now. I think I'm able to write my training plan. I was not satisfied with his plans. It was still the same and his methods were very old and not working anymore for me.
I can't say I could coach somebody. But I have no choice now. I have no good coach so I'm doing what I think is best for me. I try to do the best for me, I listen to my body. And it's working for now…
What role do assistance exercises play in your training?
I don't do a lot assistance exercise.
I train only snatch, clean and jerk, squats and deadlifts.
Sometimes in an "easy" week I do push press, strict press, bench press…
What aspect do you want to improve most?
I think I still can get better in my technique. And I need to improve my deadlifts. Back is my biggest limit I think.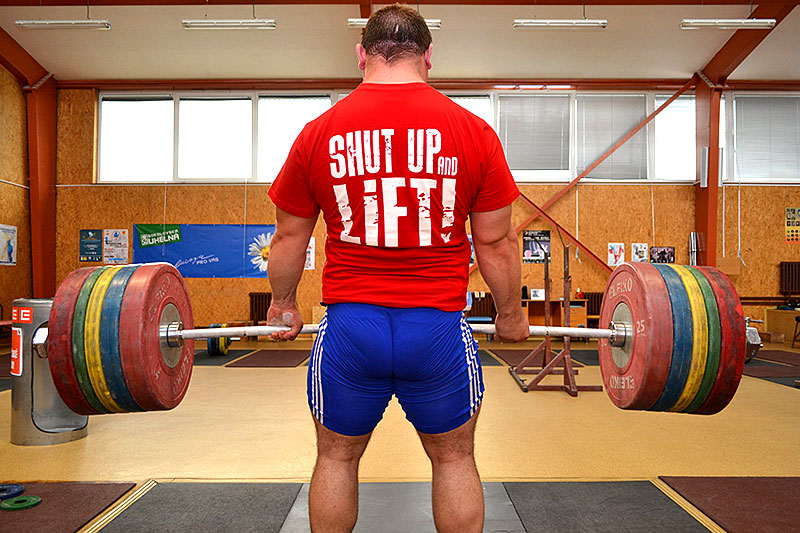 Do you have favorite / least favorite exercises?
All exercises are my favorites. Squats are my strong point. Deadlifts are exactly the opposite.
Injuries are part of the game. What is your strategy for when you feel a little pain somewhere?
Weightlifting hurts. If I can walk, I can train.
I recognize if it's important or not. Usually I have the same problems, so if I feel some pain, I recognize it eraly enough if it's going to become serious or not.
My biggest problems are my wrists. When it hurts, it's limiting me in snatch. Maybe that why my C&J is much better than my snatch. Because when I can't snatch, I do more C&J.
Rapid Fire Questions
Favorite Food?
I love homemade sirloin steak. And all steaks and meat for that matter. I love all food.
Favorite lifter these days?
What is a good piece of advice you got in the past?
Weightlifting hurts, but hold on. It's worth it!
What music do you listen to while training?
While training we listen some local radio 😀 I don't care very much about music when training.
Do you have other Hobbies?
My PC, Playstation, roller skates, cooking..
Favorite movie?
Hard to choose just one. I like Forrest Gump, Sin City, The Shawshank Redemption, Warrior, Fighter..
Last book you liked?
50 Shades of Grey.
Next Competition?
Next big competition will be in April. EWC in Albania.
Jiri's CV
2004 regular participation in European and world championships
2006 6th place at the Junior World Championships
July 2007 first medal for third place at the Junior World Championships
August 2007 won a silver medal at the European Junior Mistrvoství
September 2008 won a silver medal in the Junior European Championships
August 2009 he defended his silver medal in the Junior European Championships; 8th place in the Senior World Championships
in November 2010 won a silver medal at the European Championship in 23 years; also finished in 6th place at the European Seniors Championship
in April 2011 finished first place in the pitch and 2nd place in The Two Lifts in the Senior European Championships; in September 2011 won two gold medals in the U23 European Championship in Romania; in April 2012 he was awarded the 2nd place in the Senior European Championships and was nominated to the Olympic Games in London
in August 2012 he was 7th place at Summer Olympics London 2012 in superweight category (105+ kg); in December he became U23 European Champion again
Photo Credit: Nat Arem of Hookgrip.com