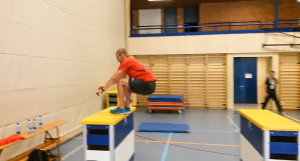 Meanwhile in … Track & Field Land.
We have all seen the crazy plyometrics of track & field athletes before. May I remind you of Werner Günthör's training videos or The Price of Gold Documentary. Well, here is another example 🙂
Below are two videos from Berlin based 100m sprinter Lucas Jakubczyk. He recently got 5th at the European championships [video] with 10.25 sec. His best 100m time is 10.07 sec, best 60m 6.56 sec.
First video shows "Reaktive Niedersprünge" which I guess can be translated as "Reactive Depth Jumps" (I have  seen those called Bounding Box Jumps before). They are used to reduce ground contact time.
Disclaimer: It should go without saying that unless you are an experienced track & field athlete, you have no business doing depth jumps from that hight (just like you wouldn't try 300kg on your first day squatting). So please use common sense and take it as an inspiration of what is possible with the human body.
Updates: See below.
Being a former Long Jumper he also likes to do those single leg jumps onto boxes with decreasing heights. To me it looks like he is cheating at physics.
More Plyos: Plyometric Circuit with Jessica Salvaggio.

Update: Here is his run at Europeans
Update: Talk by a Sports Scientist (in German) that explains the reasoning behind the reactive depth jumps. Relevant part starts at 47:30 minutes in. Thanks to the submitter.
Some points on maximal speed development from the talk:
Up to 10-12 jumps x 3-5 sets, 10min rest. You need to keep the rest that long if you want your fast twitch fibers to act.
Do the optimum, not the maximum. "Do little, with high intensity and long rest".
Too little rest and you will not train your fastest muscle types, but the ones that are most resistant to fatigue.
They asked the question "Does the athlete fatigues more from the jumps or from the stepping on the boxes?".
So they made the experiment so that the athlete could do the jumps without doing step up work. They tried different height boxes, but that was not important here.
Results: you produce more lactate by doing the step up work than you do are when jumping. Which is very bad long duration endurance athlete (lactate destroys mitochondria membranes which leads to a decrease in aerobic capacity).
So if you do jumps it's better to eliminate step up work, by having a two box set up that lets you jump off one box and immediately jump onto the other box, thus eliminating the step up.