Here is a Questions & Answers session with Finland's fastest, Milko Tokola.
If you have been around, you have seen a couple of his training videos posted here. He is so fast, his videos almost look sped up. So I thought it would be cool to get to know him and his training a little better.
Sponsors: Does your company want to support his talent? Contact Milko on Facebook.
Thanks to Milko for taking the time.
Please leave your comments & feedback below and subscribe to his YouTube Channel (Here is his new channel.).
First the Stats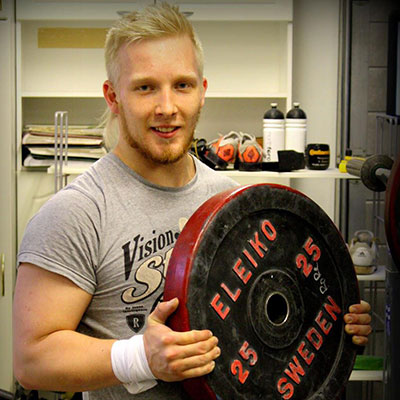 Age: 20, born in 10.10.1992
Training Body Weight (Competition Weight): right now 83kg (77kg-85kg)
Height: 163cm
Personal Records
Snatch, 141kg
Clean & Jerk 176kg
Front Squat 200kgx3, 205kgx1
Back Squat 232,5kgx3, 245kgx1
Deadlift (Snatch Grip: 215 kg, Clean Grip: 277,5 kg)
Bench Press 160kg,  Military Press 87,5kg x6
How did you get into weightlifting?
I wanted to be strong, started October 2004.
My friend was weightlifter in a small, old gym and he introduced me to the sport. I liked it immediately and stayed with it.
Who was your inspiration as a kid?
Taner Sagir, Hossein Rezazadeh.
Do you train by yourself or do you have a coach?
Since 2005 I have a coach, Petri Tanninen.
Are you a full time lifter? Student? Worker?
Weightlifting is my job. I am a professional athlete.
What does a typical training day look like?
My days start at 7:30 in the morning. Then I go for a 2km run / walk.
I train 2 times per day. Training sessions last for 2-3 hours each.
First training session is power oriented – back squat, front squat, snatch pull, deadlift.
Clean and snatch pulls are done from a 5cm podium. I usually go for 3×8, 5×5, 3x6s.
As for the weights used, on the pulls I go for 100-110% of my max Snatch / Clean & Jerk. Squats go up to 80%-100% of my 1RM. Here is a video of a morning training session.
The second training session consists of the Olympic lifts. Snatch, Clean & Jerk training with variations and complexes you have seen me doing.
How do you train squats?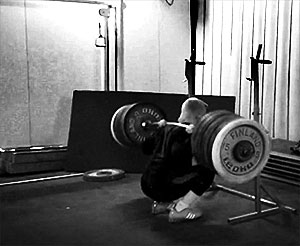 4-6 times per week, usually in the morning (first training session).
Set & Rep Ranges: 5×5, 2+4+6+8+8+6+4+2, 6×6, 3×6.
2+4+6+8+8+6+4+2 represents pyramid squat training.
Meaning that you do the same weight throughout all sets. For instance 182,5kg x2, x4 x6 … etc.
So I would get in 40 reps with up to 80% of my max.
Do you have a complete rest day?
Yes, Sunday… ,but I use it to get some active rest, like go swimming.
How did you get so fast?
I'm not sure. My first recreational sport was track and field. My record for 100m sprints is 10.98s. So that may have given me a good foundation when it comes to fast twitch muscle fibers.
I also do a lot of jumps, like Box Jumps (record 149cm x2) or Broad Jumps (record 334cm).
You have great mobility, do you do any stretching?
Only a little.
Favorite Foods?
All kinds of meat. Also, potatoes and macaronis .
Who is your favorite lifter these days?
What is a good piece of advice you got in the past?
Train, train, train!
What music do you listen to while training?
Nasheed – Kuntu Maytan, Bobina – Pune, Moscow Never Sleeps,
Other Hobbies?
No! weightlifting my life!
Next Competition?
This weekend, Finland vs Sweden!
It will be held in Tammerfors, Finland and will also be broadcasted on Finnish television.
Update: link to recording
To round it off here is a training compilation from 2013
145kg Snatch and 172kg 2+2 Clean & Jerk at 83kg, age 20
Your feedback please: Who else would you like to see a Q&A with? What better Questions could I ask next time?