This is the ATG Rio 2016 Olympics Page with all the info you need to follow the weightlifting events.
Useful Links
ATG Chat to discuss the event
►►► Live Streams: I will just watch the BBC streams (Works for all sports! No Ads!). Explanation on how to do that from outside the UK is below.
Next Sessions
Tuesday, 16th August
15:35 – M+105kg B
19:05 – M+105kg A
Follow along: I'm @atginsta on Instagram, @allthingsgym on twitter, All Things Gym on Facebook & allthingsgym on YouTube. ATG Submit Page if you have News.
Highlights
News
Update 11.10.2016: IWF's World Weightlifting Magazine – Rio Edition (PDF)
Update 29.08.2016: Many Romanian sites report that Gabriel Sincraian (85kg Bronze) supposedly tested positive. (via)
Update 26.08.2016: The Olympics YouTube channel has a couple of clips now in this playlist. For Full Recordings you can still use the VPN method and watch on CBC.
Update 22.08.2016: The NY Times as neat visualizations of medal distributions at past Olympic games. (via)
They also mention that China has been cleaning up ?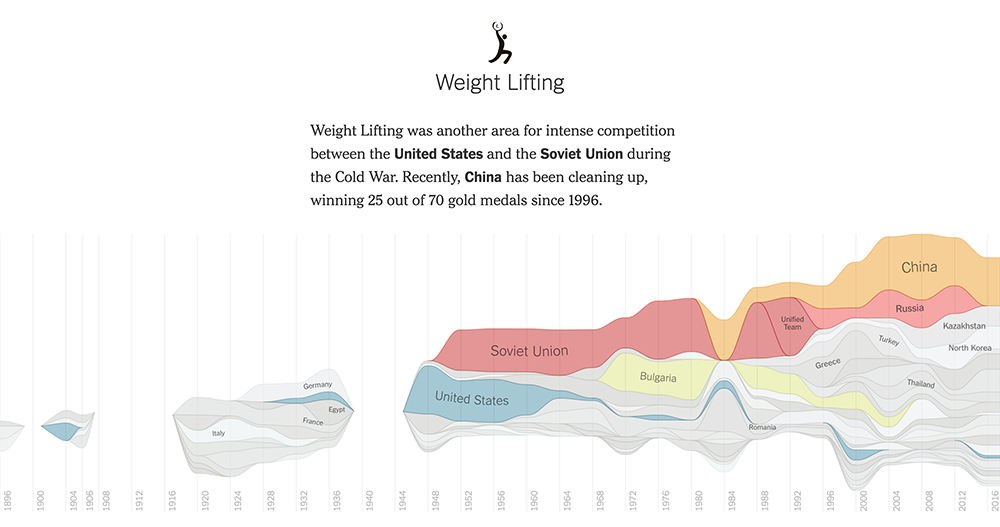 Update 21.08.2016:
Update 18.08.2016:
Izzat Artykov (Kyrgyzstan) who won Bronze in the 69kg category tested positive for Strychnine. (via CAS PDF)
Iran wants to file a case at CAS over the Salimi bombout. (via)
Update 17.08.2016: Russia, Kazakhstan, Belarus will definitely be banned according to a post citing Ajan. (via)
Update 15.08.2016: After Lin there might be more positives from Taipei in the pipeline (via)
Update 12.08.2016: Adrian Zielinski's positive test is now official (via)
Update 10.08.2016: After Tomasz there are now reports that Adrian Zielinski supposedly tested positive at a training camp in July. (via)
Update 09.08.2016: Lin Tzu Chi (63kg, TPE) supposedly tested positive (via)
Update 08.08.2016: Tomasz Zielinski supposedly tested positive, has to leave the Olympic village (via)
Update 06.08.2016:
Nijat Rahimov (77kg, Kazakhstan) Clean & Jerking 200kg in training.
And the first weightlifting doping positive goes to Antonis Martasidis (Cyprus). He supposedly tested positive on the 25th of July and had his accreditation stripped "just hours after arrival". (via)
Update 06.08.2016: Btw, how about the complete failure of the Rio Weightlifting organizers to put together a media team for training hall footage? You had 4 years to prepare … How is that even possible?
Update 03.08.2016: Final Start List is here (PDF). Post your findings in the comments. or ATG Chat.

Li Yajun (53kg) with a solid 10kg lead
Om Yun Chol (56kg) not starting in B Group this time. 300kg entry total!
Thailand's 58kg both with a top 240kg total
62kg will be interesting 🙂
Men's 69kg has Daniyar Ismayilov from turkey with same entry as Kim Myong Hyouk at 350kg, and several following closely
Andranik Karapetyan in 77kg has same entry total as Lu Xiaojun! Nijat Rahimov is close too!
75kg: Rim Jong Sim with 275kg entry. Lydia Valentin 255kg
85kg: very close session! Tian Tao, Denis Ulanov, Kianoush Rostami all within 390 ish entry totals!
94kg: with both Zielinski brothers (403 and 405 total), Sohrab Moradi has a 407 total
+105: with 6 athletes having 450kg entry totals
ATG Chat

You can discuss the event here. allthingsgym.com/chat/ for a separate page.
to change your nickname type "/nick yourwantedname" without the quotes
to highlight someone's name type the complete nick or
Pro Tip: just enter the first character and hit tab (multiple times) to auto complete the name
Update 03.08.2016: CAS rejected Russia's appeal. Weightlifter remain banned. (via)
Update 01.08.2016: Updated Entry List (PDF). Meng Suping is now in, Hou Zhihui (48kg) was replaced due to knee injury (via).
Google also has results and schedules (for your local time zone) when you google "rio olympics weightlifting".
Update 29.07.2016: IWF bans Russian weightlifters from entering Rio. (via)
Quotas were reallocated as follows:
Women ALB, GEO, MDA
Men BEL, CRO, ESA, MGL, SRB
Update 27.07.2016: 11 more positives…  (via)
Nataliya Zabolotnaya, Svetlana Tsarukaeva, Alexandr Ivanov and Andrey Demanov, Intigam Zairov, Iryna Kulesha, Hripsime Khurshudyan,Rauli Tsirekidze, Sibel Simsek, Almas Uteshov, Cristina Iovu.
Update 26.07.2016: From the retests – Albegov's 2012 sample supposedly came back positive. (via) But neither the Russian WL president nor the IWF seem to know about it. So it might be false information.
Update 25.07.2016: Head of the Russian Olympic Committee, Alexander Zhukov, confirmed that Tatiana Kashirina and Anastasia Romanova will not be allowed to compete in Rio. (via)
The IWF on the other hand has this to say (via):
In order to establish the pool of eligible Russian athletes, the IWF contacted the IOC, WADA for further clarification on the implementation of the decision that in some points might lead to confusion.
Update 24.07.2016: The IOC just announced that they are not banning Russia as a whole. (via)
They leave the decision to sport federations.
But the Russian Olympic Committee is not allowed to enter any athlete for who has ever been sanctioned for doping, even if she or he has served the corresponding sanction.
Russian track and field remains banned. Weightlifting got away with a black eye.
What does that mean for Tatiana Kashirina? She tested positive at age 15. But getting drugged as a child was hardly her fault.
Update 21.07.2016:
Update 20.07.2016:
Update 18.07.2016: Official Chinese Team Announcement. (via)
Women's Team is supposedly:
Also now official. Liao Hui announced his retirement on weibo. Google translate:
Eleven lift weights so far there are 19 years in a row! Young ups and downs! Emotions are related with weight lifting! 2008 Beijing Olympic Games Early bloomer! National Games champion two World Championships undefeated! Three world records! These will make me proud! Of course there are sadly helpless 2012 and 2016, a flash eight years later. Over the years through a lot, there are tears, there is a loss, there are unwilling to have himself, and support me, so I adhere to the teeth of power is the love of weightlifting, the desire to win is like once again embark on the journey of the Olympic goal . Up to today, perhaps the outcome should not be in such a manner full stop, but paid, no regrets.

Today, I officially announced my retirement. Thank you for all these years of my care and attention, what will happen next, I do not know, but in another piece of the sky, I will try to do better.
The official team announcement post also mentions that Liao injured his knee last months and couldn't train properly.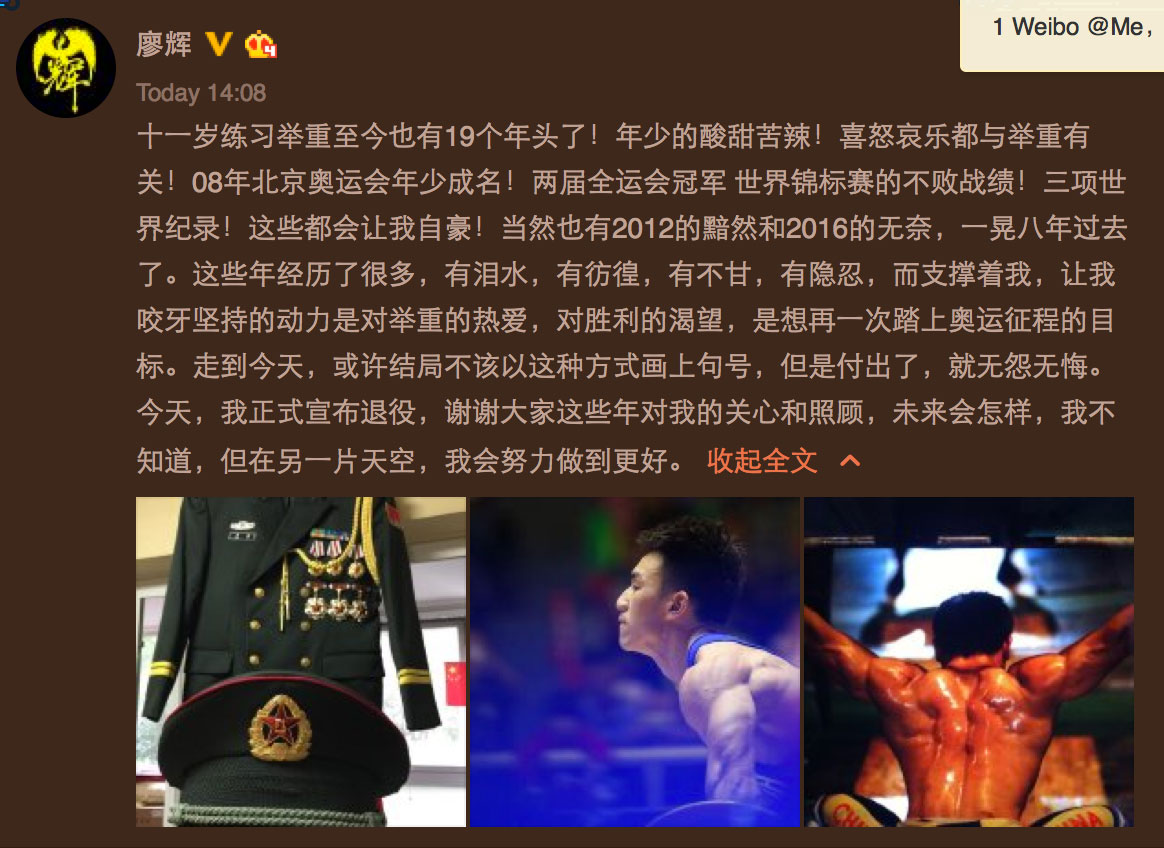 Here is his insane 166kg Snatch World Record from the 2014 World Championships in Almaty.
Update 15.07.2016: CAS dismisses Lovchev's appeal. (via)
Update 11.07.2016: Team Kazakhstan announced (via):
Update 08.07.2016: Larry asked Shi asked Shi if he's on the Rio team and he said it still not finalized. Although it could just be he's not allowed to say yet. He just said we'll find out on the 19th.
Update 07.07.2016: The Polish team is Patricia Piechowiak, Bartlomiej Bonk, Arkadiusz Michalski, Adrian and Tomasz Zieliński. Reserves are Joanna Łochowska and Krzysztof Szramiak. (via)
Update 06.07.2016: No Liao Hui in Rio? Here is the supposed Chinese men's team.
We heard rumors about this back at Junior Worlds, and now this post on a chinese forum popped up, supposedly showing who's on the team. Have your grains of salt ready though…
Women's Team is supposedly:
Update 05.07.2016: After Russia, Azerbaijan also goes to CAS to fight the loss of Boyanka's spot (via).
Update 23.06.2016: More snippets from IWF meetings at the Junior World Weightlifting Championships 2016, these are the teams with new quotas allocated to them (via):
Africa – Men: Kenya | Women: Morocco & Mauritius
Asia – Men: Qatar & Sri Lanka | Women: Iraq & United Arab Emirates
Europe – Men: Greece & Israel | Women: Finland, Latvia & Sweden
Oceania – Men: Nauru | Women: Solomon Islands
Pan-America – Men: Chile & Guatemala | Women: Argentina, Peru & Uruguay
Also the IWF Executive Board affiliated Burundi as 192nd Member Federation.
Update: 22.06.2016: TL;DR Russia, Kazakhstan and Belarus subject to suspension in Rio!
The IWF has published quota changes for team spots (via):
Azerbaijan: -1 Man, -1 Woman
Belarus: -1 Man
Kazakhstan: -1 Man, -1 Woman
Moldova: -2 Men
North Korea: -1 Man, -1 Woman
Russia: -1 Man, -1 Woman
Romania: -1 Man
Uzbekistan: -1 Woman
The IWF prepares to set up an independent investigation commission which will investigate countries which have 3 or more anti-doping rule violations a year, including the 2008 and 2012 Olympic Games retests.
The IWF will take appropriate measures to make sure that the athletes potentially implicated in the reanalysis process of the 2008 and 2012 Olympic Games – once disqualified by the IOC – shall not participate in the Rio 2016 Olympic Games.

The IWF Executive Board has decided that National Federations confirmed to have produced 3 or more Anti-Doping Rule Violations in the combined re-analysis process of the 2008 and 2012 Olympic Games shall be suspended for 1 year. Countries thus subject to suspension are: KAZ, RUS, BLR.
Update 20.06.2016:
Update 17.06.2016: After the last Olympic qualifier, these countries were awarded one spot each (via):
Men: CUB, ECU, MEX, USA, DOM, PER, CAN
Women: CAN, PUR, CHI, CUB
Recordings
CBC has them. Needs a Canadian IP address using the VPN method described above. Not sure how long these recordings will stay online.
The Olympics YouTube channel has a couple of clips now in this playlist.
Live Streams
Best (Most Convenient) Method: Just as in 2012 I will watch the BBC Live Streams. Great quality, no ads and most likely covers all weightlifting sessions (+ all other sports too).
How it Works: Use a VPN (we need a UK ip address)

Other Methods (lower quality): go to Pirate Sites here or here and search for streams.