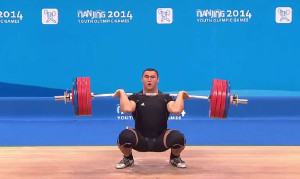 Meanwhile in China … at the Nanjing 2014 Youth Olympics.
17 year old Simon Martirosyan from Armenia wins the +85kg session with a Youth World Record.
It started off with a bad decision in the Snatch.
Simon opened with 170 (already 20kg higher than the others). Then increased to 183kg to go for a new Youth Snatch World Record (he holds the current one at 182kg). The judges decided 2:1 against it. The lift comes after the 221 in the video below. He then missed 185kg behind on his 3rd attempt.
The Clean & Jerk went according to plan.
He went 192, 205 and 221kg (weighting 110.98kg), taking the +94kg Youth World Record from his countryman Ruben Aleksanyan (220kg).