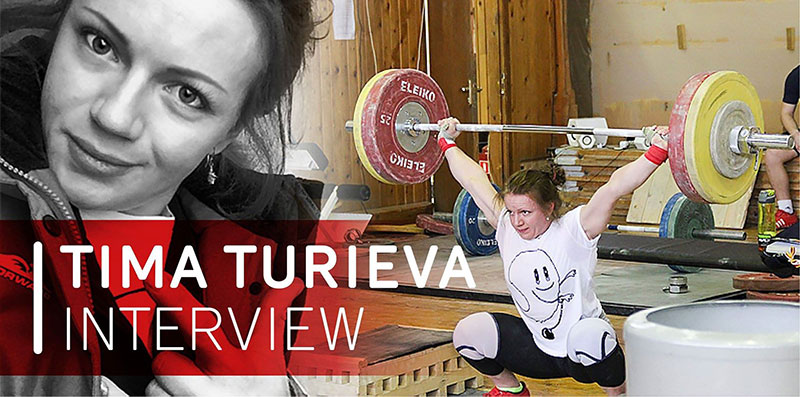 Here is the next interview in our series of interviews with Russian weightlifters.
We got to talk with 22 year old Tima Turieva. She is the 2013 World & 2014 European Champion in the 63kg category.
The interview was once again conducted by Alexey Goldbergs from wodloft.ru where you can find the Russian version. The translation is brought to you by the ATG Shirt. Thanks to everybody who has bought one.
Update:  Tima won the 2014 Russian Championships with 115kg + 148kg (at 65,65kg).
Thanks to Lisa D. for the typographic consultation and to Aleksandr Zakharov for letting me use the photos!

---
Tima, first of all, I'd like to congratulate you on your victory at the European Championship. How do you assess your performance?
I'm not very satisfied with my performance because I wasn't able to psych myself when making the first two attempts (Snatch). On the basis of the results of those who performed before me, it was obvious that I was going to be the winner and because of this I was kind of relaxed.
But then I psyched myself up for the last attempt and did what should have been done. The most important thing for me is not to let my team and coach down. And it's good that this time everything turned out well in the end.
Here are Tima's lifts at the 2014 Europeans
Which victory was the harder for you, at the World Championship last year or in Europe?
Of course it was tougher at the World Championships. There I did not even expect to get to the top three.
In other words, your opponents did not lift what they should have lifted and what you expected from them?
No, I'm sure that all of them did their best. Of course, I could have improved my Clean and Jerk. First, we called 141 kg, but then we changed that to 140 kg. We felt that would be enough. But the main thing is that I made six attempts.
At the European championship you refused to make the last attempt. You decided that would be enough to win?
Yes, the coaches decided that would be enough. Besides, my back bothered me a little. So we decided not to make any further attempts.
What do you think was the main cause of your two unsuccessful attempts in the Snatch? Some blunders in the preparatory phase, lack of discipline or maybe you were bothered by some injuries?
The main thing was to do it, no matter what
I just failed to psych myself up. I kind of relaxed when I saw the results of my opponents. I kept that in mind and that slackness played its role.
How did you psych yourself up for your third Snatch attempt?
When making the third attempt, I didn't think about anything. The main thing was to do it, no matter what.
Here are Tima's lifts from the 2013 Worlds: 110kg Snatch (she won with 112kg)

and 140kg Clean & Jerk

I also noticed that, unlike other team members, both male and female, wearing Nike shoes, you used Adidas equipment. What was the reason?
As a matter of fact, I was at a training camp with the men's team in Chekhov and these shoes were brought me at the airport. So I just did not have time to train in them.
So, you just did not have time to get used to them?
I had never worn them. Neither in training nor there. It simply wasn't possible. And so we decided to use Adidas.
And that was not because of some conflicts with the sponsor?
As far as I know, it wasn't. They explained the situation.
Many people say that you have to get used to Nike.
Yes, I asked the guys and many of them complained. I considered wearing Nike shoes. Many say they are uncomfortable and the sole is soft. Because of this, I probably would not even wear them.
Our readers will surely want to know what motivated you to take up weightlifting? Tell me how you got started.
At first I took up arm-wrestling. My coach named Kazbek Zoloyev is a 9-time world champion in arm-wrestling. He was our coach.
When we held joint training camps, I would always watch weightlifters train and I liked it. So I began to copy them, and the coach saw it and suggested that I take up weightlifting. Of course, my relatives would not approve of my new interest, but I still pursued it. They only found out a month later that I had been going in for weightlifting.
And at what age did you switch to weightlifting?
I was 12-13 years old.
Many girls will generally prefer weight machines to the barbell arguing that if they squat with a barbell they will get big and bulky. What can you say to that?
Well, everyone has their own ideas about beauty. I believe that many weightlifters have beautiful bodies. They are slim, with no excess fat.
Have you ever been faced with negative reaction of others to your appearance?
Yes, I have. People would look at me in surprise. But I don't care anymore. The main thing is that I like my body and I don't care what others say.
Who was your first coach?
I started training with Vadim Togoyev. He, by the way, coached me in arm-wrestling as well. But I don't regard my coaches as the first or the second. They both coach me.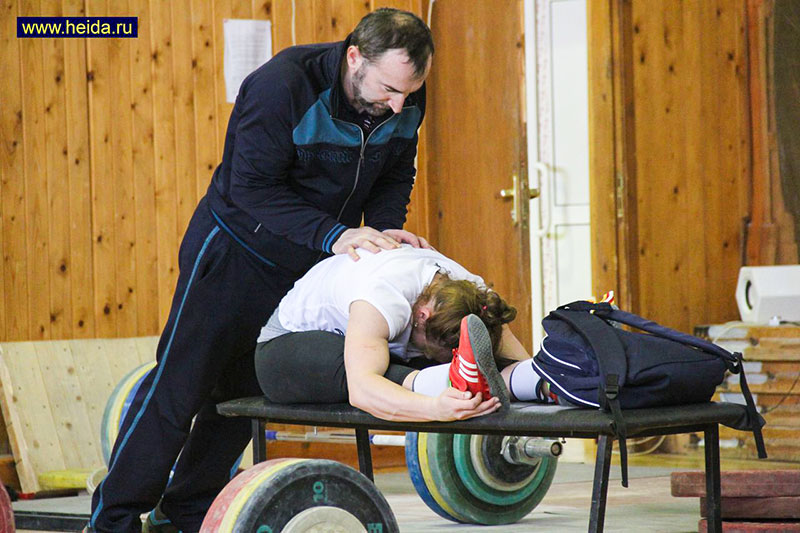 Does your coach always travel with you to training camps?
He's also training Ruslan Albegov. And when he is called to go to training camp and I am not, I still go with them. [that's why you see Tima in the Russian Men's Training Day Video]
I prefer fewer reps and more weight. It's easier for me.Adam Maligov said in his interview that he never does 1-2 repetitions, and that he instead prefers workouts consisting of 3-4 reps. How do you design your workouts in this regard? How often do you work with weights of 90 % or more of the maximum?
I prefer fewer reps and more weight. It's easier for me.
I heard that according to Zoloev's method, almost every Friday you work with weights of 90-95% of the maximum.
Yes, that's true. Every other day we work with weights of 90% of the maximum, and on Fridays we work with 95% of the maximum. But we are used to it.
But after such training, more time is needed for recovery, right?
No, everything is as usual.
In other words, you have already got used to such a regime?
Yes, the human body gets used to everything.
When you work with such big weights, you certainly miss sometimes. What do you do in such situations?
I just try again, psych myself up and give it one more try.
So, if it is written in your program that you have to do one rep at 90% for four sets, and you miss one of them, do you then do an additional fifth set?
Yes. But in general I try not to miss.
when I come to the gym, I forget about my mood and go to workIt is clear that everyone tries not to miss, but nevertheless it happens sometimes. And do you ever happen to be in a bad mood?
Of course, I do. But when I come to the gym, I forget about my mood and go to work.
What exercise do you like the most and the least?
My favorite exercise is the Back Squat. And I don't like to Front Squat.
I see that many people don't like to Front Squat.Adam Maligov, Alexey Lovchev and Artem Okulov said the same.
Those who have a weak back usually don't like to Front Squat. And in the case of Back Squats, there is no strain on your back and it's easier to get up.
we rarely go to the maximum in these exercisesWhat, by the way, are your Best Lifts in such basic exercises as Squats and Pulls?
Front Squat: 160 kg;
Back Squat: 180 kg;
Clean Pull: 160 kg;
Snatch pull: 130 kg.
But in general, we rarely go to the maximum in these exercises. Only during periods of basic training. Before competitions we decrease our weights, because there is a risk of injury.
When doing the Clean and Jerk, what's easier for you, to stand up or to Jerk?
I always stand up. And I have rarely missed recently.
By the way, have you ever tried to Power Jerk instead of the regular Split Jerk?
No, I haven't, and I don't want to. I am very comfortable with Split Jerks.
Topic change, let's talk about bodyweight. In 2012 you performed in the 69kg category, but then you returned to the 63kg category. Moreover, at the world championship your weight was just about 62 kg (61.58). Why?
My weight began to decrease, and we decided to return to the 63kg category.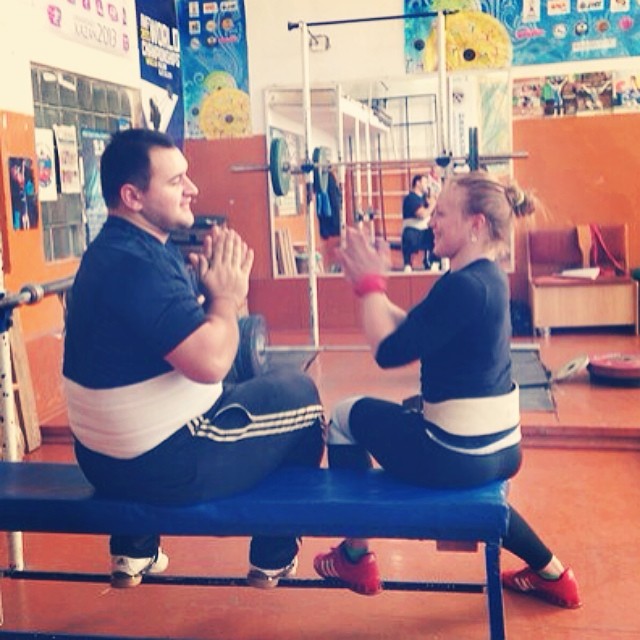 Are you planning on moving up a category?
It's hard for me to gain weight. I barely gain up to 66kg.
So you never indulge yourself in cookies, biscuits, cakes and such?
In general I try to limit myself in this. But, of course, sometimes I eat chocolate bars before workouts. And I don't eat pastries to avoid gaining excess weight.
What is your training weight at the moment?
It's about 64-65 kg.
And your height?
157 cm.
Who do you think are your main opponents in competition for gold medals at European and World Championships?
In fact, it all depends on how much I can lift myself. You can't jump above your head anyway.
Svetlana Tsarukaeva performs in the same 63kg category and she is also coached by Kazbek Zoloev. Do you regard her as your opponent? In an interview Zoloyev said that if Tsarukaeva recovers, then you will move to the 69kg category.
It is too early to talk about that. It's up to the coaches to make the final decision in that matter.
Update: Here her lifts from the 2014 Russian Nationals (69kg).
106, 111, 115kg Snatch

148kg Clean & Jerk

Olga Afanasyeva is at the training camp with you at the moment. She's also in your weight category?
As far as I understand, she's going to move to 69kg.
Will you participate in the Russian Championship, or are you going to skip it?
I don't know yet. [Meanwhile it was decided that she will lift and you can see her tomorrow on the live stream]
And what are you now preparing for at the training camp in Sochi?
I'm just getting ready, getting in shape. The coach will then decide where I will be performing. But of course, my goal is the World Championships.
Alexey Lovchev said that everybody should perform at the Russian Championships. At the same time, there was information that Tatiana Kashirina would skip the Russian Championship and would be preparing immediately for the World Championships.
Yes. But then it will be decided who will perform and who won't. There is still enough time for that.
How much time do you spend at training camps each year?
Probably more than half the time of the year.
Adam Maligov said that he spends 10-11 months a year at training camps.
No, we try not to spend so much time at training camps. Because it gets boring and you need to have some rest. We try to change places often.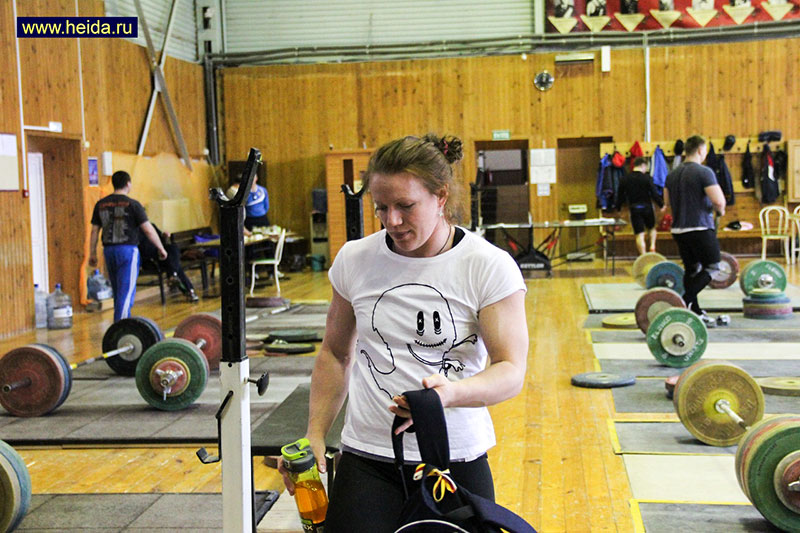 Which place do you like the most?
I like it in Chekhov. And it is easier to train there because of the team atmosphere that is felt there.
With whom do you usually live at the training camp?
It depends. In Chekhov, I usually live alone, and in Ruza and now here in Sochi I'm living with Olga Zubova. We have become accustomed to each other since childhood and during competitions I also live with her.
All the guys from the men's team, with whom I have talked, say that they take a sauna to recover themselves. Do you also take saunas regularly? And what other recovery methods do you use?
We take a sauna 3 times a week. Sleep, nutrition, and restorative massage are also important.
Have you heard of CrossFit and what is your attitude towards it?
Yes, of course, I have heard of it. And I have even watched a competition on the Internet. I like it. It's a tough sport and you need to have a good stamina for it.
And would you like to try it yourself?
No, I don't have much stamina. I am more accustomed to lifting weights than running or doing many repetitions.
Do you have any idea as to what you're going to do after finishing your career in weightlifting?
No, I have not thought about that.
You along with Ruslan Albegov visited a child boarding school not so long ago. Who came up with the initiative and what impressions do you have from this trip?
One girl who trained with us in arm-wrestling invited us. We certainly did not want to leave that place and the kids didn't want to let us go. But I had to go to practice, and so we, unfortunately, did not stay there for as long as we wanted.
What is your favorite dish?
I have many favorite dishes, but mostly I like meat.
What do you like to cook yourself?
I can't really cook much, and I don't have time for that. I can cook borscht (vegetable soup).
Do you have any hobbies? And what do you usually do in your spare time at training camps?
I have no hobbies. And in my spare time I read. And often I watch movies with the girls.
Thank you so much for your time and answers!
Thank you.