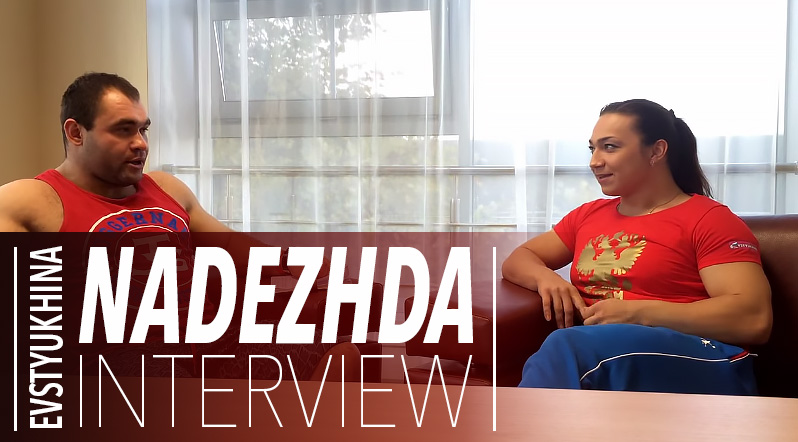 Vasiliy Polovnikov sat down to interview Nadezda Evstyukhina.
Thanks to "mindblowned" for the translation so far.
Nadezhda's Best Lifts
Snatch – 140 from blocks
Clean and Jerk – 170 (injured herself in this training session afterwards)
Back Squat – 210×3
Front Squat – 180-190
Bench Press – 110
---
Translation + Summary of Part 1
Note from the translator: Overall Polovnikov's interview are funny to watch. Hope some of the mood in the interview was transferred with my translation. Hope it helps
Vasiliy: When and how did you start?

Nadezhda: When I was 8. My first coach was recruiting in our school for a karate, judo, boxing …. But in fact he was actually recruiting for Olympic weightlifting.
Vasiliy: Were your parents against it?
Nadezhda: Mom didn't like it, but she didn't speak up. Father was very supportive
Vasiliy: Were you talented from the beginning?
Nadezhda: On my first competition I couldn't snatch 12 kg. In my opinion it takes 3-5 years for a person to find out whether he/she can do it or not. Only a wise/smart person can find a future athlet in a kid. Because beside physical characteristics, personality is very important. There are a lot of talented kids but many of them don't do sports because they don't like it. I recently switched to my second coach. Big respect to my first coach.
Vasiliy: would you like to increase weights in some of your exercises? What do you think about your career?
Nadezhda: My strength weights are fine. I need to improve Snatch and Clean & Jerk. I'm going train for this Olympic cycle after that we will see. Right now, we are training together and I find it motivating for women, because men have a different attitude
Vasiliy: Yep, it is a first time the women's and men's teams train together. What are your best lifting weights? Please scare some dudes 😀
Nadezhda:
Snatch – 140 from blocks
Clean and Jerk – 170 (injured herself in this training session afterwards)
Back Squat – 210×3
Front Squat – 180-190
Bench Press – 110
Vasiliy: Would you like to go to Cameroon?
Nadezhda: Why Cameroon?
Vasiliy: They don't have gyms, I assume? The whole point is that we want to promote lifting to places where lifting is not as popular.
Nadezhda: Yeah, why not
Vasiliy: Biceps size?
Nadezhda: 33-34 cm
Vasiliy: Now guys go to the gym and train biceps 😀
Nadezhda: It is often in public transport guys look at my biceps and then compare to theirs and look away 😀
Vasiliy: Why do you embarrass people? Dress up!!!
Nadezhda: I should wear burqa! 😀
Vasiliy: Leg size?
Nadezhda: 61 cm
Vasiliy: We eat a lot and everything. Is the women's diet different from men's diet?
Nadezhda: I don't follow diet too much and don't force myself to eat a lot. I personally eat good amount of milk products. But overall everyone is individual.
Vasiliy: Do you have any diet advice for an amateur female athlete?
Nadezhda: In the beginning don't eat sport nutrition. Try to understand your body by eating normal food. Once you achieve decent results and push the limit then you can add some sport
nutrition.
Vasiliy: Are you gonna punch your husband when he comes back drunk? 😀
Nadezhda: Maybe 😀
Vasiliy: How many kids would you like to have? If you had a son would you push him to do lifting?
Nadezhda: It depends on his personality. I would help him doing sport that fits him better. What about you?
Vasiliy: I wouldn't push him towards lifting in particular. If I saw that kid is bulky from birth then I would push him to do lifting.
Vasiliy: Thanks you Nadya. Any wishes?
Nadezhda: If you have injuries don't ignore them. Progress not just within a sport but outside. Wish everyone all the best.
In the end there is some Haiku .. 😀