The Final Session!
The Men's +105kg (B Group here) of the London 2012 Olympics is over.
BBC Recordings: will be here (I use a VPN to watch the BBC Streams)
Update: Official Recordings on YouTube
Join the Live Chat at allthingsgym.com/chat/
Snatch:
This was the shocker of the evening – Matthias Steiner takes a bad hit by losing 196kg over his head (backup gif).
Update:
According to German news he has suffered a back injury. But after first examinations it seems to be nothing major.
Steiner immediately told his coach, Frank Mantek, "I can feel my legs".
After thorough examination and CT scans they found the following:
No injuries to bones or the spinal cord.
"The examination shows a ligament injury to the cervical vertebrae, a bruised sternum and a pulled muscle in the thoracic spine" (via the German weightlifting federation).
He also said, training will go on and this is no reason to end his career now. (Thanks Martin)
Ruslan Albegov went 3/3 with 208kg on his 3rd. Being lighter than Behdad Salimi who took the same weight means that Ruslan is the leader going into the Clean & Jerk.
Interesting side note on Albegov, he left the military 3 years ago. Entered at 135kg and left at 109kg. Before the army he snatched 180kg and clean & jerked 220kg.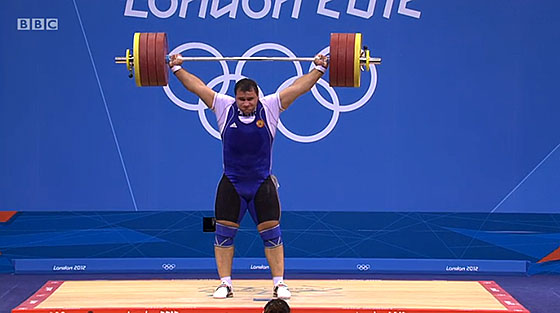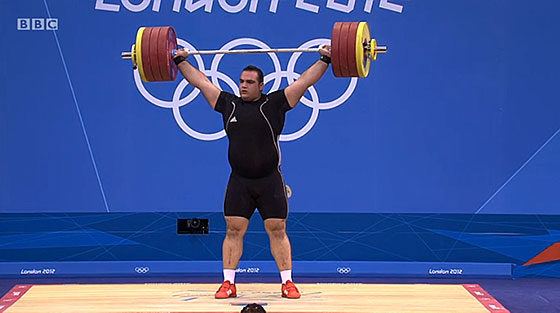 Clean & Jerk:
So it was enough for Salimi to come out at 247kg on his first attempt and get Gold.
He even took a shot at 264kg. Why not?
Sajjad Anoushiravani got 245kg and missed 251kg on his third. Silver.
Ruslan Albegov couldn't get past 240kg. But his 208kg Snatch secured Bronze.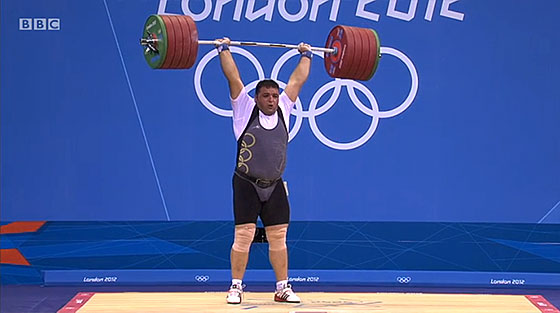 Sang Guen Jeon  became 4th with a 246kg Clean Jerk.
Results:
Velichko Cholakov "failed to show up for the weigh-in Tuesday. No reason was given." via  
Entry Weights:
World Records: