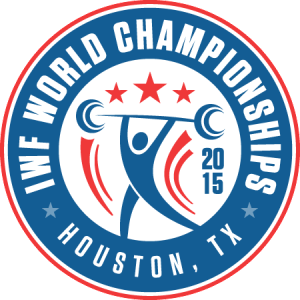 This is the overview post for the 2015 IWF World Weightlifting Championships in Houston, Texas.
On Instagram or Twitter use hashtag #2015wwc.
Useful Links:
Doping News
Update 15.07.2016: CAS dismisses Lovchev's appeal. (via)
Update 16.05.2016: No news, Lovchev still trying to go to CAS.
Other than that the bans still stand at 4 years for Lovchev, Kosov, and Olga Afanasieva (she announced the end of her weightlifting career). Olga Zubova got 8 and of course also announced that she is done with weightlifting (via)
Update 08.03.2016: Lovchev's B Sample came back positive too (via)
Update 21.02.2016:
Reuters reports that the late Russian anti-doping agency boss, Nikita Kamayev, was set to expose true story to the Sunday Times and also write a book about sport pharmacology. (via)
Update 27.01.2016:
Head coaches Venkov and Vidov have been suspended by the Russian Weightlifting Federation. (via)
Temporary in charge (for Europeans preparation) will be Gennady Anakanov (men's team) and Cyril Zavadzkaya (women's team). Anakanov is Apti's coach by the way.
Update 23.01.2016: Lovchev will soon travel to Canada for the opening of his B sample in the Montreal WADA lab (via)
Update 14.01.2016: Head Coaches Venkov and Vidov don't appear on a list of Russian weightlifting coaches for 2016. (via).
The minister of sports, Mutko, said a decision about the coaches will be made after the Lovchev case is closed. (via)
Update 13.01.2016:
Russian Weightlifting Federation requested the opening of the B sample for Lovchev (via)
Update 11.01.2016:
Kazakhs don't want the B sample to be opened (by the lab in Montreal), fearing biased results (via)
Update 25.12.2015:
Update 24.12.2015: Mutko (Russian Minister of Sports) says Lovchev declared the use of ipamorelin, which he used to help heal his knee injury. (via)
Translation from reader Denisssss:
"This is a huge disappointment, – said Mutko. – But we will work on Lovchev, because his blood tests are OK. We must clarify it. The substance was declared. Lovchev tore his lateral ligament. Maybe the concentration was wrong. Maybe we have a chance on him. What about others – this is a complete irresponsibility". In Mutko's opinion, RFWF president Sergey Syrtsov must be personally responsible for the doping scandal involving four athletes. "The team left clean and tested. We must deal with personal coaches and doctors. And with the weightlifitng federation president". Mutko also said that they will struggle for Lovchev. "I can't respond for everybody all the time. It is coaches and athletes own choice. They leave for competitions being absolutely tested. Who takes doping? I think we'll struggle for him. Once again – we'll support Lovchev until sanctions are imposed. We believe in him. I repeat, the substance was declared. And it was submitted in the corresponding permission. There must be presumption of innocence for athletes, an investigation must be held and the B sample must be examined. Until that moment no one is permitted to publish anything. We need a disciplinary commission decision. And now everyone is putting the carriage before the horse".
Update 24.12.2015: IWF has posted a bulk update of new suspensions (17!).
Houston Anti-Doping Commision Wrap up says there were more than 200 tests carried out (out of about 587 athletes) and 24 adverse analytical findings and two new findings in peptide hormones, growth factors, related substances and mimetics.
Potential Penalties for Countries¹
Azerbaijan:
6 offenses, 5 repeats – $200,000 fine. 2 year suspension if defaulted, Two quota places may be withdrawn from Rio Qualification.
North Korea:
3 offenses – $50,000, 1 year suspension if defaulted. In addition to these there was a ban at the 2014WWC which is included in the Rio Qualifying period. This might increase them to 4 violations if it's within a calendar year which would mean 1 quota spot may be deducted and fine increased.
Russia:
4 offenses, 1 repeat – $100,000 fine. 2 year suspension if defaulted. 1 quota placement may be deducted
1Using the IWF sanction page. PDF sources: Anti-Doping Policy, page 61 & Rio Qualification System, page 2. I can't find anything if this is sex specific when quotas are being deducted, it only mentions member federations.
On a side note the Indian Weightlifting Federation is 1 ban off another suspension (if a fine is defaulted) after two of their athletes were caught before competing at the World Championships. (via)
My Personal Opinion: 
Personally I am just sad as I know a lot of these athletes personally and know what is at stake for them here. Livelihoods/ careers are being destroyed here.
Now I know many don't share my opinion, that I am not against doping*, and that's okay. I will always be 100% on the side of the athletes, if they test positive or not.
What's happening here is just politics and the athletes are the pawns that go down first.
Doping has and always will play a huge role in all sports so it just annoys me that we don't get to see best of the best anytime soon. – Gregor
*Clarification: *if I would be against it, I would have to stop covering anything that has to do with professional sports (not just weightlifting), just to be logically consistent and not a hypocrite.

Update 16.12.2015: First results are in.
(14.12.15): The IWF has posted 4 public disclosures, most likely from worlds, not sure if it'll affect team standings.
Highlights
(04.12.15): Updated the Qualification pages with the latest country team points. Read more from the iwf here.
Mart Seim Clean & Jerking 248kg for silver in C&J and Bronze in the Total.


(01.12.15): Aleksey Lovchev had a short interview on allsportinfo.ru where he mentions he ruptured his knee ligaments a month before the World Championships, his current plan is to rest and prepare for the Olympics. He also mentions in the months running up to the World Championships he didn't Clean and Jerk more than 240kg (via).

(29.11.15): The IWF added this statement to their website:
The International Weightlifting Federation herewith notifies its Member Federations that due to the complexity of the Olympic Qualification points calculation with regard to the sanctions concerning Bulgaria and the obligation to coordinate the issue with the International Olympic Committee, THE RIO 2016 QUALIFICATION STATUS of the countries after the 2015 IWF World Championships WILL ONLY BE PUBLISHED NEXT WEEK, latest by Friday, 4 December 2015.
Results Book added. Team Qualifications added (Men / Women).
(28.11.15): +105kg A session: Aleksey Lovchev (Russia) secures 3 gold medals after Snatching 211kg and Clean and Jerking 248kg. On his last spare lift he takes a 16kg jump and breaks the Clean and Jerk plus Total World Record. The old records stood at 263kg and 472kg set by Hossein Rezazadeh (Iran) at the 2000 and 2004 Olympic Games. The new records now owned by Lovchev stand at 264kg and 475kg. Amazing way to end the last day of the World Champs.
(27.11.15): 105kg A session: Alexander Zaichikov (Kazakhstan) Snatches 191kg + Clean and Jerks 230kg to win gold in the total.
David Bedzhanyan (Russia) attempts an epic 242kg Clean and Squat Jerk.
75kg A session: Rim Jong Sim (75kg, Democratic People's Republic of Korea) got an injury during the Snatch and had three gutsy attempts during the Clean and Jerk. She won 3 silver medals. IWF written review.
"Alexander Venkov: Artem Okulov and Apti Auhadiev considered to be the main candidates for the Olympic team of Russia" (via)
Ksenia's injury: "Fortunately, a survey conducted in the US clinic did not confirm the presence of any gaps joints and brittle bones". (via)
105kg B session: Dadas Dadashbeyli (105kg, Azerbaijan) weighed in at 98.38kg and secured a 185kg Snatch. He finished with a 395kg total by Clean and Jerking his opener of 210kg.
(26.11.15) Sadly Lydia Valentin (75kg, Spain) pulls out of competition with a back injury.
69kg A session: Xiang Yanmei (China) wins 3 gold medals with a 120kg Snatch (4kg lead) and a 143kg Clean and Jerk (3kg lead).
Defending World Champion Ryo Un Hui (Democratic People's Republic of Korea) managed to get silver in the Snatch but couldn't follow through on the Clean and Jerk. Zhazira Zhapparkul (Kazakhstan) got two silvers by Clean and Jerking 140kg and totalling 256kg. Anastasiia Romanova (Russia) got three bronze medals with 116kg, 137kg and 253kg.
Youth Lifter Sara Ahmed gained a lot of strength since the China Grand Prix, she has lifted in 5 international events in almost a year and managed to get personal bests of 110kg and 135kg. Highlights.
94kg A session: Kakhi Kakhiashvili's (Greece) 188kg World Record Snatch remains untouched as the event ended with a lot of missed lifts.
After missing two attempts at 180kg Aurimas Didzbalis (Lithunia) secured a silver medal in the Snatch after a heroic fight on his last attempt. Meanwhile Youth World Record holder for the Snatch, Alexsey Kosov (Russia) wins a Snatch gold medal with 181kg.
Defending Champion Zhassulan Kydyrbaev (Kazakhstan) secured three bronze medals with 178kg, 221kg and 339kg. His team mate Almas Uteshov finished with 172kg, 230kg and 402kg which got him silver in the Total and Clean and Jerk.
Vadzim Straltsou (Belarus) won with 175kg, 230kg and 405kg. There were also two failed attempts at breaking Ilya Ilyin's 233kg Clean and Jerk Record. Highlights.
(25.11.15): 63kg A session: Deng Wei (63kg, China) breaks a new Clean and Jerk World Record and secures three golds. Highlights.
85kg A session: Tian Tao (China) Snatches 178kg to secure a gold medal. Not far off his 180kg training/test Snatches we've seen. Kianoush Rostami (Iran) tried to match Tian and win by bodyweight but couldn't secure it overhead, he came third place. Artem Okulov (Russia) came second with 176kg and a personal best.
Moving into the Clean and Jerk Tian Tao opened at 211kg but missed all three attempts. Apti Aukhadov (Russia) secured a 212kg Clean and Jerk which gave him bronze overall. Rostami opened at 214kg but then missed the two next attempts which would take him back into first place. 218kg was dropped behind after a successful jerk and 219kg for the world record got red lights for an elbow touch. Artem Okulov went 6 out of 6 finishing on 215kg and a 391kg Total. He also had 220kg on the scoreboard for a small amount of time. Final Scoreboard (Twitter). Recordings. Highlights.
Dmitry Klokov pause snatches 200kg!
(24.11.15): 77kg A session: Lyu Xiaojun (China) takes the lead in the Snatch with 175kg then attempts a new world record at 177kg but gets squeezed out.
Nijat Rahimov (Kazakhstan) Clean and Jerks 207kg, 12kg more than his first attempt, to win the Clean and Jerk plus Total. He attempted a 211kg Clean and Jerk world record but missed the lift.
Kim Kwang Song (People's Republic of Korea) came second. Mohamed Ehab (Egypt) came third in the Clean and Jerk plus Total, making a personal best Clean and Jerk and hitting a Snatch 1kg beneath his all time best. Highlights.
(23.11.15): 77kg B session: Elkhan Aligulizada (77kg, Azerbaijan) finished the group with a new Junior World Record Clean and Jerk, 203kg!
69kg session: Daniyar Ismayilov (Turkey) gets gold in the snatch by repeating his 160kg snatch. He was lighter than Oleg Chen (Russia) who also snatched 160kg.
Shi Zhiyong (China) placed 3rd in the Snatch but won the Total by Clean and Jerking 190kg. Video Highlights.
58kg session: Boyanka Kostova (Azerbaijan) sets a new World Record Snatch and Total. She went 112kg in the Snatch, 140kg in the Clean and Jerk which is 252kg in the Total. She also became the first ever Azerbaijan medal winner in women's weightlifting at the world championships. Video Highlights.

(22.11.15): 62kg session: Chen Lijun (China) breaks the World Record Clean and Jerk + Total.
53kg session: Chen Xiaoting (53kg, China) saves this Snatch to take the lead into the Clean and Jerk. She also attempted a 104kg World Record Snatch.
Hsu Shu-Ching (Chinese Taipei) Clean and Jerks 125kg. Here's some video highlights.

(21.11.15): 48kg session: Youth Lifter Jiang Huihua (China) wins with an 88kg Snatch + 110kg Clean and Jerk.
56kg session: Wu Jingbiao (56kg, China) breaks the Snatch World Record with 139kg (the same amount he snatched at Chinese Nationals). The old record was set by Halil Mutlu (56kg, Turkey) in 2001.
Om Yun Chol (56kg, PRK) breaks his own 170kg Clean and Jerk record by 1kg and secures gold in the total.
Read an overview here.

Yang Chin-Yi (Chinese Taipei) didn't lift in the 56kg session because he tested positive for testosterone.
The IWF has posted a preview page with trivia for all the weightclasses. For example, did you know China has won 32 of the 39 world titles in the women 48kg category (since 1998)? Check them out, all in PDF format (some are a little outdated, for example the +105kg says Albegov is competing).
Lasha Talakhadze (+105kg, Georgia) Snatches 200kg for two singles and Clean and Jerks up to 240kg.

(20.11.15): The Two Doctors Podcast put out an +1hr long session previewing the World Championships.
To prevent overcrowding this page with training hall videos I've set up the 2015 Training Hall Videos post.
Mohammed Ehssan (+105kg, Egypt) does a 195/240/235 training total.
Update 19.11.15: The Polish Team prepare for worlds.
CCTV coverage of the stage, warm up area + Lu Xiaojun.
Bulgaria is planning on coming to worlds with: Stilian Grozdev, Petar Angelov, Alexander Dimitrov Bozhidar Andreev and Vasil Gospodinov. They want to sue the IWF (because they proved the supplements which gave a positive test were contaminated) and through that gain eligibility to go to Rio, thus they need to go to Worlds to gain spots. (via)
Update 17.11.15:  Russian weightlifters Ruslan Albegov (+105kg) and Khetag Khugaev (94kg) are not going to the compete, reserves Alexey Kosov (94kg) and Timur Naniev (105kg) will compete instead (via). Timur Naniev recently did an interview here on the Russian Weightlifting Federation's website.
Hookgrip posted a Russian Women's World Team montage!
13.11.2015: Hookgrip posted a cool Chinese Women's World Team montage.
Update 12.11.2015: Colombia's World Team has been announced (via), it's worth noting that although athletes appear on the entry list and the Colombia Olympic Committee's website, that two of the athletes have said they are not participating. @ = athlete's instagram accounts.
Update 11.11.2015: There's a new updated entry list [PDF], the final one comes out on the evening of the 18th. Also, Ermek Omirtay beat Aidar Kazov in an internal competition and will go to worlds now. (via) No Sohrab Moradi on that list too.
Update 07.11.2015: Russian Team Announced (via & via).
Update 06.11.2015: Luis Mosquera is not going. Has been having back injury for a while.
Update 05.11.2015: Kazakhs take Maya Maneza to Houston (as 69kg) (via)
Update 02.11.2015: Changes in the Kazakh Team (via)
Iran: Kianoush posted a photo of him in a hospital bed. Thanks to reader GHM for the translation.
Hello to my friends. Pray for me because I had a simple surgical procedure and I just woke up. I thank my friends Mr. Mehran Raiesi and Dr. Davoud Bagheri who helped me in these hard times. Do not worry I will be Ok for the worlds. Ya Ali (Iranian pray to saint Ali that is similar to Rezazadeh saying Ya Abolfazl before lifting or M. Nassiri back in sixties).
Moldova: Christina Iovu won't start at worlds (yes she is training in Moldova right now).
Update 30.10.2015: "Final" entries list (PDF). Post your findings in the comments. "Final" because I talked to some Russians and they don't even know who will be on the worlds team. They will have their selection competition soon. The final Final Start List will be the Start Book that gets published after final entries have been confirmed (usually a day or two before competition).
Trivia:
745 609 competitors listed including reserves
~22 current world record holders
Ivan Stoitsov is on the list.
Annie Thorisdottir and Katrin Tanja Davidsdottir (2015 Crossfit Games Winner) are on the list.
Jiri Orsag's first int' comp since his sanction
Youngest: Clarence Cummings (69kg), 06.06.2000 15 years old, 306 entry total
Oldest: Tom Goegebuer (56kg), 27.03.1975, 40 years old, 250 entry total, 12th Worlds, 14 including Olympic Games
Chinese Teams have been announced (via, via)
Update 27.10.2015: Behdad Salimi injured his knee and won't participate (via). It's being reported that he tore his ACL (via) This is most likely the 262kg attempt which caused the injury.

Update 18.10.2015: Iranian Team (via)
Update 08.10: Kazakh Team was announced:
Recordings