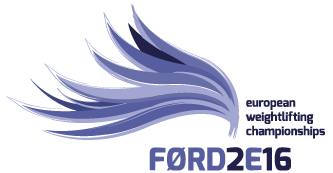 The 2016 European Weightlifting Championships are upon us.
As usual, this page will be updated with live streams and news throughout the competition.
When: 10-16 April
Where: Førde, Norway
Useful Links:
Start List (PDF), Results
add me on Snapchat (gregorwinter) for behind the scenes randomness
Highlights
22 year old Lasha Talakhadze snatched 212kg for a new European Record!
Zygimantas Stanulis (94kg, Lithuania) snatched a new competition personal best to win a silver medal. He also won a silver in the total.


Iryna Dekha (19, 75kg, Ukraine) goes 6/6 by clean and jerking 135kg to win the European Championships.


Andranik Karapetyan (77kg, Armenia) snatching 170kg!
21 year old David Sanchez Lopez (69kg, Spain ??) pulling an Om Yun Chol and winning bronze from the B group today!
143kg Snatch + 175kg Clean & Jerk

Rebeka Koha (17, 53kg, Latvia) Clean and Jerking 108kg for a new PB and two bronze medals.


Cristina Iovu (53kg) Clean & Jerking 120kg!
41 year old Tom Goegebuer (56kg, Belgium) snatching 114kg at his 18th European Championship.
21 year old Mirco Scarantino (Italy) snatching 120kg, which set him up to win his first senior european gold medal in the total.
17 year old Ritvars Suharevs (77kg, Latvia) Snatching 140kg.
News
Update 26.04.2016: Eastern european national team coach was caught by norwegian customs when he tried to enter Norway with 15 vials of testosterone in his luggage. (via)
Update 15.04.2016: Tatiana Kashirina (+75kg, Russia) might not be going to the competition. (via, via)
Update 13.04.2016: Since the concentration of meldonium was found to be small in Andrei Rybakov (85kg, Belarus) sample, he might return to competition. (via)
Update 06.04.2016: Vyacheslav Yarkin (77kg) has stomach problems with (something with an ulcer). Georgiy Kuptsov (94kg) will take his spot. (via)
Update 01.04.2016: Andrei Rybakou tested positive for Meldonium (via), which as of January 1st is on the WADA list of supplements that actually work.
Update 31.03.2016: Russian teams announced.
Vanik Mkrtumian (56 kg), Felix Halibekov (62 kg), Sergey Petrov (69 kg), Vyacheslav Yarkin (up to 77 kg), Viktor Kharchenko (85 kg), Egor Klimonov (94 kg), Rodion Bochkov (105 kg) and Antoniy Savchuk (+105 kg).
Kristina Sobol (53 kg), Diana Akhmetova (63 kg), Natalia Khlestina (63 kg), Yana Kondrashova (69 kg), Maria Petrova (75kg), Lyaysan Makhianova (75kg), Tatiana Kashirina (+75kg)
Recordings