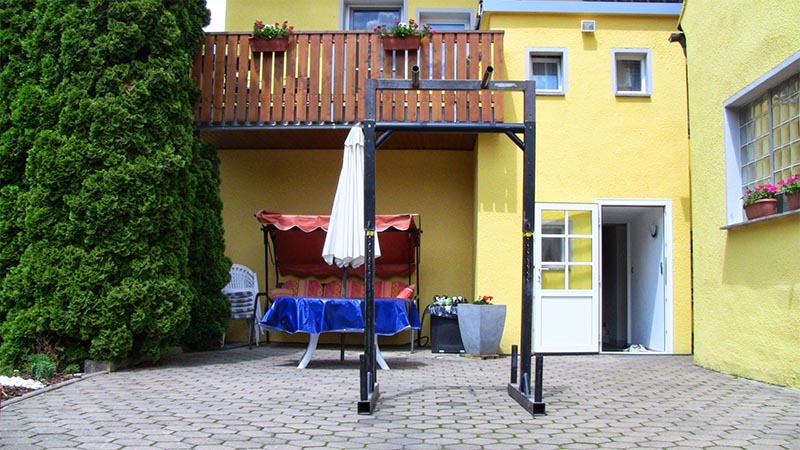 Time to highlight an awesome piece of DIY equipment.

After seeing the Car Rims Squat Stand post reader Rolf  shared his DIY Yoke Squat Stand construction with me. This thing can replace your entire gym.
Below is Rolf's explanation.
---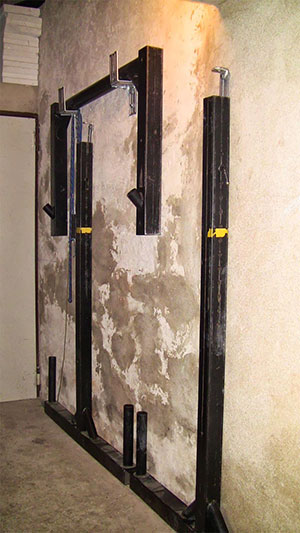 Stats
Total Weight of the Yoke (w/o the dip attachment): 60kg
Cost for Material: around 150 EUR
I didn't want to just buy a squat rack, because none of the commercial ones would fit into my tiny storage room.
A disassembled Yoke on the other hand would fits much better.
The problem was that none of the commercially available ones were easy to get to europe. So I decided to build my own.
The design originated from the commercial yokes (Sorinex and Rogue) with the difference that the legs are not as high.
So – in theory – I can still transport it  in my car.
In addition to that, I also made the middle part a bit higher, so I achieve a total height of 2.2 meters.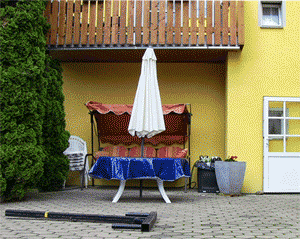 You have to tip the yoke on the side to assemble and disassemble it.
But you get used to it very quick and the whole procedure only takes me 2 minutes.
Sketch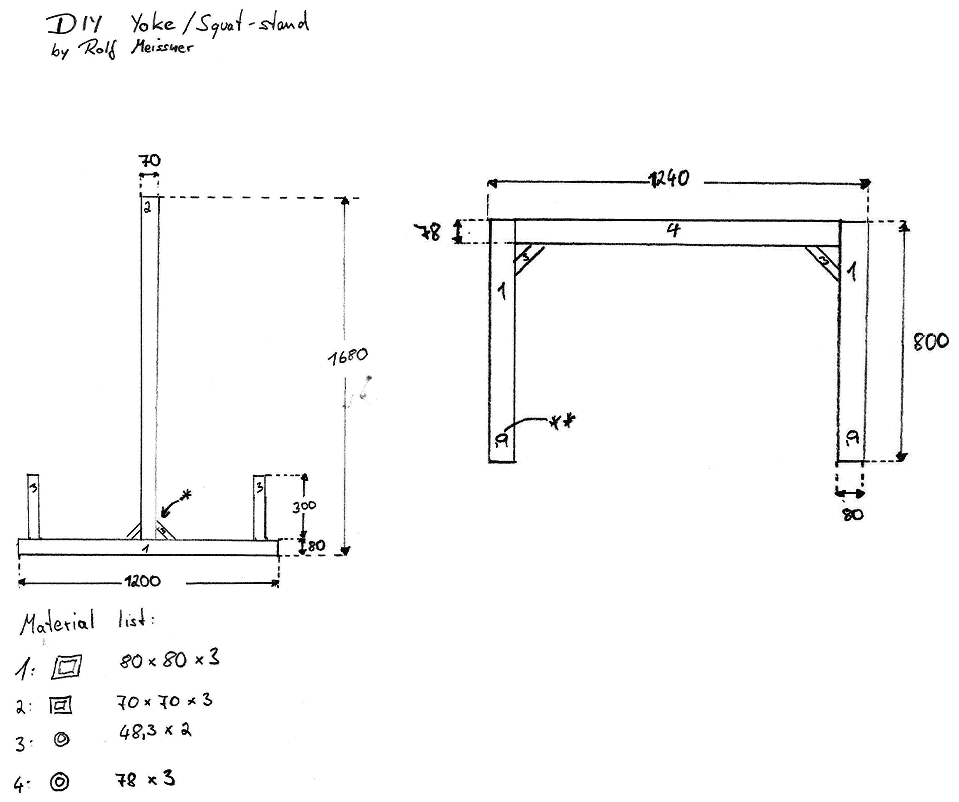 Notes on the Sketch
All the measurements are in millimeters.
* 48mm pipe to add some support. I've made sure that this part is lower than 20cm so that a dropped bar can not hit it.
** I used some leftover pipe to create the hook that holds the bar. This is just a 48mm pipe cut at a 45 degree angle. Turned out to be a very small hook and you can miss it very easy.
Detailed Photos
Rack made from pipes cut at 45 degrees.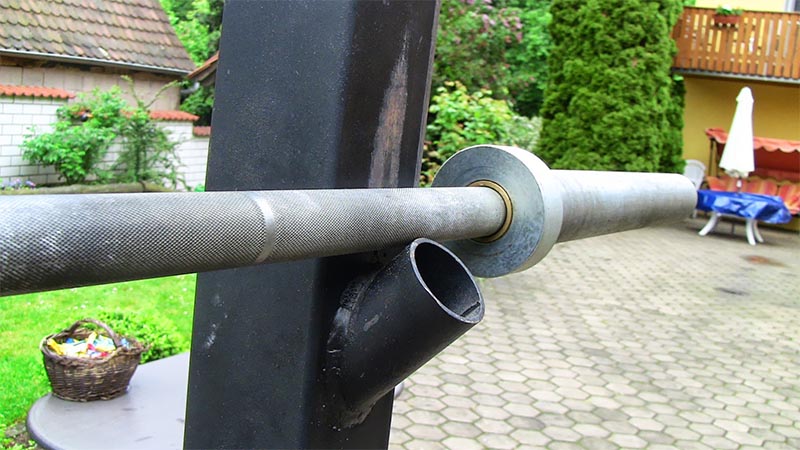 Dip Bars Attachment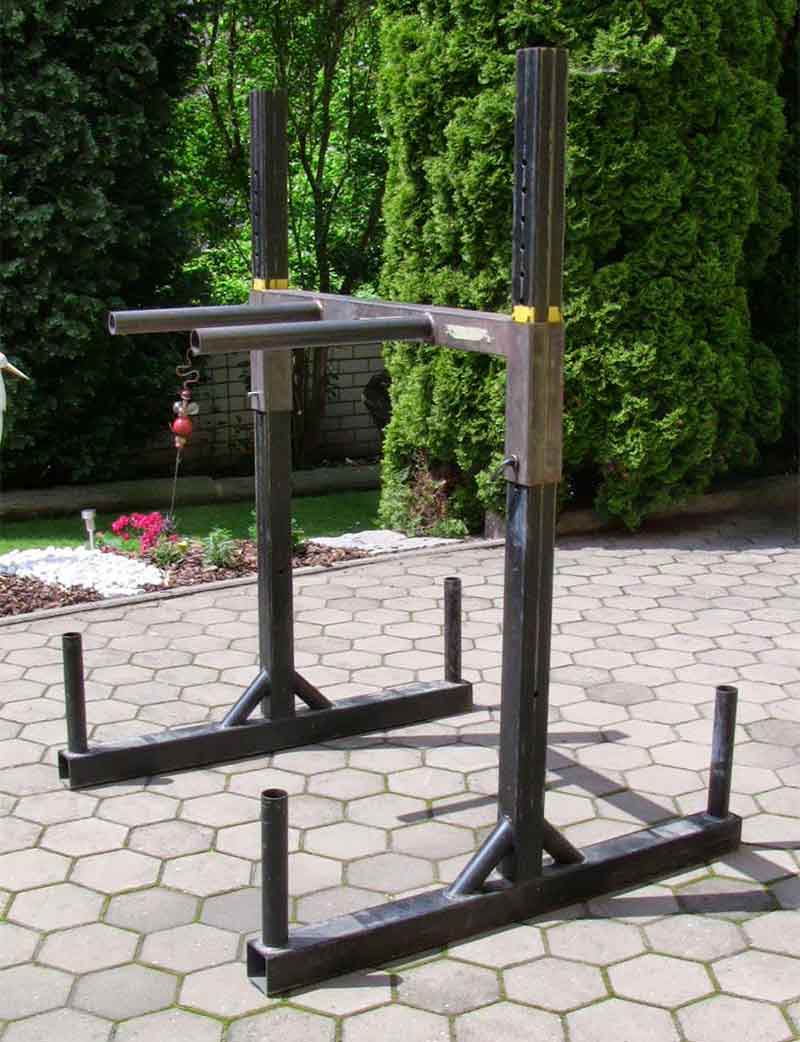 All Assembled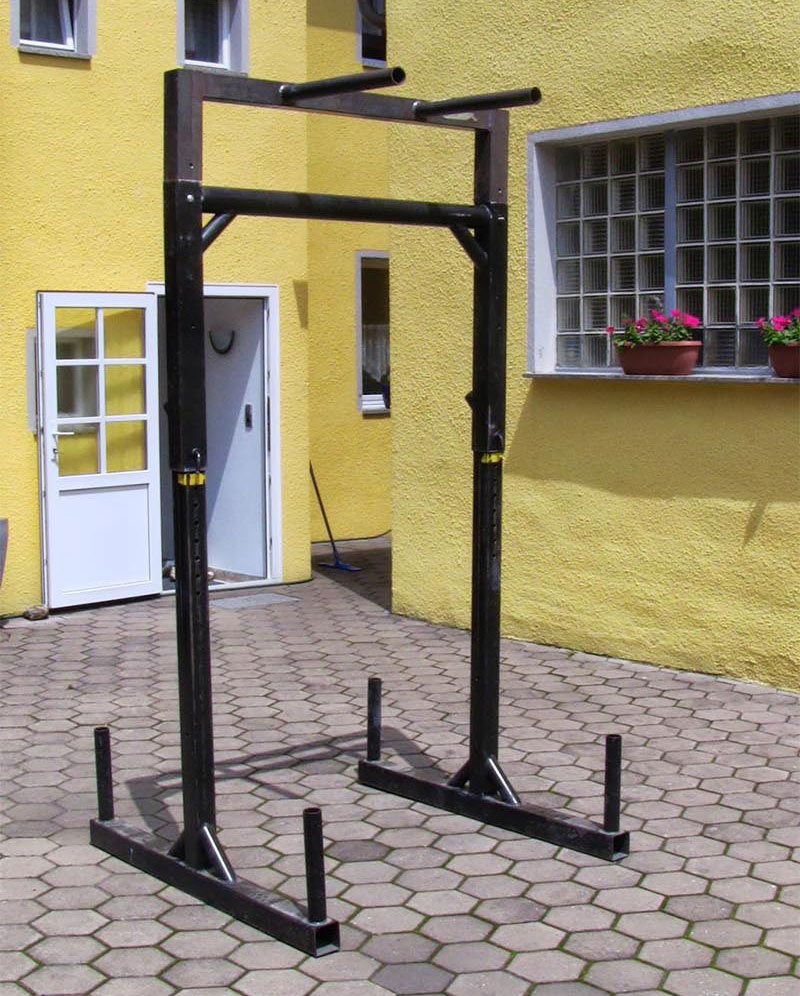 Exercises you can do with it
Squats
Press
Bench Press ( with my DIY Bench that is made from a German bierbank)
Yoke Walk
Overhead Walk
Zercher Walk
Dips (attachment is missing in the sketch)
Pull Ups from the fat bar and from the dip bars
Plans for the Future
with some slight modifications, one could use it as a prowler
height adjustable 'box jump' box, by adding a board on top of the dip bars
improve the hook for holding the bar
find some paint that holds longer than 2 years.
Do you have also have a cool DIY project you want show here? Contact me.